Skinade® is fast becoming the 'must have' nutraceutical on the market, find out more about how it works and the results it can achieve
Nutraceuticals are the 'future of skincare', as featured in the Raconteur. With more advanced ingredients and formulations, nutraceuticals have helped many leading skincare experts provide their clients with a more comprehensive approach to their skin. Over the last couple of years, these professionals have become aware of the importance of looking beyond classic skincare treatments to improve clinic based results and increased client satisfaction and retention.
'I was sceptical at first. However, we trialled skinade® with our patients and have had some astounding results, in terms of improved skin appearance and patient satisfaction.' Dr Paul Banwell, FRCS(Plast), The Banwell Clinic.
Estimated to become a $7 billion business by 2020, nutraceuticals are firmly here to stay. Skinade® is leading this category and, only available in the professional channel, reports proven results on the anti-ageing benefits of the product, such as reduction in fine lines and wrinkles, as well as plumper, more hydrated and radiant skin.  Impressively, many clients have also reported improvements in problematic skin conditions such as acne, eczema and psoriasis. Skinade® targets the skin as a whole organ by addressing overall skin health through its patent pending formulation and delivery mechanism.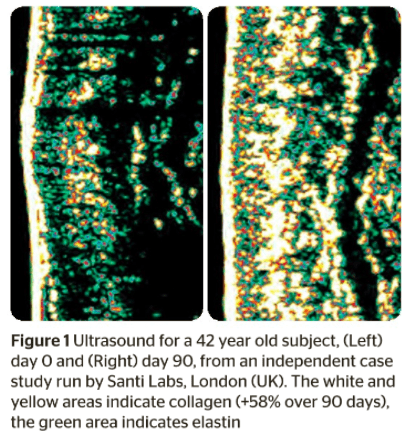 Launched 4 years ago in the UK, skinade® now has over 1,000 approved accounts in the UK and has won 15 industry awards. Based on demand, skinade® launched in the US in September 2016 and is already available, within the professional channel, in over 24 states.
So how does the product work and how can it help clients achieve visible and durable results?
Skinade® works as a feedback mechanism, triggering a physiological response in our bodies. As the collagen peptides are absorbed into the bloodstream, it prompts a wound-healing response. This response triggers fibroblast activity, our own collagen factories, specifically in the skin as skinade® contains collagen type I and III, which are most abundant in the skin.
But not all nutraceuticals offer the same efficacy and three things are crucial to achieving the results seen with skinade®: formulation, bioavailability and compliance.
Formulation
Every aspect of the product has been designed to support optimum skin health. Manufactured in the UK, skinade® spent over two years developing and perfecting a patent-pending formulation of active co-factors that work synergistically to produce a highly effective and innovative product aimed specifically at the skin.
skinade® only uses class leading 2kDal patented Type I and Type III collagen peptides from fresh water fish to trigger fibroblast proliferation in the dermis. Hydrolysed marine collagen is known to be the richest source of Type I and Type III collagen, the same collagen type most abundant in the skin. In a clinical trial of 106 volunteers, the peptides were proven to reach the target organ, the dermis (using carbon labelling 14C) and additionally trigger HAS2 receptors' natural hyaluronic acid production.  These responses are key to increasing skin hydration and skin elasticity, reducing fine lines and deep wrinkle formation with a beneficial effect on photo-damaged skin (pigmentation).
skinade® includes 450% RDA (UK)/300% DV (US) of Vitamin C as calcium ascorbate, without which effective fibroblasts proliferation cannot occur. Calcium ascorbate is also essential in maintaining the stability of collagen during photo-ageing.
MSM (Methyl Sulphur Methane) plays a number of important roles. It provides a highly bioavailable source of sulphur for structural proteins required by the body for the formation of skin, nails, hair and collagen. It also has anti-ageing properties working as 'protector' of collagen integrity during wrinkle formation and is integral to the production of elastin (essential for skin elasticity). It improves skin hydration and has outstanding skin detox capabilities (clearer complexion). It also improves the integrity of the sulphur bridges by preventing crosslinking of collagen fibres. MSM possesses strong anti-inflammatory properties which help reduce redness, swelling and inflammation.
'skinade® has wonderful anti-inflammatory properties and key ingredient, MSM, inhibits the release of pro-inflammatory mediators directly reducing the skin's potential to swell and become sore and red after cosmetic injection treatments or facial and body surgery. I have observed that my patients' skin tolerates procedures better and heals quicker especially when they are already on a course of skinade® before the treatment,' said Dr Kathryn Taylor-Barnes, UK.
B-complex is essential for skin health, liver detoxification, and for the nervous system (stress being a major factor of skin conditions and premature ageing). Deficiency of B-vitamins (B1, B3, B6, B12) has been associated with reduced levels of skin integrity, higher susceptibility of developing eczema, acne, psoriasis and photo-ageing. skinade®'s specific levels of B-vitamin lead to a glowing and radiant complexion. B3 Niacin helps blood flow, oxygenation and nutrition to areas of poor circulation. Vitamin B is also a very powerful antioxidant.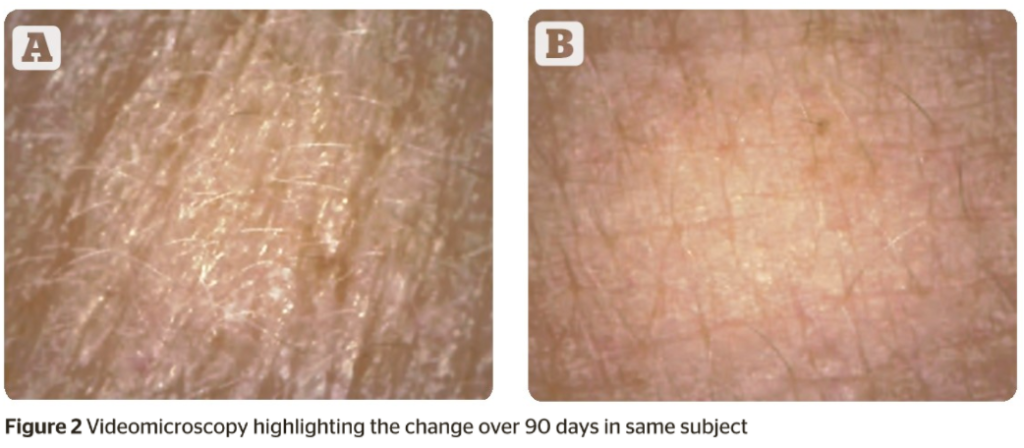 Organic flax seed is an excellent source of Omega 3 and 6 (in a ratio 4:1) and works directly on the sebaceous glands to equalise oil production. Omega 3 and 6 also have strong anti-inflammatory properties, helping acne prone skin as well as improving the retention of moisture and reducing dryness.
L-lysine is an essential amino acid that helps the integration of collagen at a cellular level. An immune system booster and strong anti-viral, L-lysine helps ceramide production when combined with antioxidants and helps reduce associated immunological pressures. This is an integral part of the results that have been observed, in clinic, on eczema and psoriasis.
'Even my most critical patients have been pleased with skinade®'s  results — whether from wrinkle and solar damage reduction, near elimination  of hormonal acne, or making eczema disappear — they are happy!' Said Dr Mark E. Richards, Plastic Surgeon, Bethesda, MD.
Bioavailability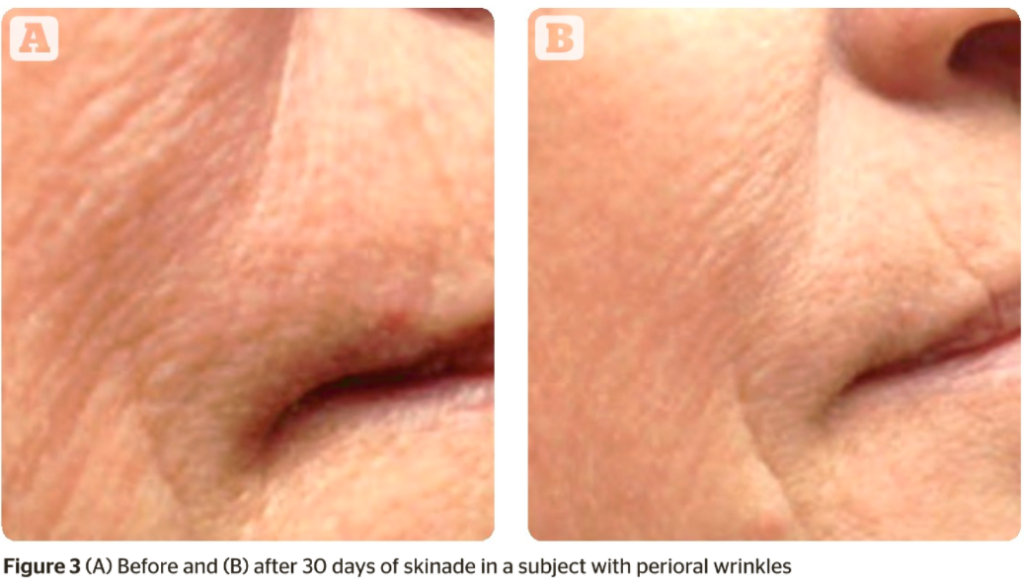 skinade® has optimised the bioavailability of its active ingredients by developing a product in solution. The formulation has a 90–95% absorption rate, ensuring that these valuable nutrients are highly available in the dermis where they are needed. The synergistic blend of active ingredients in skinade® has been scientifically developed to ensure that the molecular bonds of the ingredients are stable in solution, to both maximise the effectiveness and avoid a process whereby active ingredients cancel each other out. This is achieved through a complex 12-hour manufacturing process. To maintain the molecular bonds of the active ingredients, skinade® engineers its own water through a process of reverse osmosis, creating a solution which delivers all of the active ingredients to the highest level — something a tablet or powder is unable to achieve. This solution is then put through a process of 'cold aseptic filling' (instead of pasteurising), so the bioavailability of the actives is uncompromised.
Compliance
skinade® should be taken for 90 days to really see the full results and thus patient compliance is key. Making the product convenient, reliable and pleasant tasting is therefore essential. Skinade® does not contain dairy, gluten, lactose, hormones, genetically modified organisms (GMOs), bovine or porcine products, alcohol, artificial flavours or artificial colours. Packaged in handy bottles or 'on the go' travel sachets to be diluted in water, skinade® offers a highly effective and result-driven, 'no fuss, no hassle' solution for your skin, naturally flavoured with refreshing peach and mangosteen.
Results
skinade®'s brand promise is better skin from within and the above unaltered independent before and after pictures demonstrate
just that.