PRIME's reputation is built on its high quality medical articles, independent news coverage and in-depth interviews and features.
PRIME is an essential tool for physicians, surgeons, dermatologists and doctors alike.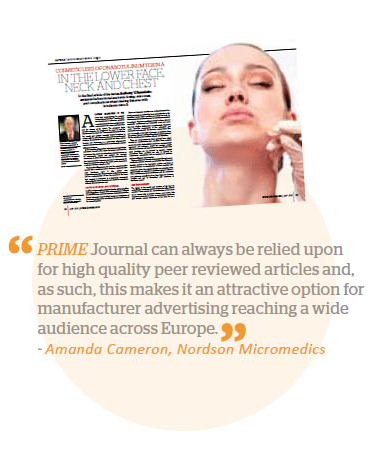 PRIME delivers evidence based content via print and digital channels including the digital issue, social media networks, online communities and bonus print distribution at leading conferences.
Via our website, clients can interact with PRIME's subscribers and expert board members as never before. Whether your preferred delivery be communicated through video, webinar or digital advertisements, through PRIME's bespoke creative solutions we can help you meet your business objectives and make sure your message reaches its target audience.
Feel free to reach us out and ask about the different ways we can collaborate:
Besides traditional print advertisements, PRIME Promotion is the ideal forum to outline your company's unique value proposition. Download our Media Guide for more information.
You have 3 options to display your web banners on PRIME's Website.
Everyone's favourite is the Leaderboard banner situated on top, followed by the Medium Rectangle ad on the right-hand side and finally you have also the possibility to place a Bottom Banner.
Display your digital ads on emailings sent to our online subscribers and reach out more than 270,000 contacts overall.


e-Newsletter


The e-Newsletter delivers the latest industry news, and links to the PRIME Journal archive of articles.
Digital Issue Announcement
This Email delivers the latest digital issue to the aesthetic medical market.
Email Blast
An exclusive HTML or text Email to the PRIME's database. Promote your latest product or invite our decision makers to your webinar, workshop or conference exhibit.
Promote your latest products, videos, articles etc. on PRIME networking platforms and social media.
Share your posts on PRIME's Facebook, Linkedin, Twitter, Instagram and Youtube accounts…
To find out more about PRIME Journal's range of marketing solutions, please do not hesitate and contact our team today.
Editor – Balraj Juttla
[email protected]
DOWNLOAD OUR MEDIA KIT