Again this year, Sesderma and Mediderma will participate at DUBAI DERMA from 18 to 20 March 2019. DUBAI DERMA is held each year in Dubai, dedicated to professionals, specialists, manufacturers and distributors in the field of dermatology, aesthetics and laser. It is one of the most relevant conferences in the Middle-East, Africa and the Indian sub-continent with an expected attendance of over 15,000 professionals worldwide. 

DR. GABRIEL SERRANO, dermatologist and founder of the laboratories will host the workshops: 
UPDATES ON MICRONEEDLING. Monday 18/03 from 12:00h to 13:00h – ROOM 1.

 

WHAT'S NEW IN MELASMA? Tuesday 19/03 from 16:00h to 17:00h – ROOM 2.

 

FERULAC PEELS: CLASSIC AND PLUS; FERULAC VALENCIA; MELASES TCA TRX. Wednesday 20/03 from 12:00h to 13:00h – ROOM 2.

 
Sesderma and Mediderma will occupy BOOTH 8A01, where they will showcase their latest products and devices 
– Mediderma will present the latest in melasma treatment, TRX products with tranexamic acid, photodynamic therapy "PAN Therapy" with SPECTRUM MASK and the whole line of peels, from the classic to the new peels with TCA. 
– Sesderma will introduce its latest launches in dermocosmetics, such as SESRETINAL and the new MIST, as well as recognised product lines as C-VIT, AZELAC RU and REPASKIN, among others. 
We will also enjoy an exclusive space, our UNIVERSE NANOPORE in BOOTH 6E07, dedicated to microneedling with NANOPORE STYLUS 02.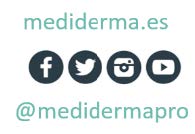 Regarding Sesderma Group: Sesderma is a well-known Spanish dermatologic laboratory with more than 30 years of experience. Founded by Doctor Gabriel Serrano, it focuses its effort and dedication to research, development and manufacturing dermocosmetic products, especializing in R&D and nanotechnology. Currently, Sesderma an Mediderma's products are distributed through pharmacies and parapharmacies, dermatology doctors, aesthetics and gynecologists around the world, at more than 90 countries. Its motto, Listening to your skin, defines this laboratory's essence which takes care of the skin's health and beauty both on the inside and the outside.