Again this year, Sesderma and Mediderma will be present at AMWC Aesthetic & Anti-Aging Medicine World Congress, one of the most relevant conferences in aesthetic medicine, that will take place on 4 – 6 April in Montecarlo, Monaco. Every year, this is a much anticipated date, expecting over 10.000 participants from more than 120 countries. 


DR. GABRIEL SERRANO, dermatologist and founder of the Sesderma laboratories will host the workshop "UPDATES ON MICRONEEDLING" on Friday 5 April, at 9:30h – 10:30h, where he will reveal the latest advances in microneedling. The workshop will be held in the VAN DONGEN room, GRIMALDI FORUM level 2. 
Sesderma and Mediderma will occupy BOOTH J9 (RAVEL EXHIBIT), where will feature our newest products and devices. 
– MEDIDERMA will present its new products for hair diagnosis KAVEL A TRACER, and KAVEL PHOTOLASER for the treatment of hair loss, also introducing the latest on TRX products with tranexamic acid, photo dynamic PAN therapy with SPECTRUM MASK and all the peels line, from the most classical to the new TCA peels. 
– SESDERMA will introduce its latest dermocosmetics product launches, such as SAMAY and its new MIST, as well as established product lines such as C-VIT, AZELAC RU and REPASKIN, among others. 
In addition, we will present our exclusive space, UNIVERSE NANOPORE in BOOTH W11 (INDIGO EXHIBIT), dedicated to microneedling with NANOPORE STYLUS 02 and our MESOCIT skin solutions.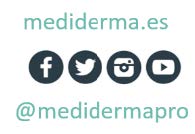 Regarding Sesderma Group: Sesderma is a well-known Spanish dermatologic laboratory with more than 30 years of experience. Founded by Doctor Gabriel Serrano, it focuses its effort and dedication to research, development and manufacturing dermocosmetic products, especializing in R&D and nanotechnology. Currently, Sesderma an Mediderma's products are distributed through pharmacies and parapharmacies, dermatology doctors, aesthetics and gynecologists around the world, at more than 90 countries. Its motto, Listening to your skin, defines this laboratory's essence which takes care of the skin's health and beauty both on the inside and the outside.