Menarini Group unveils its latest company that aims to provide conscious innovation in Dermatology and Aesthetic Medicine 
RELIFE IS A NEW worldwide Dermatology and Aesthetic Medicine company that finds its roots in the Menarini Group. This new company inherits Menarini's science-based and patient-centred approach to provide high quality standards from development and manufacturing, to Medical Education. 
With HCPs. To HCPs.
RELIFE counts on the close collaboration with healthcare professionals and scientific communities to provide the results of a conscious innovation approach to all: scientific innovation must be patient centred. 
My Skin Says How I Feel
It is time to return to realistic values, and to focus once again on the human being. This concept is as simple as it is impactful: a new approach to Dermatology and Aesthetic Medicine is needed to support healthcare professionals all around the globe. RELIFE considers the skin as the mirror of well-being. Therefore, it focuses on helping people to achieve their complete well-being starting from the skin. 
Menarini Group: present in more than 100 countries worldwide
RELIFE is part of the Menarini Group, which has its headquarters in Florence and operates in 136 countries around the world with 17,000 employees. With a turnover of 3.6 billion Euro, Menarini today is placed 13th in Europe out of 5.345 companies and 35th worldwide out of 21,587 (source: IQVIA). Menarini has six Research & Development centres and its products are present in the most important therapeutic areas including cardiology, gastroenterology, pneumology, infectious diseases, diabetology, anti-inflammatory agents, and analgesics. Menarini's products are manufactured in the Group's 16 production sites, in Italy and abroad, where more than 583 million packs are produced and distributed over five continents each year. Through its pharmaceutical products, Menarini contributes continuously and with the highest quality standards towards the health of patients all around the world.
An interview with Attilio Di Gaudio, Global Operations Director at RELIFE
Why did Menarini decide to establish RELIFE as a new company?
Menarini's mission is to provide 'a cure for every disease' to bring 'more health, more happiness, more life'. Therefore, Menarini cannot ignore the importance of the skin for their patients' health. In fact, skin problems can affect both mental and physical aspects of a person's life (e.g. stress, depression, physical pain, itching, etc.).
With this in mind, Menarini has decided to establish a new Dermatology and Aesthetic Medicine company called RELIFE, which considers the skin as the mirror of well-being. This, therefore, means that RELIFE will focus on helping people to achieve their complete well-being starting from the skin.
What makes dermatology and aesthetic medicine so interesting at this point in time?
Skin problems can negatively affect a person's life both physically and mentally. Skin problems are increasing due to today's stressful lifestyle and ageing population. In addition, appearance is becoming more and more important in this world of the social media era where everyone shares their interests and everyday life with almost everyone. People want to look good and feel good when they look at themselves in the mirror, when they are being looked at by their loved ones or by strangers, and when they are sharing their pictures or videos. As a result, demand is growing for products that really work and that are backed up by scientific research. For this reason, a company like the Menarini Group must provide an answer to this need. 
What is your vision for RELIFE?
Our vision at RELIFE is to become the most trusted, reputable, and consciously innovative company in Dermatology and Aesthetic Medicine for both health care professionals and patients, by providing high quality in every process: from research and development to medical education.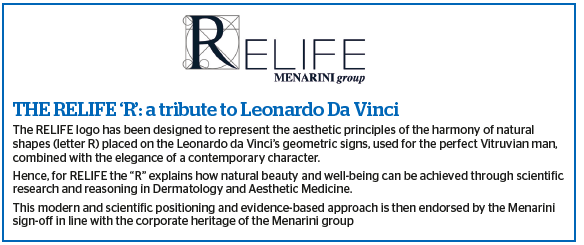 Find out more at: www.relifecompany.com