Daisy Kopera, Zrinka Ivezic-Schoenfeld, Ira G Federspiel, Doris Grablowitz, Benjamin Gehl, and Martin Prinz discuss applications for the hyaluronic acid dermal filler
THE CE MARKED HA DERMAL filler Princess® FILLER is a low viscosity gel consisting of cross-linked HA, designed for injection into the mid-to- deep dermis. The expected lifetime after application is 6–9 months.
Materials and method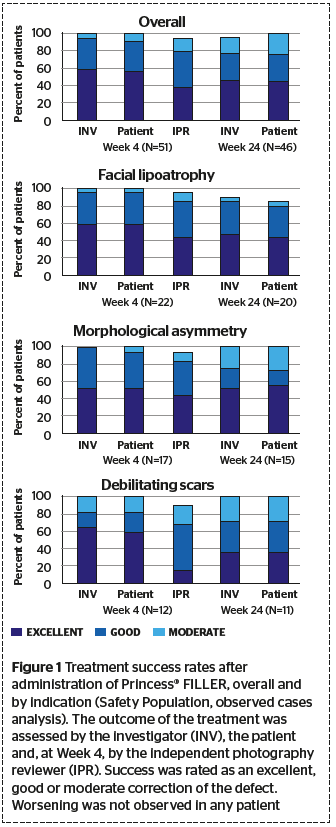 The study was performed to evaluate the effectiveness and safety of Princess® FILLER and applied in 53 patients. The application applied for medical reconstructive purposes was performed in 23 patients with facial lipoatrophy, 17 patients with morphological asymmetry of the face and 13 patients with debilitating scars. The mean age of the patients was 48.1 years (range 23–76 years). In the majority of the patients, the filler was applied bilaterally and into more than one area of the face. An average volume of 6.0 mL of Princess® Filler was injected in total (initial and touch-up treatment). At Weeks 4 and 24, the effectiveness of the treatment was assessed by the investigator and separately by the patient. An independent reviewer evaluated the effectiveness at Week 4. At each visit, the tolerability and safety were evaluated. 
Results and treatment effectiveness
The gained results show that Princess® Filler can restore the pathological deficits in facial or dermal volume. Based on the investigator's assessment, the treatment was successful in all patients who attended Week 4 visit. In ~95% of the patients, the therapeutic effect lasted for at least 6 months and at this time point the effect of the treatment was graded as excellent or good in around 75% of the patients. 
Safety
Eleven (21%) patients stated adverse events. Five (9%) patients reported treatment-related events. Two patients had mild injection site hematoma which appeared 2–3 days after initial or touch-up treatment, respectively, and resolved within 3 weeks. Two additional patients had moderate injection site pain, one of them also reported a headache, and further one experienced headache only. The reported events appeared after touch-up treatment and they resolved within 2–4 days.
Conclusion
Princess® FILLER was well-tolerated by patients, safe and highly effective

 

The overall treatment success rate was 94%–100%

 

In most patients, the effect of the treatment was still graded as excellent or good after 6 months.