Cavallini Maurizio and Papagni Marco discuss the use of a home-based treatment to potentiate the benefits of a previous chemical peel procedure
Hyperpigmentation can consist of localised dark spots caused by melanin concentration thus resulting in an uneven skin tone. Chemical peels have demonstrated clinical success in improving skin tone and reducing pigment concentration. Peels can be combined with other home-based treatments to optimise outcomes, enhance patient satisfaction, and allow clinicians to tailor the treatment to individual patient needs1,2.
Aim of the study
To evaluate the reduction of facial hyperpigmentation, measured as dark spot size reduction, by a topical dermo-cosmetic treatment programme (made of a day cream, a night cream, and a preparation cleanser) containing a fixed dose combination of kojic acid, vitamin A, glycolic acid, Aquaxyl, and biodegradable scrubbing beads (BSB).
Methods
This monocentric, prospective, not controlled study was carried out in 17 women who had received, within the 7 days prior study inclusion, a chemical peel treatment to manage skin disorders such as melasma, skin dark spots, post-inflammatory hyperpigmentation, photo-ageing and chrono-ageing.
Inclusion criteria
Signed informed consent; ≥ 18 years of age; prior chemical peel treatment, containing a fixed dose combination of salycilic acid, pyruvic acid and retinoic acid, and good general well-being.
Exclusion criteria
Pregnancy; delivery during the last 30 days; current inflammatory and infective skin diseases; current topical facial treatment with exfoliating, depigmenting products or topical either systemic use of antibiotics and photo-sensitising drugs; skin phototypes IV-V according to Fitzpatrick scale; cognitive impairment or any other condition or a condition that, according to the Investigator, makes possible a poor adherence to required procedures planned for the entire study duration; any disease or skin condition or other body condition that, according to Investigator' judgement, can place the subject at risk if participating in this study or may interfere with study assessments; skin exposure planned during study period or exposure to UV rays or use of self-tanning products; known intolerance to one or more components of the investigational products; prior participation in this study.
Primary endpoint
Hyperpigmentation reduction by a topical cosmetic treatment after chemical peel. The reduction of hyperpigmentation has been assessed by instrumental test, i.e. digital analysis of cutaneous surface (DACS), that measures the total amount of melanin in the examined area (56 x 56 mm). The examined areas that were chosen as target have been evaluated by Antera® 3D camera (3D images acquired by Antera® and analysed by Antera® software) as previously described3,4.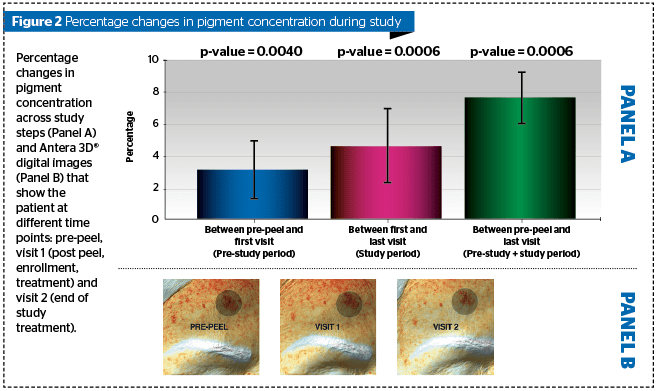 Secondary endpoints
Safety and tolerability of the cosmetic treatment. Home-based ease of use of the cosmetic treatment. Evaluation of pleasant use of the 3-in-1 cosmetic treatment. Overall evaluation of both investigator and study subjects' satisfaction of the obtained results following the topical application of the investigational treatment. The treatment was administered at home for 30 days. Subjects had to apply the day cream in the morning and the night cream in the evening. Subjects had to prepare the skin using the preparation cleanser before each application.
Clinical assessment
Clinical and instrumental evaluation of skin quality and skin pigmentation grade by DACS at first and last study visit. Record of adverse events with a special attention on those potentially occurred in the treated areas (i.e. burning, redness, pruritus, etc). Filling in questionnaire by the investigator on satisfaction about the performed treatment. Filling in questionnaire by the study subjects on satisfaction about the received treatment and on the pleasant and ease of use of the dermo-cosmetic treatment.
Results
All subjects completed the treatment period. The decrease in percent melanin concentration between first and last study visit was statistically significant (mean reduction: -4.68; p<0.001) (Figure 1).

Pigment concentration was assessed at different steps of the study, namely before peel, at initial visit (after peel) and at the end of study visit. As shown in Figure 2, the dermo-cosmetic treatment reduced pigment concentration even further after peel with a percent change that increased by almost 3-fold between pre-peel period and end of study visit (3.0 to 7.8; p<0.0001).
The evaluation by the investigator was very satisfying (maximum score of 5-point scale) in 25% of subjects and satisfying in 68.75% of cases on a 5-point survey scale. The day cream was evaluated very pleasant in 43.75% of subjects and pleasant in 56.25% of all subjects. The night cream was evaluated very pleasant in 43.75% of subjects and pleasant in 37.50% of all subjects as shown in Figure 3. The dermo-cosmetic treatment was evaluated easy to use in 87.50% of subjects in a 5-point survey scale. Finally, the investigator did not report any serious adverse events.
Conclusion
The topical cosmetic treatment programme showed a statistically significant reduction in the melanin percentage of dark spots on subjects who had previously undergone a chemical peel treatment. Therefore, the lightening effect of the previous chemical peel treatment was improved by the use of the topical cosmetic treatment programme. 
Find out more at: www.relifecompany.com
References:
Soleymani T, Lanoue J, Rahman Z. A Practical Approach to Chemical Peels: A Review of Fundamentals and Step-by-step Algorithmic Protocol for Treatment. J Clin Aesthet Dermatol. 2018 Aug;11(8):21-28
Rendon MI, Berson DS, Cohen JL, Roberts WE, Starker I, Wang B. Evidence and considerations in the application of chemical peels in skin disorders and aesthetic resurfacing. J Clin Aesthet Dermatol. 2010 Jul;3(7):32-43.
Cavallini M, Papagni M, Gazzola R. An objective method to assess the improvements of skin texture roughness after botulinum toxin type a treatment of crow's feet. Skin Res Technol. 2019 Jan;25(1):54-59
Cavallini M. Preliminary Report on an Objective, Fast, and Reproducible Method to Measure the Effectiveness of Botulinum Toxin Type A. Aesthet Surg J. 2015 Aug;35(6):715-20