Galcerán F, Lorente E, Vidal R, Luis L, and Ordiz I, present the findings from their clinical study
Research objective
To evaluate the efficacy and safety of the dermamelan® method in treating facial melasma among patients with a multi-ethnic profile and differentiated skin phototypes (according to the Fitzpatrick scale).
Materials and methods
A clinical study was performed including 33 cases of mixed melasma corresponding to Caucasian, Asian, African and Latin American ethnic groups with skin phototypes II–V, treated with the dermamelan® method.
The treatment protocol comprised a clinic session for renewal of the dermis and reversible inhibition of melanogenesis, combined with a home treatment to complete epidermal turnover and to regulate melanogenesis.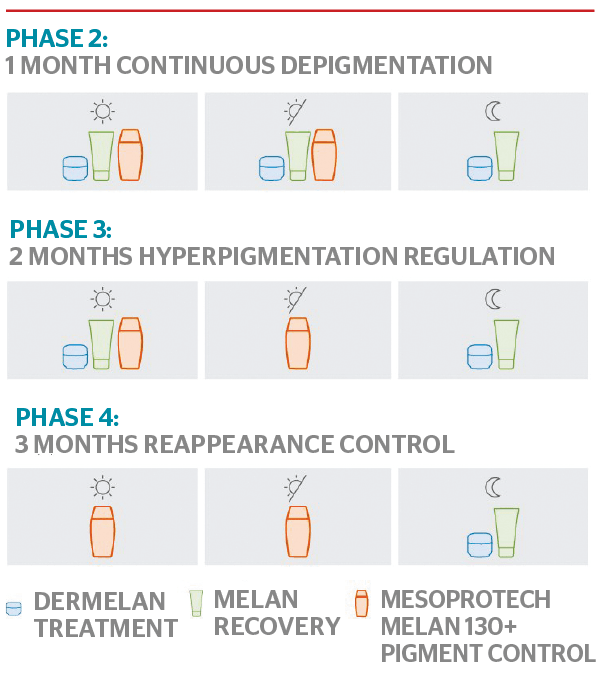 Phase 1: At the clinic
Application of the full 10 grams of dermamelan mask as a thick layer on the entire face, with increased thickness over the hyperpigmentation zones. The product was allowed to act upon the skin for the recommended time according to the skin phototype involved:
Phototypes I and II: 8 hours.
Phototypes III and IV: 10 hours.
Phototypes V and VI: 12 hours.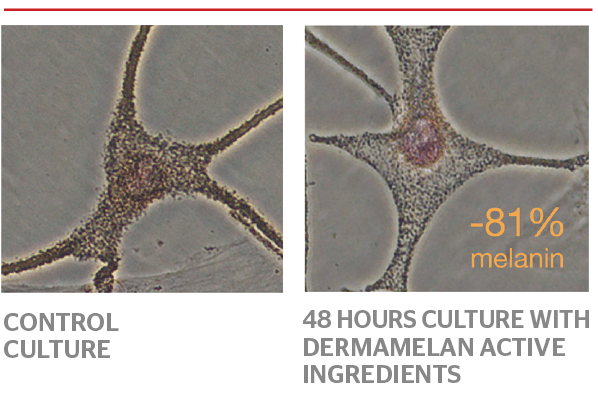 Phase 2, 3 and 4: At home
Application of the dermamelan treatment maintenance cream, based on the scheme shown in Figure 1.
Results
In vitro study
Studies in human melanocytes cultured with ingredients contained in dermamelan® after 48 hours have demonstrated an 81% reduction in melanin synthesis1 (Figure 2).
In vivo study
The clinical evaluation2 evidenced satisfactory outcomes in all types of ethnic groups and phototypes in terms of reduction of pigmentation (Figure 3).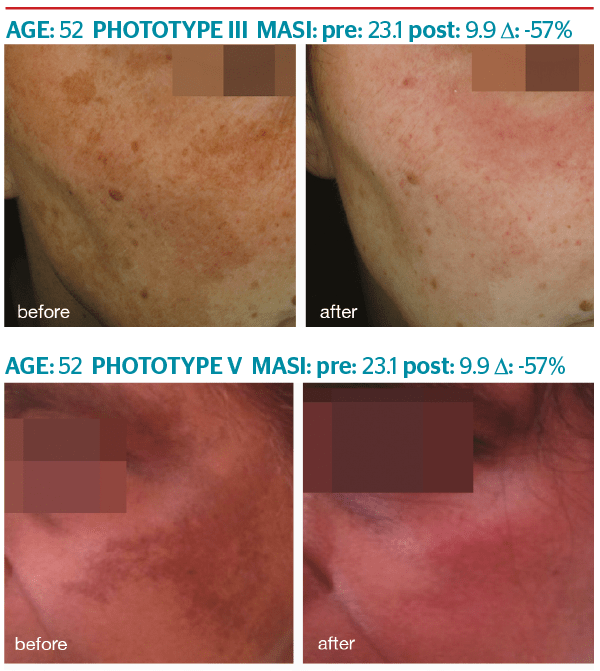 Conclusions
Efficacy in 100% of the treated cases*.
Visible results from the first week of treatment.
Notorious improvement of skin quality and reduction of superficial wrinkles in 100% of the cases.
No post-inflammatory. hyperpigmentations were reported during the treatment.
The dermamelan® method has been shown to be effective and safe in patients of all skin ethnic groups and phototypes.
*Measurement made with the mexameter® (day 0, day 15, day 30, day 60 and day 120) and/or MASI3 (before and after treatment).
References
Biotechnology Unit. Study of melanin synthesis for dermamelan®. mesoestetic Pharma Group S.L. 2014
mexameter® (MX18-Courage Khazaka Electronic) system for objective measurement of the skin melanin index. Evaluation in a subgroup of 12 subjects
Melasma Area Severity Index (MASI): subjective index quantitatively measuring the severity of facial melasma based on area, intensity and homogeneity