Kerstin Ortlechner explains the importance of treating the signs of neck ageing and how a combination approach is her treatment of choice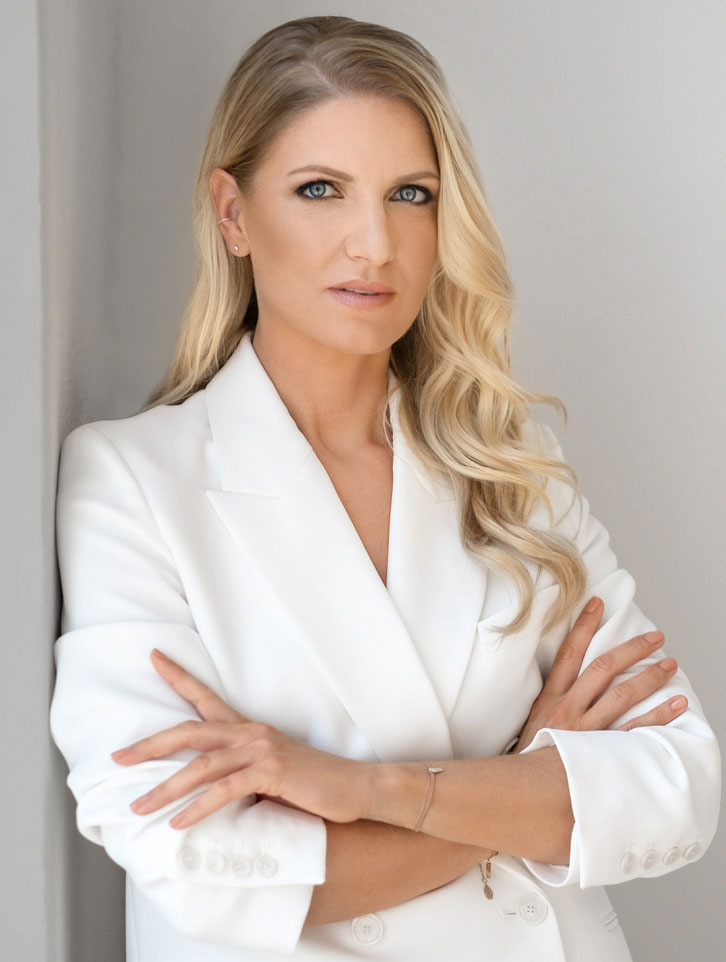 The neck is an important and under-appreciated factor in a person's appearance, and addressing this area is important for a balanced approach to rejuvenation. Because this region remains generally uncovered, the chest and décolletage are at high risk for UV exposure and damage, which further accelerate the effects of ageing1. Changes in the appearance of the neck are often one of the first signs of ageing2. The muscles of the neck are constantly engaged during daily activities, twisting, bending, and engaging the platysma muscle, even more so in the modern tech-centric world. With constant use of cell phones and computers, people tend to hold their heads down for a significant portion of the day — recent global estimates suggest people use the internet for a daily average of almost 7 hours3. The physical consequences of constantly looking down lead to issues such as 'tech neck,' and this strain can contribute to accelerated ageing in the neck and chest area2. In addition, the platysma is a depressor muscle and can pull the tissue along the mandible downward, creating a sad or sagging appearance4,5.
With the increasing demand for non-invasive procedures to achieve a more refreshed, rejuvenated appearance, more patients than before are focused on facial aesthetics6. This rising popularity and the increasing number of aesthetic procedures performed on the face have created a growing need for intervention in the neck, as patients are often left with an abrupt contrast between the rejuvenated face and the rest of the body, especially the neck and décolletage. The need to manage this discordance is a substantial awareness gap for patients and is also not always top of mind for clinicians. Consequently, the same anti-ageing care that is given to the face is lacking for the neck7. 
Signs of ageing in the neck
Aesthetic concerns of the neck include visible platysmal bands, horizontal neck lines (necklace lines), skin laxity, loss of firmness, and increasing skin crepiness1. With 70% of respondents in a recent survey reported being unsatisfied with features in the chin and neck area, it is important that clinicians are proactively educating patients about the need for treatment in the neck, as well as the face8. Treating both areas is needed to achieve the most natural-looking results with aesthetic procedures.
Age-related changes in the neck can be attributed to tissue degeneration, gravity, and muscular damage over time5. Several anatomical features make the neck area particularly susceptible to the effects of ageing, such as thinner skin compared with other body areas, slower cell renewal, lower lipid content, and more skin stretching5,7,9. Dermal thinning and lipoatrophy result in the increased visibility of muscles and deep rhytides, as well as other signs of photodamage, such as lentigines, telangiectasia, and dyschromia. Lower fat content relative to other body areas makes it more obvious when facial fat is lost with age. Sex and body mass index (BMI) also impact the depth of the superficial fascia in the face and neck9. Paramedian platysmal bands are caused by the large amount of stretching of the skin of the neck, along with strong muscle contractions of the platysma, age-related skin laxity, and an elevation of the medial platysma muscle fibres, which are not attached in the facial adhesion zone.
Each of these features contributes to an aged appearance in the neck area. To address the multifactorial effects of ageing and to promote optimal outcomes, a combination approach is most often required. Depending on the severity, some areas may also require multiple procedures over many visits. This article details a multilayer, combination treatment approach for treating age-related cosmetic issues in the neck and décolletage.
Approach
Skin quality plays a key role in the way age, attractiveness, and health are perceived. Even small changes in skin surface and pigmentation patterns can have a strong impact on perceived facial attractiveness; the skin's appearance can add or subtract as much as 20 years to a person's perceived age10. In a recent consensus statement by expert dermatologists and aesthetic physicians, there was strong consensus that good skin quality is defined as healthy and youthful in appearance. The below approaches aim to rejuvenate skin quality to restore volume, promote tightness, and improve skin texture to counteract the effects of ageing on the neck. This combination approach is used frequently in the author's practice and consistently gives rise to satisfying results for patients, resolution/prevention of any discordance between the face and the neck, and rejuvenation of the neck and decolletage.
Microfocused ultrasound with visualisation
Microfocused ultrasound with visualisation (MFU-V) is a non-invasive treatment that stimulates the production of collagen and elastin to shrink and tighten skin11. MFU-V creates thermal coagulation points (TCPs), small areas of thermal injury, at precise depths within the mid-to-deep reticular layer of the dermis and sub-cutis11,12. The generation of TCPs triggers the healing process and neocollagenesis, which progresses into gradual skin remodelling leading to shrinkage and tissue tightening. Importantly, the addition of ultrasound visualisation (V) to MFU facilitates the precise deployment of ultrasound energy to the desired region for safe and reliable tightening and lifting of loose skin, including on the neck and décolletage11. For treating cosmetic issues in the neck area, MFU-V is the only non-invasive ultrasound with visualisation FDA-cleared to improve lines and wrinkles of the décolleté11. The efficacy and tolerability of MFU-V for cosmetic purposes are well-established, and patients treated using MFU-V require no surgery or downtime. By using MFU-V to address laxity in the neck and decolletage, the laxity itself is addressed, but the skin also behaves as younger skin with higher collagen and elastin content13.
Calcium hydroxylapatite
Calcium hydroxylapatite (CaHA) is a biodegradable, injectable filler that restores volume, boosts collagen production, and is highly effective for facial rejuvenation procedures14. While the undiluted product is an excellent tool for revolumisation and creating lift and projection in the face, injection of hyperdiluted CaHA improves the skin's mechanical properties by stimulating neocollagenesis, elastin production, dermal cell proliferation, and angiogenesis15-17. CaHA injection results in a long-lasting aesthetic effect characterised by tight and elastic skin with increased thickness14. The hyperdiluted CaHA procedure itself is straightforward, and a cannula is used to deposit the product in the deep subcutaneous layer, where it induces collagen and elastin. Most often, patients require 2–3 sessions, 3–4 months apart, and patients should be informed that while a filler is being used, the results are not immediate but take approximately 3 months to be apparent18. In the neck and décolletage, less-diluted CaHA filler can also be used to correct deep rhytids that cannot be addressed with skin tightening agents alone1. Similarly to MFU-V, the neocollagenesis and thicker and younger-behaving skin resulting from CaHa treatment improves the appearance of laxity as well as fine lines.
MFU-V and CaHA — better together
Combining treatments can be a powerful tool. The combination of MFU-V and CaHA facilitates a multimodal approach that targets several effects of ageing in the neck and décolletage. Initial treatment using MFU-V shrinks and tightens loose skin, which can be followed by CaHA injection to fill in deep lines and restore missing volume. MFU-V and fillers such as hyperdilute CaHA are particularly suited for the treatment of the thin tissue in the neck area, in which deeper or ablative treatments are less applicable1. The utility of the combination of MFU-V and CaHA for treating cosmetic issues in the neck is supported by clinical studies and expert consensus, as discussed in the following section.
Supportive evidence
A 2015 expert consensus identified combination CaHA and MFU-V for the early intervention and restoration of age-related changes in the neck1. In cases of both prevention and treatment of the signs of ageing in the neck, there was strong consensus (agreement by ≥95% of advisors) for performing skin-tightening procedures using botulinum toxin as first-line therapy. At the same time, for restoration and reactivation, they advised using MFU-V and CaHA in the second and third lines, respectively1. If performing a single session to address more severe effects of ageing, experts recommend performing skin-tightening first, using MFU-V to address skin laxity, and then applying injectable therapies to fill deeper lines1. For combination applications to stimulate neocollagenesis, reduce fine wrinkles, and improve skin texture in the neck and décolletage, panel experts suggest MFU-V combined with low-viscosity HA fillers or CaHA diluted 1:1 or 1:2 using sterile saline or lidocaine1.
Individually, CaHA and MFU-V are well-tolerated and have established safety profiles. More than two decades of research support the tolerability of CaHA, and microfocused ultrasound technology has been approved since 200914,15,19. When used in combination, CaHA and MFU-V are similarly safe. The first study to evaluate the safety of a combination of CaHA+MFU-V was conducted in 2014 by G. Casabona20. This split-thigh study reported no granuloma or histologic changes in a patient treated with MFU-V following injection with CaHA or hyaluronic acid fillers20. The efficacy of the filler was not affected. On the contrary, compared with single agents, areas treated using the combination approach exhibited an increased number of collagen fibres. Thus, the addition of MFU-V to treatment with filler appeared to enhance and improve the quality of newly synthesised collagen and elastin fibres, supporting more natural outcomes20.
A split-face clinical study with 20 participants illustrated the benefits of the combined use of diluted CaHA, injected subdermally, with MFU-V to correct age-related changes in the face, neck, and décolletage17. Benefits identified in this study included stimulation of neocollagenesis, increased biosynthetic activity, increased quantity and quality of collagen and elastin fibres, and remodelling of the superficial and deep layers of the dermis17. Patients experienced age-related improvements in all treatment areas17. The procedures were well tolerated, and patients reported high levels of satisfaction with the treatment by the end of the study17.
Another study in a larger patient population (N=45) from 2018 also reported positive outcomes with combination therapy for the neck and décolletage. In this study, procedures in the neck area were well-tolerated by men and women; 90% reported mild pain, and 10% reported no discomfort at all. Patients had significant improvements in the appearance of their necklines and décolletage scores. Neckline scores improved from 2.6 (moderate to severe lines) at baseline to 1.3 (mild lines) 90 days after treatment. Overall, the treatment led to very high levels of patient satisfaction21.
Personal experience
In the experience of the author, who over the past 2 years has treated approximately 50 patients with this dual-treatment modality in the neck area, combination MFU-V plus diluted CaHA shows similar positive outcomes when used to treat the neck. The treatment approach for MFU-V depends on how many lines are present and how deep the lines are on a patient's neck. Skin quality, the amount of collagen, and the thickness of the skin can all affect treatment. It is important to recognise the need to tailor treatment to each individual patient to avoid unwanted side effects or ineffective outcomes. When using CaHA in the neck area, the product should always be hyperdiluted: 1:1, 1:2, or 1:3 dilution may be appropriate depending on the thickness of the patient's skin. The author prefers RADIESSE® (Merz North America, Inc) without lidocaine and dilutes it with saline and 1% Xylanaest® (Gebro pharma) plus epinephrine. The total dilution is 1.5mL Radiesse plus 1 mL saline and 0.5 ml Xylanest plus epinephrine. The author recommends using a blunt-tip cannula and prefers the threading technique. Massage the product out to avoid bumps and lumps.
As shown in Figure 1, patients experience tightening and lifting of the skin along the jawline and neck, improvements in the visibility of the jawline, and decreased skin laxity. Similar results were obtained for women and men (Figure 2).
Ultimately, thorough patient consultation and education are key to managing expectations and supporting satisfaction with the treatment. Explain to patients that it is not possible to achieve miracles with this treatment, but enhancing and improving their appearance is very attainable. In this era of prioritising a natural look, MFU-V is the only treatment available that does not alter unique aspects of the patient's face; there is no risk for ballooning or overfilled faces with this approach. Combination with the biostimulatory activity of CaHa is key. Do not neglect the neck!
Conclusions
The neck is a key component of facial appearance that should be considered as part of a treatment plan to improve facial aesthetics. Combination treatment with CaHA and MFU-V is safe and effective for treating the neckline and leads to high levels of patient satisfaction. Clinicians should consider this combination approach for the correction of age-related changes in the neck and décolletage.
Declaration of interest Dr Ortlechner advises Loreal, Vichy, SkinCeuticals, Eucerin, MERZ Aesthetics, and Dyson
Figures 1–2 © Kerstin Ortlechner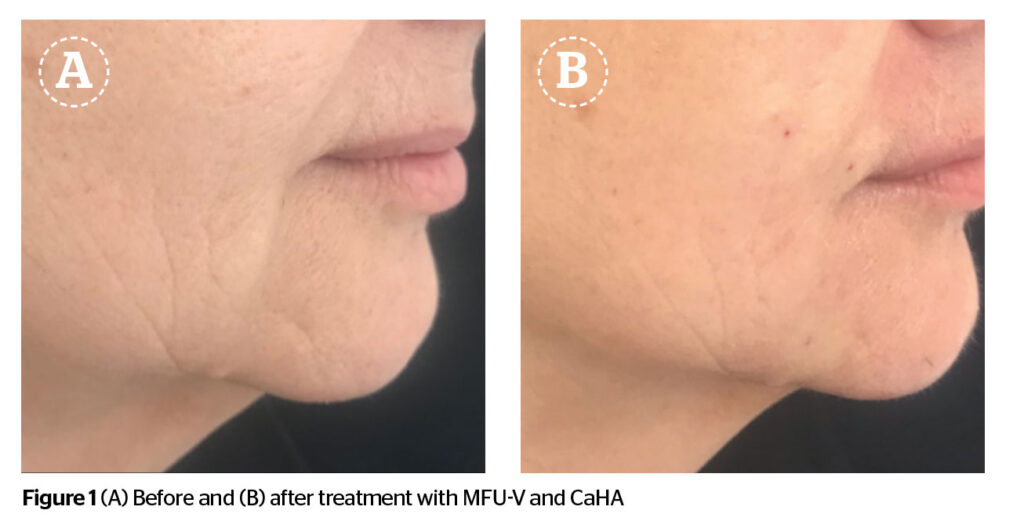 References
Fabi SG, Burgess C, Carruthers A, et al. Consensus Recommendations for Combined Aesthetic Interventions Using Botulinum Toxin, Fillers, and Microfocused Ultrasound in the Neck, Décolletage, Hands, and Other Areas of the Body. Dermatol Surg. Oct 2016;42(10):1199-1208. doi:10.1097/dss.0000000000000869
Qiu H, Zhao R, Cao L, Liu S, Yu D, Wang H. The Aesthetic Concerns of Botulinum Toxin Type A in the Treatment of Neck Wrinkles: A Systematic Review. Aesthet Surg J. May 18 2021;41(6):Np592-np601. doi:10.1093/asj/sjaa312
DATAREPORTAL. Digital 2022: Global Overview Report. Updated January 26, 2022. Accessed June 29, 2022. https://datareportal.com/reports/digital-2022-global-overview-report. 
Levy PM. The 'Nefertiti lift': a new technique for specific re-contouring of the jawline. J Cosmet Laser Ther. Dec 2007;9(4):249-52. doi:10.1080/14764170701545657
Brandt FS, Bellman B. Cosmetic use of botulinum A exotoxin for the aging neck. Dermatol Surg. Nov 1998;24(11):1232-4. doi:10.1111/j.1524-4725.1998.tb04103.x
American Society of Plastic Surgeons. Plastic Surgery Statistics Report 2020. Accessed August 2, 2022. https://www.plasticsurgery.org/documents/News/Statistics/2020/plastic-surgery-statistics-full-report-2020.pdf. 
Kim E, Cho G, Won NG, Cho J. Age-related changes in skin bio-mechanical properties: the neck skin compared with the cheek and forearm skin in Korean females. Skin Res Technol. Aug 2013;19(3):236-41. doi:10.1111/srt.12020
American Society for Dermatologic Surgery 2021 Consumer Survey on Cosmetic Dermatologic Procedures. https://www.asds.net/portals/0/PDF/consumer-survey-2021-infographic.pdf
Casabona G, Frank K, Koban KC, et al. Influence of Age, Sex, and Body Mass Index on the Depth of the Superficial Fascia in the Face and Neck. Dermatol Surg. Nov 2019;45(11):1365-1373. doi:10.1097/dss.0000000000001909
Fink B, Grammer K, Matts PJ. Visible skin color distribution plays a role in the perception of age, attractiveness, and health in female faces. Evolution and Human Behavior. 2006;27(6):433-442. 
Fabi SG, Joseph J, Sevi J, Green JB, Peterson JD. Optimizing Patient Outcomes by Customizing Treatment With Microfocused Ultrasound With Visualization: Gold Standard Consensus Guidelines from an Expert Panel. J Drugs Dermatol. May 1 2019;18(5):426-432. 
Laubach HJ, Makin IR, Barthe PG, Slayton MH, Manstein D. Intense focused ultrasound: evaluation of a new treatment modality for precise microcoagulation within the skin. Dermatol Surg. May 2008;34(5):727-34. doi:10.1111/j.1524-4725.2008.34196.x
Casabona G, Kaye K. Facial Skin Tightening With Microfocused Ultrasound and Dermal Fillers: Considerations for Patient Selection and Outcomes. J Drugs Dermatol. Nov 1 2019;18(11):1075-1082. 
Loghem JV, Yutskovskaya YA, Philip Werschler W. Calcium hydroxylapatite: over a decade of clinical experience. J Clin Aesthet Dermatol. Jan 2015;8(1):38-49. 
Yutskovskaya Y, Kogan E, Leshunov E. A randomized, split-face, histomorphologic study comparing a volumetric calcium hydroxylapatite and a hyaluronic acid-based dermal filler. J Drugs Dermatol. Sep 2014;13(9):1047-52. 
Berlin AL, Hussain M, Goldberg DJ. Calcium hydroxylapatite filler for facial rejuvenation: a histologic and immunohistochemical analysis. Dermatol Surg. Jun 2008;34 Suppl 1:S64-7. doi:10.1111/j.1524-4725.2008.34245.x
Yutskovskaya YA, Sergeeva AD, Kogan EA. Combination of Calcium Hydroxylapatite Diluted With Normal Saline and Microfocused Ultrasound With Visualization for Skin Tightening. J Drugs Dermatol. Apr 1 2020;19(4):405-411. doi:10.36849/jdd.2020.4625
Lorenc ZP, Black JM, Cheung JS, et al. Skin Tightening With Hyperdilute CaHA: Dilution Practices and Practical Guidance for Clinical Practice. Aesthet Surg J. Jan 1 2022;42(1):Np29-np37. doi:10.1093/asj/sjab269
Merz. Ultherapy System: Instructions for use. Merz North America, 2019. Accessed June 29, 2022. https://ultherapy.com/app/uploads/2021/10/1015107IFU-Rev-A-US-Instructions-for-Use.pdf.
Casabona G, Michalany N. Microfocused ultrasound with visualization and fillers for increased neocollagenesis: clinical and histological evaluation. Dermatol Surg. Dec 2014;40 Suppl 12:S194-8. doi:10.1097/dss.0000000000000231
Casabona G, Nogueira Teixeira D. Microfocused ultrasound in combination with diluted calcium hydroxylapatite for improving skin laxity and the appearance of lines in the neck and décolletage. J Cosmet Dermatol. Feb 2018;17(1):66-72. doi:10.1111/jocd.12475