Wendy Lewis takes a look at the social channel that's all business

Aesthetic practices are constantly searching for tools to build trust and expand their contacts. The more contacts you have, the more opportunities may come your way and the more visible you will be to patients, colleagues, industry, and media. While many social platforms can support marketing and networking, LinkedIn excels in these areas by far.
LinkedIn is widely considered to be the most frequently used platform for business to business (B2B) communication. LinkedIn members range from freelancers and temps to C-suite executives and key decision-makers in their respective businesses. It's a virtual who's who across all categories, industries and roles.
In 2016, Microsoft bought the platform for over $26 billion, ostensibly to boost its sliding position in an expanding Apple and Facebook world1. The deal was done by promising LinkedIn to maintain its independence as an operating unit within Microsoft.
Since the acquisition, LinkedIn has evolved and has actively been building its audience. It boasts approximately 740 million members at the time of this printing, depending on who you ask. To put that in perspective, Facebook has 2.8 billion users2, and Instagram comes in with slightly over 1 billion3. LinkedIn is considered a very influential social media platform at building true engagement between its users. The connections you can make on this uber-popular B2B platform can literally change your practice and standing in your field.
LinkedIn 2021
LinkedIn has skyrocketed into the position of the most sought-after social channel for businesses to connect with other businesses. Members gather on LinkedIn to engage with decision-makers, influencers, and leaders and use the site to keep in touch with business associates, clients, and co-workers and to stay on top of news and trends that matter to them.
Since Microsoft took over, LinkedIn has concentrated on 'growing its revenue,' which in the realm of social media platforms is basically code for generating fees from advertisements. As the world's largest professional networking platform, LinkedIn has continued to add new features and amplify their advertising options to drive revenue4. The site currently claims to be able to deliver up to two times higher engagement rate for marketers, 13.5% lower cost per acquisition using LinkedIn's conversion tracking tool, and two times higher conversion rates for marketers5.
The pandemic has been very good for LinkedIn. The site functioned as a virtual global meeting ground. Engagement has grown rapidly driven by the pandemic where people were eagerly joining the platform to search for jobs and new opportunities and to stay visible to colleagues and vendors. LinkedIn can be a game-changer for your status in the industry and among your peers and help to boost your profile and build brand awareness. In fact, if you are not visible on LinkedIn, you may be missing out on many worthwhile and potentially lucrative opportunities.
As the pandemic has been winding down and budgets have come back to life, employers are jumping onto LinkedIn to find talented staff and vendors.

Words from an early adopter
I joined LinkedIn in 2009 as an individual and signed on for a Premium account and became an instant fan. At that time, I had jumped onto social media on Twitter first and, shortly thereafter, Facebook. LinkedIn was simple and straightforward, although perhaps not as much fun as other platforms. Fast forward to 2021, I have over 13,000 followers and spend more time on LinkedIn than any other social platform because I learn so much on it. Every day I read some great articles, stay on top of real news, see who is doing what and going where, learn about new launches, mergers, and industry trends, and find out about events and conferences. It is an integral part of my day and I keep it open on my laptop. It may not be as fun or entertaining as Insta or TikTok, but there is a lot less worthless and time-wasting content on LinkedIn because users tend to have higher standards. Being a writer, LinkedIn also offers creative ways to express myself and comment on posts that are serious and informative, and to join the conversation. I have met so many great colleagues on the platform, many of whom have become clients, friends, and some of whom we have hired or had the pleasure of working with. I highly recommend it!
Getting started
A basic LinkedIn account is free. Premium accounts will provide additional features that can be very valuable. 'Premium Career' is aimed at people searching for jobs, and 'Premium Business' is for any professional. You may be able to try these premium options for one month for free.
Developing your profile
Your profile is an important component of your personal online brand. All registered LinkedIn users will be able to view it unless you choose the privacy mode. You can also have a public profile that can be found by external search engines, so people who are not on LinkedIn can view it.
In addition to adding your CV and special expertise, you can showcase PDFs, online articles, images, research, scientific papers, lectures, slide shows, and more.
LinkedIn's internal search algorithm only seeks out profiles that rank as complete. Complete profiles can get far more views than incomplete profiles. Therefore, if you are serious about using LinkedIn, completing your profile is essential.
Your headshot should preferably be taken by a professional photographer. Avoid any distractions in the background and neutral colours may work best. Use a reasonably current high-resolution image that fills at least half of the frame with your face. Smiling will make you look friendlier. Wear the style or type of clothing you wear at your clinic or attending a congress. If you prefer to have a photo taken in a lab coat, that is your choice. Consider how you would like to be perceived by your peers.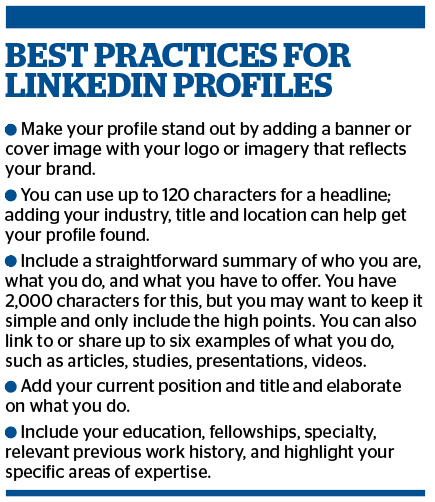 The more details you add to your profile, the more you will be found, and the better results you can achieve. Aside from your personal profile, it is important to also set up a company LinkedIn page for your brand or clinic and link them together.
Adding keywords will make your profile more searchable, which will help to build your network of contacts. Good places to add keywords may be your headline, summary, and experience. You can include terminology related to the expertise and skills you most want to highlight to help increase your visibility in those categories.
Consider how your LinkedIn presence should align with your overall social media strategy. You can integrate your LinkedIn profile with other platforms. For example, you can have your LinkedIn updates set up to automatically be posted to Twitter. Keep in mind that LinkedIn is truly a B2B platform, so the content you post may not be appropriate for the tone of your other social channels.
This will be seen as a huge red flag to any serious LinkedIn user. I see content all the time in my LinkedIn feed that is clearly duplicated from Facebook, Instagram, even Pinterest. To diehard LinkedIn users, the tone, theme, and messages that you may use on consumer-focused channels have no place on a business channel. However, you can tweak the copy, tone, and attachment of a tweet or Facebook post to fit into the LinkedIn model.
Connect with other LinkedIn users
More than Facebook or Instagram, LinkedIn is the ideal way to stay up to date with new developments, share information with colleagues, and get educated on a wide range of things you need to know. The potential is only limited by the amount of time you can spare from your workday to spend on the platform.
You can invite anyone to connect and accept their invitations to connect with you, but they need to have an active LinkedIn account to use the site. Your connections will be saved in your network. Every time you make a new connection, you will have access to their profile and to their publicly available connections. The number of first-degree connections you have affects your search ranking on LinkedIn. Second-degree connections will help expand your network.
The Messaging option allows you to have real-time personal conversations with your connections. If you sign up for a Premium account, you can use the InMail feature to send private messages to any LinkedIn member.
Give and receive recommendations and endorsements
Your connections can write recommendations for your profile and offer endorsements of your skills, and it is good etiquette to return the favour, but only if you think highly of the individual. These are considered personal testimonials and will be visible, so you should take them seriously.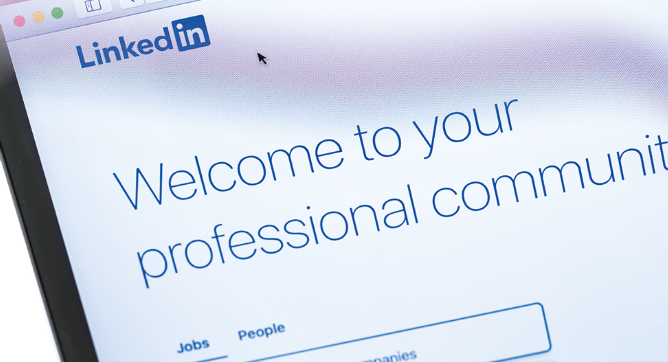 Join LinkedIn groups
Joining groups is an ideal way to engage with like-minded individuals and make new connections in your field. Any LinkedIn member can form their own group or join groups that are public. For groups that are private, you will require a direct invitation or be accepted by the manager of the group. There are thousands of groups to choose to join, and you can search by theme or keyword. For example, dermatology, medical aesthetics, plastic surgery, medical devices, beauty bloggers, etc.
Most groups have some rules, for example, shameless self-promotion is often discouraged and you may be blocked or disinvited from the Group if you violate the rules.
Create unique content
For LinkedIn, be mindful that your content should be informative and useful for your professional audience. You can use text with images, photos, videos, and links, and share posts from other users.
You can post articles directly through the LinkedIn Publishing Platform and any articles you write will appear on your profile as well. Your articles may be shared by other users and appear in search results which is a simple way to promote your expertise.
SlideShare, which is embedded into LinkedIn, offers another opportunity to share quality content in the form of slide presentations and infographics.
Use hashtags and keywords
Hashtags work basically the same way on LinkedIn as on any other social network. Adding relevant hashtags to your posts can help your content get found by more users. For example, #medicalaesthetics #plasticsurgery #dermatology #lasers, etc. Determine how many users follow any hashtag by typing it into the search bar.
Stay professional
I often see aesthetic doctors and practices posting about special offers, patient events, staff birthdays, and regurgitating eblasts and blog copy intended for Facebook and Instagram. This strategy is not what LinkedIn is intended for. Your content should ideally be distinctly different from the content you create for other social channels in terms of the tone, messaging, format, and visuals.
Of course, your colleagues and business contacts are most likely following your Instagram and other active social channels as well as LinkedIn. However, it is important to observe professional etiquette on LinkedIn so you are taken seriously. What differentiates LinkedIn is that it is considered the 'the world's largest professional networking website', the operative word being 'professional.'
References
Todd Bishop. LinkedIn posts first $10 billion year, 5 years after Microsoft deal, but profits remain a mystery. Geekwire: July 27, 2021. Available at: https://www.geekwire.com/2021/linkedin-posts-first-10-billion-year-5-years-microsoft-deal-profits-remain-mystery/ [last accessed 23 August 2021]
Omnicore Agency. Facebook by the Numbers: Stats, Demographics & Fun Facts. Omnicore Agency: August 11, 2021. Available at: https://www.omnicoreagency.com/facebook-statistics/ [last accessed 23 August 2021]
Christina Newberry. 44 Instagram Stats That Matter to Marketers in 2021. Hootsuite. January 6, 2021. Available at: https://blog.hootsuite.com/instagram-statistics/ [last accessed 23 August 2021]
LinkedIn Press Room. About Us. LinkedIn Corporation 2021. Available at: https://news.linkedin.com/about-us#Statistics [last accessed 23 August 2021]
LinkedInMarketing Solutions. LinkedIn Corporation 2021. Available at: https://business.linkedin.com/marketing-solutions/sign-in?trk=van-emea [last accessed 23 August 2021]
Ying Lin. 10 LinkedIn statistics every marketer should know in 2021 [infographic]. Oberlo. March 14, 2021. Available at: https://www.oberlo.com/blog/linkedin-statistics [last accessed 23 August 2021]
Christina Newberry. 38 LinkedIn Statistics Marketers Should Know in 2021. Hootsuite: January 12, 2021. Available at: https://blog.hootsuite.com/linkedin-statistics-business/ [last accessed 23 August 2021]
Stewart Gandolf. LinkedIn for Doctors: 6 Big Reasons Why Doctors Need It. Healthcare Success. Available at: https://healthcaresuccess.com/blog/doctor-marketing/reasons-doctors-need-linkedin.html [last accessed 23 August 2021]