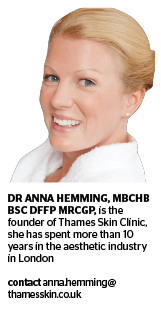 Dr Anna Hemming shares her insights on the patient consultation process
I have been working in aesthetic medicine since 2008. It didn't take me long to understand patient assessment is key to creating a happy patient and working environment. After all, my patient is the most important aspect of my work. Patient satisfaction is key to retention and building great doctor-patient relationships. Being with happy patients creates a more relaxed atmosphere and working environment, making our days even more enjoyable and fun. What's more, my patients make me feel worthwhile. During my early career in aesthetic medicine, happy patient's word-of-mouth recommendations strengthened and developed my practice and brought me the quality patient I wanted to treat.
The ability to make patients happy and helping them to change something they are unhappy about is my passion. Giving confidence and increased self-esteem is priceless. Watching patients grow in strength and ability as a direct result of my work is extremely rewarding.  Getting this right is my job, using products and treatments that work helps; however, it is still so much better to treat a happy patient. In this article, I will explore exactly why a happy patient is integrally linked to patient assessment.
The ageing process
I have spoken many times, at conferences, workshops and masterclasses about the ageing process. The study of the ageing face is very important. It allows us to recognise instantly how the patient in front of us has aged; immediately forming a list of potential treatments, products and services that would help halt or reverse this patient's ageing progression, turning back their age clock. After all, this is what we are trained to do. Brilliant as masters of our profession, we have the ability to successfully treat those in front of us. However, we also need to manage our patient, their commitment to treatment, and budget. They may have very different expectations and ideas. We need to be careful as we assess our patient and listen to their views, concerns and opinions about treatment. How does our patient respond to treatment suggestions? What is their understanding of the options available to them? Are they open to different options of treatment? Some have very fixed ideas about what they need, while others have no idea of the depth and extent of aesthetic treatments available today.
Who is assessing who?
Our assessment of a patient occurs simultaneously with our patient's assessment of us.
Our manner and actions in this potentially brief but meaningful encounter form the basis of our patient relationships and their feelings towards our treatments.
My assessment of my patients begins with their first contact; this may be in person but may also be by telephone, email or text. As doctors, we quickly get a feel for our patients. We need to understand how we can help our patients, and whether the patient is suitable for treatment, how demanding they might be, and whether their expectations are realistic. Are they experienced in how our treatments work and what we can do to help? We start to build a picture of how this patient will treat us and whether we want to treat them. After all, we also have a choice.
At a face-to-face meeting, we are able to perform a more personal examination of their needs and concerns. By taking an adequate history and examination, our patient assessment pieces together a picture that is greater than the sum of the parts. We amass a holistic and medical perception, including their previous health, medication and contraindications as well as examining the ageing process and structural changes that ageing brings.
I learnt a long time ago in my work as an anaesthetist what a difference a proper, interactive assessment makes to a patient and how this makes patients feel.
It was often mentioned to me by the recovery nurses that my patients woke after my general anaesthetic in less pain and with less nausea than other colleagues. I am not telling this to blow my own trumpet rather than to stress the reason why. It had nothing to do with drugs or medication I had administered, but due to the extra few minutes I spent with them at their bedside getting to know them as people and some things they enjoyed doing and were interested in. I would continue this discussion when inducing anaesthesia. As a result, my patients were more relaxed, and, in turn, their body was less anxious about their operation. They were happy with the way I treated them and trusted me to be their advocate while in surgery. During my pre-anaesthetic assessment, the patient was assessing me, I put them at ease and this helped me to give a good anaesthetic and great results. Fourteen years later, and I am using the same principles in my aesthetic work.
Expectations about consultation
Patients come to see us, as doctors, for help. They have a concern, generally with an aesthetic feature they wish to change. They often research who to visit for a long time, if not years, before making contact with their preferred professional. Nowadays, our profiles are out in the public domain, especially those of us who use social media, and patients have expectations regarding how they wish to be treated. Patients review us on many platforms, so getting it right is vitally important for the patient and for our businesses.
You do not want your patients to leave feeling that you have not examined them properly or assessed their concern. These patients are less likely to return or book a treatment or come for reviews. Involve your patient in your assessment and make sure you actually take a closer look and touch their skin. Assess skin for laxity, fullness, fragility or stretch pigmentation for depth analysis. This gives you valuable information as well as showing the patient that you care about their concern and want to do something to help them.
One of the doctors I worked with in the past ran a walk-in clinic overfull with patients. They were often seeing 50 plus patients in a morning surgery. He was quick, but he did not touch the patient or listen to their cough, etc. A large proportion of patients returned the following day to my walk-in clinic. Asked why they were back so quickly, they replied that the doctor yesterday was no good: 'he didn't even listen to my chest'. He was actually a very good doctor and 99% of the time knew exactly what the patient needed. However, he did not meet the patient's expectations, which was for the doctor to examine them properly, for this reason, I always did put my stethoscope to their chest and the patients would feel happy that their consultation was completed and the diagnosis was correct.
Start your patient-doctor relationship the way you wish it to stay
The way we conduct our patient assessment helps to form the patient-doctor relationship we wish to take forward. By understanding your patients and picking up on non-verbal queues, you can gauge when to introduce other ideas and treatments or focus on different areas that they may not be aware will help with their goals. This will help you achieve their expectations and introduce different treatments and therapies or home care plans that can help generate more revenue. Patients who like you are more likely to buy through you and stop buying online or through clinics or stores that do not engage with them.
Our industry is hugely personable. Having the right approach to each patient forms part of your reputation. A positive reputation is only ever a good thing.
Link the past to the present and the future
The correct patient assessment should be methodical and repeatable as well as being personable. Photographs are essential, not just of how your patient looks today. Assess how they looked 10 or 20 years ago as part of your historical examination. It is also interesting to talk about their parents ageing process. Patients often watch what is happening to their family members and wish to change the ageing progression happening to them. Engaging with the patient and being interested in their lives will also help you understand them better.
Find out about their concerns
We have to remember that the patients we see may have a number of clearly objective concerns; however, their subjective worry may lie elsewhere. Involve their thoughts and feelings into your assessment. Keep your questions open and ask them what they want help with. What is their primary concern, they may have many so asking which is the first, biggest, most concerning for them will help you target the treatment site that will give your patient the maximum satisfaction. A happy patient will return for future consultations.
As well as the ageing process, it is important to assess their lifestyle. Some patients wish to start families, starting on retinol or other skin medications or courses of treatments may not be practical.
Commitment means time and money
Location and commitment are also important factors. There is no point in suggesting weekly treatments to a patient living hundreds of miles away. Courses of treatments may be an issue for patients who have to travel far, as might reviews. Some patients have the commitment, time and finances to travel for multiple treatments; however, others won't. Spend time with patients during their assessment to explore the time commitment as well as the financial commitment, what they are willing to go through to make the changes to address their concern? This could involve travel time or downtime. Can they cope with the after-effects of a deep levelling skin peel, or post radiofrequency redness, or even potential swelling after dermal filler?
Use your patient assessment to choose the right patients for you
I also use time during my patient assessment to ask myself whether I feel this patient is someone I want to treat. Can I make the right doctor-patient relationship with them? Will they comply with pre and post-treatment instructions in order for me to treat them properly? Have they had a long list of aesthetic doctors who have not been able to treat them in a way the patient is happy? Are their expectations for treatment set at the right level? It is very rare that I say to a patient 'I am not the right doctor for you' or 'I don't think I can treat you as your expectations for treatment are not manageable', but when I have had that conversation, I have been very relieved. A good patient assessment will trigger alarm bells for problem patients and help manage expectations. It is valuable to share some patient before and after photographs to help with this too.
The assessment helps me to select the right patients to work with for the long term. Look for those with medical problems you do not understand or contraindications for treatment. Patients whose previous treatments have not worked or have been unsatisfactory. Those with a long list of previous aesthetic doctors or failed treatments. Ones with unrealistic expectations or just those who trigger a feeling inside of you that doesn't feel right.
Have the courage to say no to patients who do not meet your expectations.
By getting your patient assessment correct, you will have all the information to make the right treatment decision with them. They will want to see you again as you have not only made them look good, but feel good too. By taking photographs, you will have fantastic before and after images that double up as a lovely reminder for the patient to see how their commitment to your aesthetic treatments has been rewarded. People forget very quickly what they looked like a week or so ago, as a treatment change doesn't take long to look and feel completely normal.
The patient assessment helps manage expectations and protect both you and the patient
When things go well, we are all happy; on the rare occasion when things do not go so well, we need to fall back on our consultation and assessment notes. Writing accurate, informative, and legible notes is a very important part of our patient assessment process. Photographs are vital, as is the signed medical history and consent forms for each treatment. Once again, patient assessment proves to be essential. If done properly, it helps reinforce patient expectation, as well as provide the necessary information at review or in the event a complaint is made.
How to get patient assessment right
Find a methodical, repeatable approach to assessment
Discuss ageing, facial change (skin, fat, bone), medical history, contraindications
Use a personal approach, open questions to raise their concerns
Take photographs and ask to see pictures of their younger self
Take lifestyle, commitment, budget, time into consideration
Manage expectations, what will your treatment do? Will it help them?
Getting patient assessment right is the key to maintaining a patient list you want to treat. Patients who trust you will return to you
Thorough explanation of treatment options and expectations helps in understanding realistic outcomes
Show before and after pictures of your patients
Be clear about pricing and repeat treatment timings to help patients understand the ongoing commitments.
If you don't feel comfortable, don't treat the patient.