Every year social media soars to new heights, but as soon as we get comfortable with one platform, they change it on us, or another one comes along that starts to take-off. Wendy Lewis cuts through the social glut for aesthetic practices.
It takes a village to keep up with the latest updates, new rules, changing behavior, and features of social media, which are released at such a rapid pace. In my honest opinion you can't be an expert on all social platforms, and not every one of them makes sense for your goals and target audiences. New technology is always exciting and gets our juices flowing. However, time is money and no medical practice has unlimited resources to be everywhere in a big way.
To jump on every hot new platform can have the opposite effect of what your marketing plan sets out to do. It can fragment your concentration, squander valuable marketing dollars, and build up additional payroll or consulting funds. Savvy marketers know the value of being active where their target audience is first, and the benefits of being an early-adopter on those channels. But a case can also be made to hold back until you can see where it's going.
Here are two social media platforms that are on fire and worth watching in 2016.
Live streaming video is on a roll

'A picture may be worth a thousand words, but live video can take you someplace and show you around.' — Periscope.

Live-streaming video will continue to grow in popularity in 2016. Apps such as Periscope, Meerkat, and Blab enable users to broadcast live video streaming through their mobile devices. Periscope seems to be leading the pack at the moment, but as predictions of the demise of Twitter abound, that could change at any time. It is a free live-streaming app you can download from the iTunes or Google Play Store. If you are on Twitter, you can also link Periscope and Twitter.
The tagline says it all: 'Explore the world through someone else's eyes'. Periscope allows you to video events or situations and your followers can watch you in real time. The key thing to remember is that these videos are only saved by Periscope for 24 hours, although you do have the option of saving your videos to your phone's camera roll. You can follow people; adjust your notifications, settings, and profile, just like any other social channel. Periscope also allows you to block some of your followers so they cannot see your video stream. You can also turn off the location feature on your phone before you start a broadcast.
It is emerging as a novel platform to connect with consumers, bloggers, and media in ways that you may not have been able to using other social media channels. Although you won't get direct referral traffic to your website or blog via Periscope because, unlike Facebook or Twitter, you cannot post a clickable link, it can boost search engine traffic. Mention your practice website a few times during each scope so people know who you are and how to find you.
Using Periscope is called 'scoping' and you can scope as often, or infrequently, as you prefer. Some users spend a lot of time creating the perfect video, while many others just jump on whenever they are doing something that may be interesting to their followers. It is a free platform (for now at least), and you can use it at will.
Consumers flock to Periscope to see what their favorite brands or celebs are up to and to gain access to content of interest on style, beauty, health, fitness, and almost anything. Think of it this way; you do a lot of interesting and unusual things every day in practice, Periscope is a way to showcase your work and the patient experience.
Because Periscope is connected to Twitter, that is where you will promote your broadcasts primarily, so it's important to know who your Twitter followers are and find out what posts rock their world.  Keep in mind that mobile users have an increasingly short attention span, and if you don't capture their interest in the first few seconds of your video, they are more likely to stop viewing your stream. By sharing your broadcast on Twitter and turning on the location tagging option, you can reach a larger audience.
Another benefit of Periscope is to use it as a way to advertise your practice or medical spa. You can showcase your specials or offer followers a peek behind the curtain and show them what you do and how you do it. You can also highlight new products, and allow consumers to engage with the practice staff and ask questions.
The newest trend is live 360°-degree broadcasts that allow users to move their phones and experience the action as if they were actually there. For example, if you were looking at a video of a day at the beach, you would be able to tilt your phone, headset or camera one way and look at the shoreline, and then tilt it down and look at the sand, and so on. It's the next best thing to being there.
Snapchat is the new Instagram

Snapchat, after Instagram, is the hottest thing going at the moment for marketers looking to connect with young consumers. It is uncanny that Snapchat is already catching up to Facebook in the number of daily video views. In fact, Facebook reported 8 billion video views daily with an audience of 1.55 billion, and Snapchat claimed 7 billion video views daily with 100 million users, a fraction of Facebook's audience, according to Bloomberg News1.   
If you don't know what Snapchat is, you have invariably seen the yellow ghost icon that looks like Casper fell into a pool of bright yellow highlighter, the color of Peeps®. To be accessible to people on Snapchat, you need to open the app, tap on the ghost icon, and then tap the top right corner of the icon to save and share your Snapchat code.
This increasingly popular social platform allows users to send short video clips, pictures, and messages that get erased shortly after the recipient opens them on the app. So, in essence, a Snapchat picture, called a 'snap', is only available from 1 to 10 seconds, once the user opens it. The limited lifespan makes Snapchat the perfect tool to deliver a call to action that creates excitement and a sense of urgency. If the recipient does not respond rapidly, the snap is lost forever. However, the newer Snapchat Stories feature allows content to be available for up to 24 hours.
It is following in the footpath of Instagram as once the bastion of millennials alone. The Snapchat user skews even younger than Instagrammers. Like many platforms, Snapchat is starting to attract a wider audience and is quickly holding its own as an important platform for generating brand awareness with consumers.
Since the platform's audience naturally appeals to the under 30 set, more brands whose target demographic is similar to Snapchat's, are advertising on the platform. Just look at the number of Instagram and Twitter profiles that are now using their Snapchat ID as their profile photo. Fast food, fashion, beauty, automobiles, shoes, and other big consumer brands are flocking to Snapchat as the place to be for social selling.
To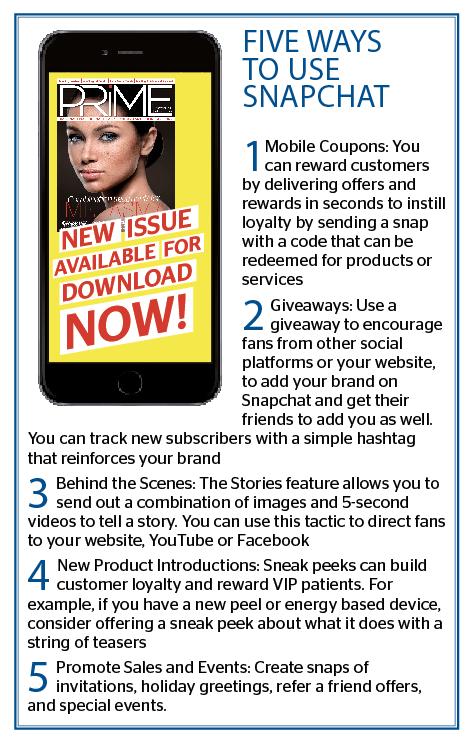 get started, build your brand and engage with your followers in a way that promotes your business. First, create an account for your practice brand. Select a strong username that will catch the attention of your followers, and is easy to remember. Whenever possible, try to be consistent with the names you use throughout all of your social media platforms. This will make it much easier for customers who know you to start following you without having to search for your account.
Promote your new Snapchat presence on your other social media platforms. Anywhere you have a presence, let your fans and followers know you are now on Snapchat. Give
your followers the information they need to find you, such as your username. Offer up a sneak peak at what your customers can only get if they follow you on Snapchat, a special kind of news or information, entertainment or reward. Once they've come to visit you on Snapchat, give them something for their loyalty, such as a coupon, sample or voucher that they can't get anywhere else.
By offering content that gives value and is engaging and fun, you can build up a Snapchat presence. Snapchat is all about entertaining content presented in a fresh and unique way. To date, Snapchat doesn't take itself too seriously, so a hard sell approach is probably going to backfire.
Use the story feature on Snapchat to reach and engage all of your followers. By telling a story, they may be more likely to stick with you in anticipation of the next chapter to unfold. Think of Snapchat as a sort of hybrid of Twitter with 140 characters of content or micro-blogging and YouTube that allows you to watch content.
Snapchat can be used as to tell a story through video and to engage your audience. Because you have to create content within the app, Snapchat content tends to offer a more authentic, less polished or staged slice of life for viewers, and that transparency is the essence of this channel. To build your community, thank viewers for watching via video or text. The messaging feature on Snapchat works like a text message in that it allows you to send content directly to your friends. You can specify how long you want that content to be seen, and then monitor when someone views it.
The future of social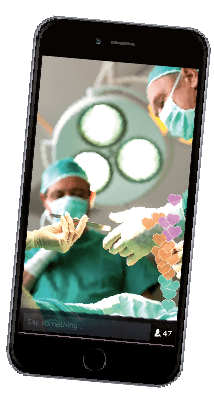 The social landscape is changing. Younger users are fleeing Facebook and Twitter and trading-up to Instagram and Snapchat. Another point of distinction is that Snapchat boasts that the majority of their users visit the platform daily and consistently.  Some seasoned social media users are viewing the more traditional platforms as a place to get news and follow politics and pop culture trends, not unlike Google or Yahoo. The social elite, millennials and Gen-Z, seem to be more engaged with these emerging platforms and are spending more time on them.
Engagement is the holy grail of social media marketing because fans and followers who are interacting with your brand are more likely to share your content and talk about you. An engaged consumer is more invested and has an emotional tie to your brand.
In marketing circles, the user with a higher level of emotional tie-in is inclined to buy more and spend more than the passive user who may be just searching the latest special or celebrity craze. As these platforms get saturated, more advertisers jump on and they get crowded, it will require more time, creativity, and budget to stand out.
What's going to be the next big thing? Your guess is as good as mine.