PRIME previews the 1st edition of 'The VISAGE Course', which will take place from September 30 to October 2, 2016 in the city of Nice, France.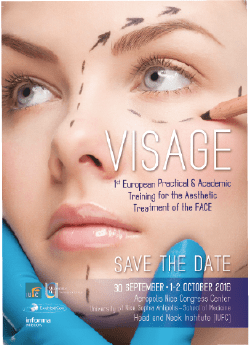 Organized in association with the Head and Neck institute (IUFC) of the University of Nice and Sophia-Antipolis — School of Medicine, VISAGE will offer a unique model of a large scale European academic event dedicated to teaching and training in the special field of the aesthetic medicine of the face.
Under the direction of Dr. Philippe Kestemont, and Professors Laurent Castillo, and Patrick Baqué, VISAGE will introduce the latest and most efficient techniques in facial aesthetics through an extensive practical programme and hands-on training.
The Scientific Committee is comprised of specialists and experts directly dealing with aesthetic treatment of the face, including: Face and Neck Surgeons — José Santini, Cécile Winter, Philippe Kestemont, Laurent Castillo; Plastic Reconstructive and Aesthetic Surgeons — Bérengère Chignon Sicard, Henry Delmar, Thierry Besins, Hervé Raspaldo; Dermatologists — Thierry Passeron, Welf Prager; Surgeon, Anatomy Professor — Patrick Baque; Plastic Surgeon — Giovanni Botti; Maxillo-Facial Surgeon — Guillaume Odin.
Unique format
VISAGE Science is a postgraduate training programme in aesthetic medicine, which combines workshops, masterclasses, anatomy laboratory sessions, and hands-on tutorials in a clinical setting. The emphasis will be on practical knowledge and skills as well as a sound knowledge of the anatomy and physiology of the superficial structures of the face.
The course will also provide medical practitioners the maximum exposure to scientific and clinical information covering new updates and technology from the industry, necessary to introduce non-invasive aesthetic procedures into their practices.
VISAGE is targeted at medical practitioners (dermatologist, plastic surgeon, aesthetic physician, and many other specialties) who wish to further their knowledge in the field of aesthetic treatments. A panel of key opinion leaders will also be present at the event performing as lecturers and tutors. They are carefully selected for his or her expertise in the field of non-invasive aesthetic procedures or specific anatomy of the face.
VISAGE will feature a full and interactive programme focusing on evidence-based application, safe practices, and methodical guidelines to ensure an ethical and accurate representation of the aesthetic medical specialty.
Venue
The event will take place in two locations concurrently: Acropolis Nice Congress Centre (Exhibition and conferences) and  the IUFC University of Medicine (Anatomy dissections and live injections).
Four good reasons to attend VISAGE
Gain high-quality training
Attend various classes organized in modules over 2 days
Partake in special anatomy courses (limited access)
Receive a University Certificate of higher education in anatomy and injection techniques applied to the aesthetic medicine of the face.
Upon completion of this programme, the participants will have a thorough understanding of a number of 'best practice' standards for injection techniques directly relatable to their practice. They will be proficient and confident in conducting an aesthetic consultation for patients responding well to patient expectations and predictable clinical outcomes.
The latest and most efficient techniques in facial aesthetics
Different modules will cover the following:
Special facial anatomy
Volumetric changes related to facial ageing: including muscular changes, subcutaneous tissue changes, and skeletal changes relating to all ethnicities and genders
Understanding the pharmacology of the various botulinum toxins
Understanding the properties of various facial fillers
Facial revolumizing
How to choose the appropriate filler for individual aesthetic corrections
How to use PRP treatments
Live botulinum toxin injections for aesthetic enhancement performed by leading industry experts
Live facial filler injections for aesthetic enhancement performed by leading industry experts
How to conduct a proficient aesthetic consultation for potential botulinum toxin patients.
Essential workshops and masterclasses (30 September–1 October 2016)
VISAGE Science will have a number of essential workshops, all designed to improve participants' knowledge in the latest and best clinical practices. These workshops will be comprised of a number of different components including live demonstrations. These demonstrations will focus upon a range of topics, and the speakers will be experts in their fields of medical practice.
The workshops cover all stages of the aesthetic process, starting with diagnostic tools, and mechanisms with which to operate and act. Another desired effect of these workshops is to enable the participants to better understand their potential patients, while being aware of the potentially adverse effects that may arise. There will also be reviews of the guidelines for both conducting aesthetic consultation pharmacology, and an aesthetic treatment plan.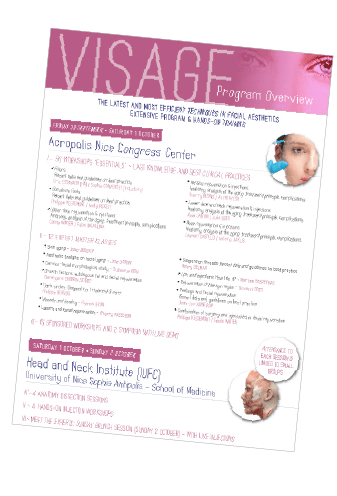 The masterclasses are designed to cover a large range of topics in-depth in order for participants to gain the greatest amount of applicable knowledge possible, all of which are directly applicable to one's daily practice. There are a wide range of topics covered, including:
Fillers and botulinum toxin — recent data and guidelines on best practice
Analysis of facial ageing and treatment principles on rejuvenation of the upper face, midface, lower face, and nose
Complications associated with injectables, fillers, and neurotoxins
Cervico-facial morphological study
Growth factors, autologous fat, and facial rejuvenation
Dark circles: diagnostics, treatment and care
Wounds and healing
Lasers and facial rejuvenation
Suspension threads: recent data and guidelines on best practice
Lips and injections: how I do it
Rejuvenation of the eye region
Peelings and facial rejuvenation
Combination of surgery and injectables in facial rejuvenation.
International faculty
A number of confirmed internationally reputed speakers include: Isaac Bodokh, Sabine Zenker, Sabine Sebban, Julia Gotlib, Guillaume Odin, Dario Bertossi, Bérengère Chignon Sicard, Max Lafontan, Philippe Berros, Fredrik Berne, Patrick Brun, Diana Murr, Thierry Passeron, Hugues Cartier, Henry Delmar, Eric Essayagh, Martine Baspeyras, Chytra Anand, Giovanni Botti, Philippe Berros, Jean-Luc Vigneron, Philippe Kestemont, Cécile Winter.
Hands-on training: limited access
Participants can choose individual hands-on training sessions focusing on minimally invasive aesthetic procedures. These training sessions take place in an ideal clinical setting at the school of medicine in order to provide the trainees with the perfect setting to observe, understand, and demonstrate the clinical skills required.
University Fellowship certificate
There is a fellowship certificate available for those who attend the conference as well as completing the compulsory sessions listed below:
Attend the six essential workshops, one anatomy session, and one hands-on clinical session
Successfully pass the evaluation tests
Produce a short thesis.
This course certification requires home study utilizing a syllabus, pre- and post-tests, demonstration of injection techniques, case study submission, and opportunity for a one-on-one supervised clinical practice during which the participant practices the technique and demonstrates proficiency to the faculty.
Industry crossroads
Over 50 leading International companies will be showcasing at this event their latest products, technologies, and services. Numerous sponsored workshops include live demonstrations, promotional and educational information regarding products, devices, and treatments techniques.
For more information, visit:
www.euromedicom.com