PRIME previews the 15th Facial Aesthetic Conference & Exhibition (FACE 2017), taking place in London on 16–18 June 2017
EuroMediCom and Informa are delighted to invite you to FACE 2017 — the 15th year of the UK's premier aesthetic conference and exhibition.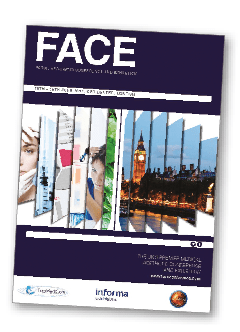 Once again being held in the heart of London, FACE 2017 is on course to being the biggest and best conference to date. The conference offers the attending delegates an opportunity to participate in an international meeting of aesthetic doctors, dermatologists, plastic and cosmetic surgeons, aesthetic dentists, aesthetic and general practitioners, aesthetic nurses and many others involved in the world of aesthetics and anti-ageing.
FACE 2017 and their Scientific Committee have invited some of the most distinguished UK and International Experts in the world of aesthetics, anti-ageing, aesthetic surgery, and dermatology to share the latest updates in these fields.
The regular Injectables, Equipment, Skin, Hair, Threads, and Aesthetic Gynaecology agendas will once again take place across three days in their own dedicated rooms and lecture theatres. The Business agenda will once again take place amongst a section of the Exhibition Hall located on the 1st floor; however, this year, that lecture theatre will also include aspects of preventative medicine and anti-ageing. On the Sunday, 'FACE Rewind' lecture programmes across two rooms will once again be repeating some of the most popular talks from the weekend, which delegates may not have been able to see in their first few days of attendance. Confirmed topics and speakers for the event currently include:
Unit dose injectors for delivery of botulinum toxin, Mr Dalvi Humzah plus panel
Live Demo: Male faces — the art of aesthetic consult & treatment, Dr Uliana Gout with Dr Anushka Reddy, Dr Vladlena Averina, and Dr Sergey Prokudin
Let's talk turkey: anatomy of the jawline and neck plus strategies for rejuvenation, Mr Rajiv Grover
40 years of retinol and hydroxy acids — how have they changed? Dr Stefanie Williams
Live demo: International Peeling Society (IPS) & guests, Dr Uliana Gout with Dr Harold Brody, Dr Gary Monheit, Dr Mariya Serheyeva, and Dr Atchima Suwanchinda
Pigmentation problems — when to treat and when to refer, Professor Nick Lowe
Lasers for active acne and scars, Prof Mukta Sachdev
Facial skin tightening, Dr Raj Acquilla
The use of botulinum toxin in the treatment of sexual dysfunction, Dr Beata Cybulska.
New for FACE 2017
Changes to the programme for FACE 2017 include an interactive Anti-Ageing & Preventative Medicine Agenda. Discussions will include the application of advanced scientific and medical technologies for the early detection, prevention, and treatment of age-related dysfunction, disorders, and diseases.
The agenda will also address how we can look at ways to extend and prolong lifespan and healthspan. Within the agenda, and throughout the weekend, will be our ever present Business talks, which have proven to be key for anyone working within the medical aesthetics industry.
International exhibition
The FACE 2017 weekend will be of a similar format to previous years for delegates and exhibitors, with lectures across different agendas taking place throughout the day, along with exhibitor workshops and seminars. One of the biggest draws for the delegates is the range of high-end exhibitors showcasing their portfolio of products and services. Featuring over 80 companies from around the world exhibiting injectable equipment, skincare products, and threads along with many other medical aesthetic products, attendees are invited to browse the latest products, devices, and services offered by industry leaders.
Attendees will have the opportunity to attend numerous workshops with promotional and educational information regarding new products, devices, and technique innovations. The coffee and lunch breaks during the exhibition also present a great opportunity to network with colleagues and industry partners from around the world.
Immerse yourself in London
Since it was opened by Her Majesty The Queen in 1986, The Queen Elizabeth II Centre has been the venue for thousands of successful events, many of them high profile. The QEII Centre has gained a reputation as a premier event venue in central London and currently hosts around 400 events each year.
With its refurbishment and re-launch in the summer of 2014, the QEII Centre is now at the forefront of conference venues around the world in the 21st Century.
London is one of the most important political, financial, and cultural centers in the world, making a significant impact on education, entertainment, media and the arts across the globe.
  For more information, visit:
www.faceconference.com