PRIME talks to Uliana Gout about her role as President of the British College of Aesthetic Medicine (BCAM) and the future of aesthetic medicine
Congratulations on becoming President of BCAM, what does the position mean to you?
BCAM is celebrating its 20th anniversary in 2021 and has an incredible heritage, having been founded by some of the pioneers of medical aesthetics in the UK. We now have around 400 members and continue to grow, with key aims of educating the public and promoting safe and ethical practice.
I am incredibly proud to be President of the College at such a pivotal time in its history, as well as for the aesthetic medicine specialty, with the challenges of COVID-19 and our plans for modernisation to take BCAM into its next exciting chapter. We have a new website and logo under development, plus a variety of events in the pipeline, including regular members' coffee mornings and workshops. Future activities will embrace our charity status, with public outreach and education initiatives at the forefront.
The worldwide pandemic presented a huge challenge for the College and its members which we met head-on. BCAM led with a 'facts not opinion' strategy and consulted a leading QC on three occasions for clarification of government guidance. We have also liaised closely with the Department of Health and Social Care and have received specific guidance for our members during each of the lockdowns. Indeed, our working relationship with government is strong and in 2020 we were added to the NHS website for the first time, the culmination of many years' work on which I embarked when I first became a BCAM trustee.
Like other organisations, our events programme in 2020 was impacted by COVID-19 but we took a bold step in September and hosted a six-day virtual conference — the first of its kind in the UK — which attracted a record number of delegates and was extremely well received. We decided to stretch the conference over six days to enable as many people as possible to take part and network with industry colleagues and friends — something we've all been missing over the past few months!
Can you describe your journey with BCAM?
I am a strong advocate of evidence-based medicine and working across the medical and research communities to progress the field of aesthetic medicine. I joined BCAM because of the wealth of experience and expertise amongst its membership. I wanted to be part of an organisation with aims of raising standards in aesthetic medicine, educating the public, and working towards being recognised as a medical specialty. I feel membership has so many benefits, especially for practitioners working independently who don't have colleagues around them for support and advice.
My role in BCAM started as a member of the Audit Committee and a BCAM appraiser — something I still very much enjoy doing. In 2017, I progressed to become a Trustee with responsibility for PR and Marketing. Working with the BCAM office team, we established contacts with industry press, conferences and journals for the first time and began to build BCAM's media profile. We also started to attend more conferences and broadened our PR outreach initiatives. We launched ourselves on social media platforms and started to grow followers and this is something I have continued to focus on since becoming President. Last year we took a big step forward with the appointment of our head of PR Claire Britcher, who joined us to spearhead our communications outreach especially to the public and consumer press in line with our charity status.
I wanted to be part of an organisation with aims of raising standards in aesthetic medicine, educating the public, and working towards being recognised as a medical specialty.
I became President in February 2020, just before the first lockdown, so it's been an unexpected baptism of fire and I am so grateful to the trustees and team for their outstanding efforts through 2020. More importantly, we as a team are incredibly grateful to our members and the wider aesthetic medicine community for the wonderful feedback we received through 2020 — it means so much to us and we are proud we did not just sit back and take a year off due to the pandemic, but rather rose to the challenge and led with a campaign focused on 'facts not opinion' and providing legal advice from a leading UK QC to all our members when confusion was rife and clarity missing. I'm also really excited for the future and we have kept one eye focused on this through the pandemic also — BCAM has ambitious plans for its anniversary year and beyond.
What will you be prioritising for BCAM in 2021 and beyond?
It's such an exciting time for BCAM, and we're delighted to be celebrating the College's 20th anniversary in 2021 with a variety of initiatives and events. We'll soon unveil the first new logo for 20 years and we'll also launch a completely new website which will modernise all our processes, enabling members to access and update their own profiles and share public information about their practices and services. The website will be a one-stop-shop for everything BCAM does, and for the first time we'll be offering merchandise too to celebrate the 20th anniversary. We plan to raise the College's profile and celebrate our amazing members, so the public knows we're leaders in aesthetic medicine.
We will also be celebrating the College's rich history and its incredible founder members and other key stakeholders who really were the driving force behind aesthetic medicine in the UK. We've launched a special anniversary section on the BCAM website where we'll share stories of the College's earliest days from people such as Patrick Bowler, Rita Rakus, John Curran, Paul Cronin, Rajiv Grover, and others.
Our relationship with the Department of Health & Social Care (DHSC) has been cemented during the Coronavirus pandemic and we will continue to work closely to ensure our members receive the latest recommendations and news – something that has been greatly appreciated in recent months. We are committed to lead with facts and data, something we have focused on so carefully and closely last year and which so many of our members and colleagues have commended us for.
Which brings me to the BCAM Annual Clinical Review — our national data collecting audit which ensures our specialty and industry has the latest insights of the innovations, challenges and opportunities arising year on year. As last year, we have liaised with the DHSC and have included questions at their request to assist with future government planning and decision-making.
We're also expanding our international relations and have a variety of conferences and events planned to celebrate the BCAM community — it's going to be a busy, exciting 12 months!
What have been notable achievements for BCAM over the last 20 years?
BCAM has enjoyed a rich history. Our founders launched the British Association of Cosmetic Doctors (BACD) in 2001 after recognising the need for a mechanism for revalidation and appraisals for doctors practising aesthetic medicine. They posted an advert for a meeting at the Law Society in London which was attended by 27 founding doctors and from there it grew, with BACD becoming the British College of Aesthetic Medicine (BCAM) in 2012.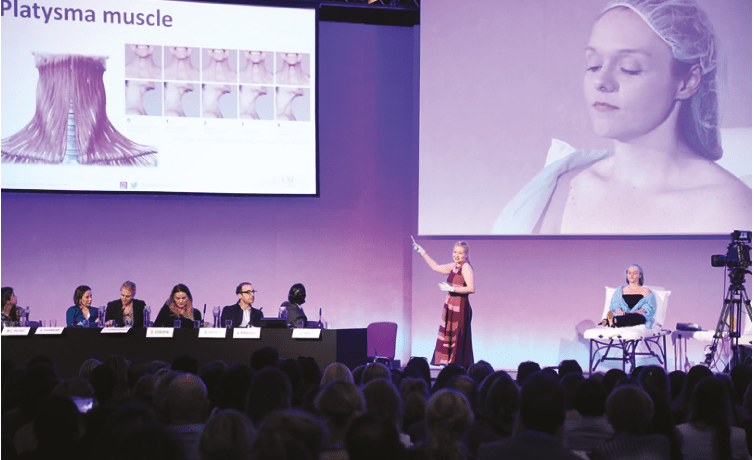 BCAM continued to flourish, becoming a charity, welcoming dentists to its membership and growing in numbers to now represent around 400 medical professionals in the aesthetics sector. The College is recognised by the government, and our Annual Clinical Review is a valuable data collection tool to which questions are contributed by the Department of Health and Social Care. The data gathered helps to inform government thinking.
Many BCAM members are key opinion leaders at the forefront of international innovation and debate, writing papers and speaking on the international conference circuit about their areas of specialty and this is something that we very much celebrate. Dr John Curran, one of BCAM's earliest members, led an important body of work over many years on behalf of the College on medical VAT, providing valuable advice to members on this complex issue.
BCAM has established a popular and respected annual conference, which was held virtually in 2020 for the first time, and plans to build on its events programme this year with special member-only events and workshops.
What action would you like to see from the UK Government and regulatory bodies for aesthetic medicine?
BCAM is committed to the long-term aim of aesthetic medicine being recognised as a medical specialty in its own right, and this is something we will continue to work towards in 2021 and beyond.
The College promotes high standards and ethical practice in aesthetic medicine and we work closely with the government to provide information, lead thinking and inform policy development. We are supporting Sevenoaks MP Laura Trott's Botulinum Toxin and Cosmetic Fillers (Children) Bill which is set to have its third reading in Parliament in March and aims to ban these treatments for under 18s. Indeed, we're due to meet with her in the coming weeks to share BCAM's expertise and experience on this issue.
BCAM will also continue to campaign, alongside other leading aesthetic medicine organisations, for injectable fillers to become prescription-only medicines, and for them to be administered only by healthcare professionals. Our members continue to express their concern that they treat patients with complications caused by fillers carried out by non-healthcare professionals, and many are using injectables bought online rather than from reputable suppliers.
From your experience, is there a country practising safe and ethical aesthetic medicine you would like to see us emulate?
Many BCAM members are world leaders in the field of aesthetic medicine and are internationally respected for their knowledge and expertise.
When it comes to regulation in the UK — as many of our colleagues point out — we would benefit from tighter directives and guidelines with the key focus of optimising patient safety. This is something BCAM is campaigning for and we are proud to be now (as of 2020) included in the NHS website for all the UK general public to be aware of. I am incredibly proud of this achievement as this is something I spearheaded in the last few years in my previous role as Trustee for PR & Marketing.
We ultimately want to see aesthetic medicine recognised as a specialty in its own right, and we are working with other associations across the world to collaborate and share ideas and thinking.
Why should our readers join BCAM?
I would recommend all doctors and dentists working in the field of aesthetic medicine to join our BCAM community. Many of our members work independently, without colleagues to ask for advice and guidance, so joining BCAM instantly creates a network of people with expertise and experience who are willing to offer help and support.
BCAM also provides learning opportunities, and as well as our annual conference we'll also be hosting more workshops and 'coffee morning' events on a variety of topics for our members.
When it comes to regulation in the UK — as many of our colleagues point out — we would benefit from tighter directives and guidelines with the key focus of optimising patient safety.
BCAM's 20-year history means membership carries great prestige, and it also offers reassurance for patients that their practitioner is qualified and experienced. In addition, BCAM is a GMC Designated Body so offers eligible members a route to revalidation and we also have a dedicated appraiser team and a convenient, online appraisal system.
BCAM members are all qualified doctors and dentists working in aesthetic medicine, and anyone interested in joining can simply complete the online application form.
You recently became an ambassador for the AMS, can you tell me what this will involve?
The Aesthetic Multispecialty Society was created to gather the aesthetic medical community together in order to promote education and knowledge sharing. I am excited to be an ambassador and embrace virtual learning and connectivity, especially at a time when the worldwide pandemic has forced us to think laterally and be flexible in our working methods.
As an international speaker and educator, I am keen to share knowledge and information and the AMS provides a valuable tool to connect people in the virtual world. BCAM showed last year how it's possible to transform a physical conference into a successful virtual event, and I look forward to exploring more possibilities and connecting with more colleagues and friends across the world in 2021!.