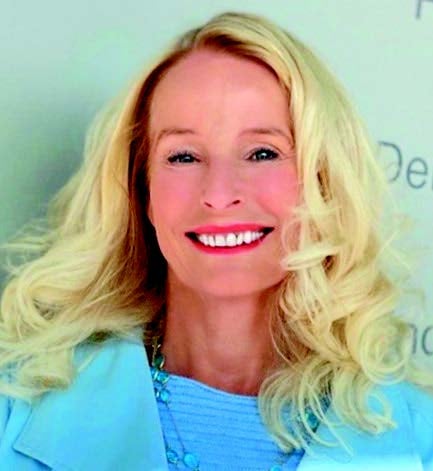 Agneta Troilius Rubin, Zoi Tsaknakis, Adel Sammain, and Laura Schmidt evaluate the efficacy and safety of an isobutylamido thiazolyl resorcinol-containing regimen to improve melasma or PIH due to ablative
laser treatments, acne or sunburn
Pigmentation disorders such as post-inflammatory hyperpigmentation (PIH), melasma, solar lentigos and diffuse mottled pigmentation are common concerns for which patients seek cosmetic consultations. Available topical treatments contain active ingredients targeting different steps of melanin synthesis and distribution, as well as expediting the turnover rate of pigmented keratinocytes. Tyrosinase is a rate-limiting step of melanin biosynthesis; therefore, its inhibition has become the key treatment for various hyperpigmentary conditions. A well-known agent in this group is hydroquinone, but studies have shown that frequent application of hydroquinone causes side-effects, including skin irritation and ochronosis1. Various agents inhibiting tyrosinase activity have been previously examined to substitute hydroquinone but have not always been effective. Pursuing alternative options for hyperpigmentation remains challenging, particularly among patients with skin of colour, e.g. skin type III-IV who tend to experience undesirable complications such as discolouration and scarring after aggressive topical treatments or application of medical devices such as ablative lasers, micro-needling and chemical peels.
Isobutylamido thiazolyl resorcinol (ITR) is a recently developed inhibitor of human tyrosinase. ITR has, according to pre-existing data, shown to be an effective inhibitor with superior efficacy over conventional hydroquinone, kojic acid, and arbutin in an in vitro study2. In vivo, a formulation containing 0.2% ITR achieved visible improvement in the appearance of age spots over a 12-week treatment with a statistically significant difference compared to other solutions2. It also showed that a melasma-reducing efficacy was evident as early as 4 weeks and demonstrated a significant decrease in the modified Melasma Area and Severity Index (mMASI) score compared with controls. In addition, the efficacy of the ITR containing product was significantly superior to 2% hydroquinone in the treatment of melasma3.
Our study aims to investigate the reduction of PIH when using an ITR-containing product.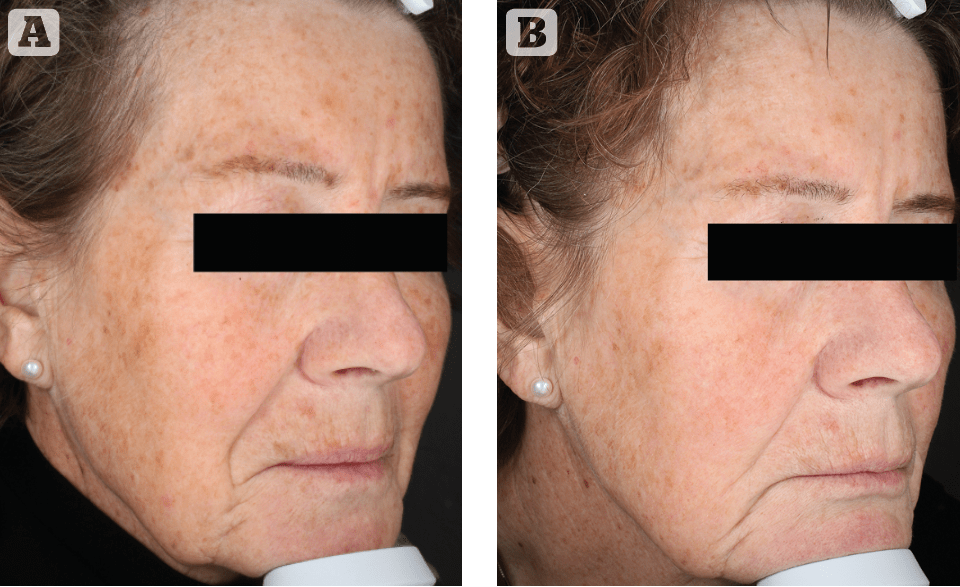 Material and methods
We conducted a single centre, uncontrolled post-laser study in Sweden between January and March 2021 to evaluate the reduction of PIH by using a formulation containing the active ingredient Thiamidol (Eucerin® Anti Pigment Regimen). The patients applied Eucerin® Anti pigment day cream including an SPF 30 and Antipigment Dual Serum in the morning and Antipigment Night Cream and Antipigment Dual Serum in the evening over a period of 12 weeks. Patients with actinic keratoses were advised to use SPF 100.
Subjects were also instructed to avoid extreme sun exposure, topical medications, and other cosmetic products during the study period. Clinical evaluation, patient self-assessment, and Canfield Visia skin analysis evaluation were performed at 0, 4, and 12 weeks.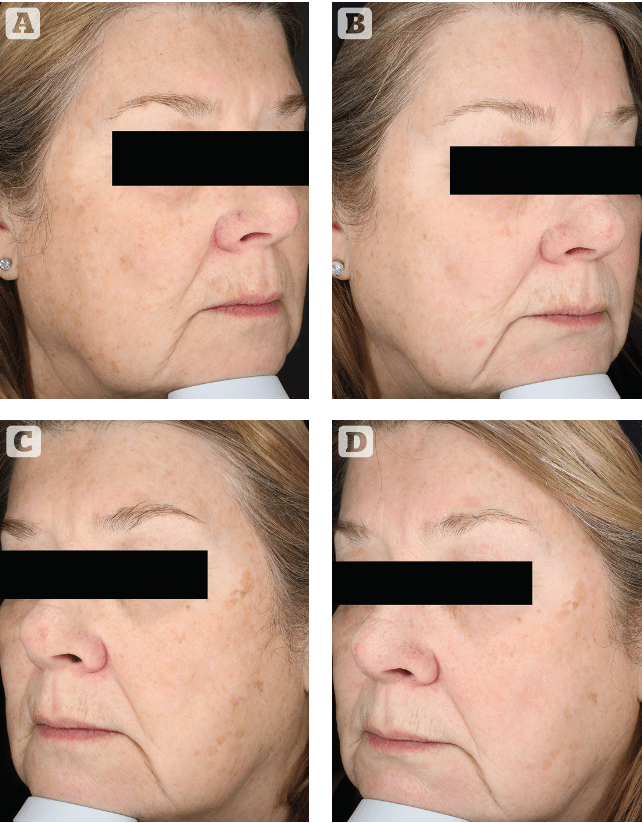 The Canfield system differentiates between brown spots and UV spots. Brown spots are lesions on the skin, such as hyperpigmentation, lentigo and melasma that occur from an excess of melanin. UV spots are flat brown spots in the epidermis that develop on the skin after sun exposure (during which UV radiation causes melanocytes to multiply). The VISIA image analysis system uses multispectral imaging to scan the skin and capture key information of surface and subsurface facial skin conditions. A designed capture module rotates around the subject simplifying the imaging process and providing three images of each subject4 (left, front, and right side). Analysis to detect statistically significant improvements in the Canfield skin images assessment was completed using Poisson regression and independent t-tests.
Results
Thirty participants started the study, and 27 subjects were evaluated at the end of the study (26 females and 1 male, 30 to 78 years old, median age 51 years). Three subjects were lost to follow up, one due to an undefined skin reaction at the treatment site that persisted for a number of days; however, it was not possible to retrieve further information in order to assess a causal relationship to the product application. Two patients were excluded due to violation of the study protocol (PDT treatment and extreme UV exposure). All participants had Fitzpatrick skin type III or IV and 20 of 30 patients underwent an ablative or abrasive aesthetical skin treatment such as CO2-, Erbium or fractionated laser, microneedling, nitrogen treatment, chemical peelings or curettage within 2 years but not closer than 6 months before the start of the study. Four patients had PIH after acne, five patients had melasma, and 19 patients suffered from sun-damaged skin. Several of the patients exhibited more than one of the diagnoses above at the same time.
The results of the patient self-assessment demonstrated a 100% agreement rate on efficacy in reducing their skin pigmentation, and all patients felt that the products were comfortable to their skin, nourishing their skin and absorbing quickly. 96.3% felt that the texture was pleasant and 92.6% said that the products improved their skin condition and they will continue to use the products after completion of the study.
The automated VISIA image analysis demonstrated significant improvement of UV and Brown spot count as well as intensity compared to the baseline visit after 4 and 12 weeks of treatment.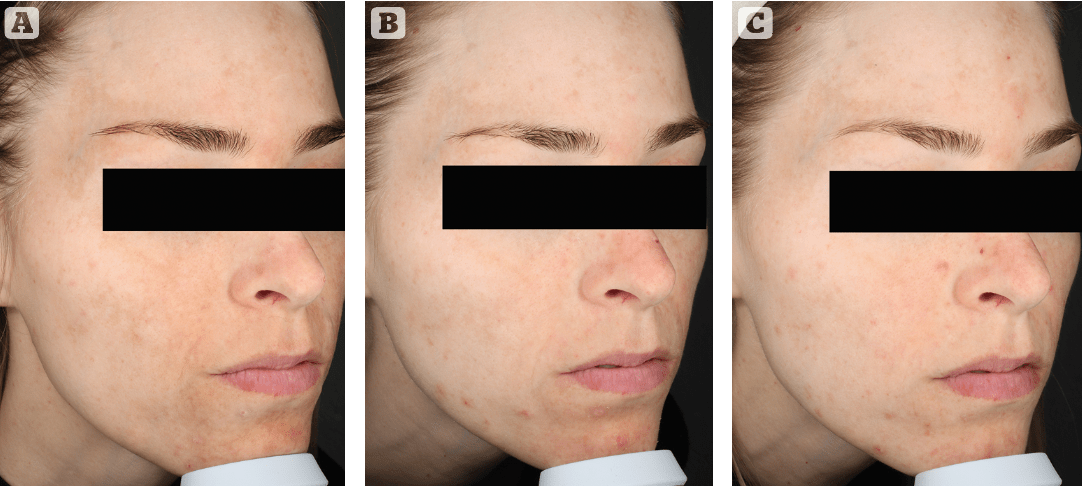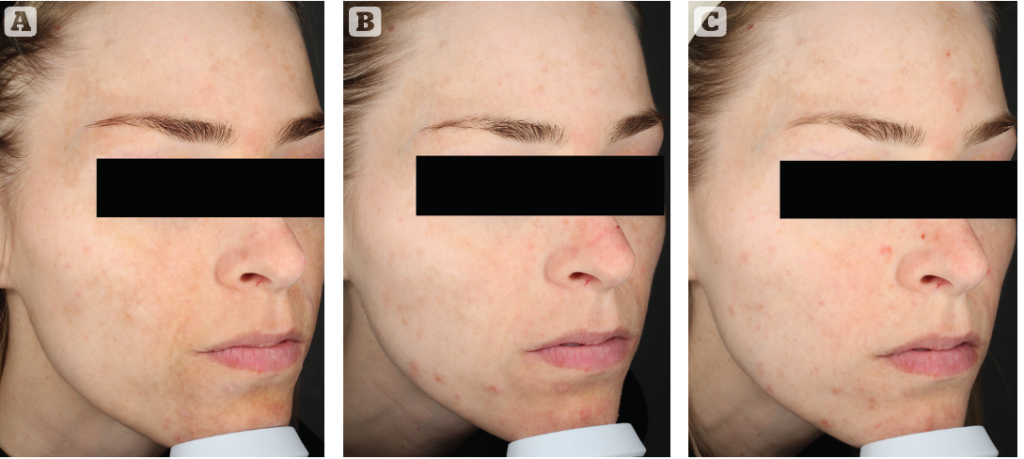 Discussion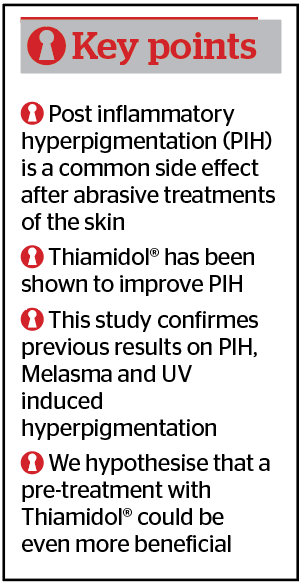 After 1 month of treatment with the regime, we were able to show a significant decrease in PIH and melasma skin pigmentation. Three out of five melasma patients underwent an Intense Pulsed Light (IPL) treatment before entering the study. However, all five melasma patients still showed a decrease in superficial skin pigmentation during the study period. One patient suffered from dermal melasma but demonstrated a clinical improvement. Dermal pigmentation is hard to treat and will remain a topic of further investigation on the efficacy of Thiamidol. We also recommend a pretreatment with Thiamidol before energy-based device (EBD) interventions, such as IPL, to increase the penetration of EBD light and thereby also reach the dermal components of melasma. Acne patients who used the Thiamidol regimen reported that they exhibited far less postinflammatory hyperpigmentation upon the healing of inflammatory skin lesions. It seemed that those patients who did not use any skincare products before entering the study demonstrated a more dramatic clinical improvement as well as a superior objective assessment by VISIA image analysis. One patient with Asian skin type did not respond at all to the intervention, probably due to a condition referred to as Hori's nevus, which is extremely difficult to treat. Patients 70 years and older exhibiting a lot of seborrheic keratosis and sun-damaged skin with actinic keratoses and lentigines did not respond as well as younger patients. This could be explained by a less active cell renewal process or the reduced influence of melanocytes on pigment production. No effect of the regimen containing Thiamidol was seen on Poikiloderma Civatte5 on the neck. As expected, brown spots, which are deeper than UV spots, such as lentigo, improved only slightly. In most patients, mottled pigmentation was improved, especially in the younger patients and in those who had been using sunscreens before entering the study, as they did not have as much sun-damaged skin. The exception was a 77-year-old woman who demonstrated a significant decrease of both superficial and dermal pigmentation, but she had never been sun tanning because she grew up in the northern part of Sweden. Post-inflammatory hyperpigmentation (PIH) is a severe problem, especially for darker skin types; therefore, our recommendation is to also investigate the beneficial effect of a pretreatment with Thiamidol 1 month before undergoing EBD treatments to achieve a better and deeper penetration of the EBD light.
Conclusion
Thiamidol demonstrated effective improvement of epidermal PIH without severe side-effects as well as a high patient satisfaction rate after 1 month of treatment. However, dermal PIH seems more difficult to treat with topical formulations. Therefore, we suggest treatment with a Thiamidol containing formulation 1 to 4 weeks before, and for up to 3 months after EBD treatments and other abrasive therapies, in order to reduce the risk of developing PIH as well as to provide better penetration and thus better efficacy of EBD treatments in dermal hyperpigmentation, which is more challenging to treat. However, more data is needed to quantify the beneficial effect of the application of formulations containing Thiamidol for up to 1 to 4 weeks prior to EBD based interventions.
Declaration of interest None
Figures 1-3 © Agneta Troilius Rubin
References
Grimes PE. Management of hyperpigmentation in darker racial ethnic groups. Semin Cutan Med Surg. 2009;28(2):77-85.
T, Gerwat W, Batzer J, et al. Inhibition of human tyrosinase molecular motifs distinctively different from mushroom tyrosinase. J Invest Dermatol. 2018;138(7):1601-1608
Arrowitz C, Schoelermann AM, Mann T, Jiang LI, Weber T, Kolbe L. Effective tyrosinase inhibition by thiamidol results insignificant improvement of mild to moderate melasma. J Invest Dermatol. 2019;139(8):1691-1698.
Canfield Scientific, Inc. VISIA Imaging Systems. Available at: https://www.canfieldsci.com/imaging-systems/visia-complexion-analysis/ [last accessed 14 January 2022]
Dermnet NZ. Poikiloderma of Civatte. Available at: https://dermnetnz.org/topics/poikiloderma-of-civatte/ [last accessed 14 January 2022]