From micro-influencers to Meta to monetizing, Wendy Lewis talked to a panel of socially savvy doctors for their insights on what works, what to pass on, and what's coming next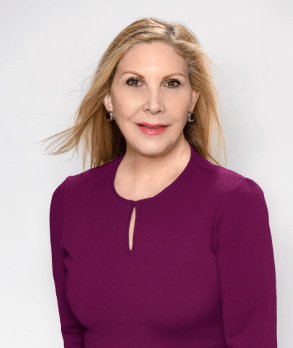 It's hard to remember life before Facebook. What did we do with all that extra time? For starters, we had more human-to-human interaction without the interference of all those bots and algorithms. How much time do you spend on Instagram in a given week to see what your colleagues and competitors are up to?
Social media has become an essential part of our everyday lives in record time. The instant gratification model of social channels has changed the way we communicate forever. Year after year, the social scene continues to morph in so many ways that it takes an army just to keep up with it.
Yet, we know that not being active on the social channels that matter to your business, the ones where your target audience spend their time, is not really an option for the vast majority of aesthetic practitioners. Social media is part of daily life for people in every corner of the world and you need to be in it to win it.
After the roller coaster ride of 2020-2021, 2022 promises to be an exciting year in the annals of digital marketing. There will be a lot to learn for businesses to keep up with all the changes and new strategies to reach consumers who want aesthetic procedures.
New ways of thinking
Did you know that the average reach for an organic Facebook post is — wait for it— a pitiful 5.2%, according to SearchEngineJournal.com. The average engagement rate is only 0.25%. Thus, for those of you who tediously measure your Facebook Page Likes and Instagram Followers to determine how you're doing, you are basically kidding yourselves. Zuck (Meta), Dorsey (Twitter), Spiegel (Snapchat) and a handful of other arrogant social media moguls hold all the cards.
This grave realization is partially responsible for users fleeing to newcomer TikTok and other alternative channels in search of a fresh approach. TikTok has recently reached 1 billion active monthly users worldwide, which is a staggering milestone if you consider that it was only launched in 2016 as Douyin and only came into its own in 2017. It is now predicted to hit 1.5 billion in 2022.
For context, 1.4 billion total users is what Instagram is credited with today, up from 2018 when they hit their 1 billion user status. In social media terms, that growth rate is relatively flat. Their billion-user milestone confirmed TikTok's dominant role in shaping popular culture.




Another channel to revisit in 2022 is YouTube, the Google-owned video-sharing site that boasts 2.3 billion active monthly users, although TikTok is rapidly tugging at its heels now. YouTube is often overlooked, perhaps because it's been around for what seems like forever in social media terms, but this platform has been exclusively video since it started in 2005.
According to Corey S. Maas, MD, President of the American Academy of Facial Plastic and Reconstructive Surgery in San Francisco, CA, 'Social media in 2022 will continue to play a large role in how we communicate with our patients, future patients and community. Our most recent AAFPRS annual statistics show the power of social media in aesthetics. Seventy-five percent of our membership in 2020 said patients seek cosmetic procedures to look better in selfies. That's a strong indicator that social media has an enormous impact in how we share our messages, and market ourselves.'
He continues, 'We provide webinars and panels on social media marketing and best practices for our members. We also always recommended that they have patient consent before posting any patient image and further that we are not posting images that are altered by our marketing companies or our patients. We will continue to recommend that social media be used primarily as an educational tool and not just self-promotion.'
Dendy Engelman, MD, a dermatologist at Shafer Clinic in New York City, has grown a robust presence on social. 'While I have admittedly been hesitant to jump on the TikTok trend (a stream of dancing 16-year-olds wasn't exactly my target demographic), we are focusing more energy on this platform as we head into 2022. We are also developing more content for Instagram Reels. You won't see me dancing, but we are having a lot of fun with this format for bite-size, visually-forward educational content.'
'The big Facebook outage recently has everyone rethinking how much we rely on these platforms. While it's great to have a big following on social media, the truth is we don't know what will happen in the future to impact how we use the platforms. To that end, we are developing more content for the platforms that are "ownable," including my website and an upcoming podcast,' she said.
Dr. Engelman raises an important concept to keep top of mind for 2022; technically you can't own your social media followers. There I said it! Zuck owns our Facebook and Instagram followers; we are all at Meta's mercy on this point. The only way to protect yourself if your channels get hacked or taken down is to continue to grow your own database. However, you CAN own your patients' emails, addresses (if anyone still uses snail mail), and cell phone numbers. Text marketing is the new email, which doesn't necessitate ceasing to use email, but adds another good way to reach clients and can be a very effective marketing technique if it is viable in your specific market due to privacy regulations.
Plastic surgeon Troy Pittman is in practice in Washington D.C. with his partner, Michael Somenek, MD, a facial plastic surgeon. Their go-to platform is Instagram. 'I've always maintained control of my Instagram account and when I've experimented with outsourcing it, I found that no one else could capture my "voice". Finding a perfect mix of patient education, practice promotion, and personal stories works best for us. We've also started working with Podium, a platform that allows patients to use text to make appointments and reach out to our front office coordinators. There is also a mobile payment feature and the ability to send e-blasts. This has increased our practice efficiency substantially. I am also working on creating a library of surgical videos from the surgeon's point of view to be used on social media and YouTube.'
Dr. Pittman advises that the most important thing is consistency. 'Patients want to see consistent before and after photos with good outcomes, of course. They also want to see consistency in your brand. It's important to try to post something of meaning daily to keep people engaged. Doing an Instagram or Facebook post once a month isn't going to do anything for you,' he said.
Moving to the west coast, aesthetic doctor Richard Jin, MD of the RJ Clinical Institute in Mission Viejo, CA, shares his experience on digital platforms, 'My practice has found that Instagram and TikTok have been the most essential to generate engagement with our followers and the aesthetic community as a whole. It has allowed us to show our followers and community all the great services we provide while having fun doing it. It has also allowed me to educate my followers and even colleagues on what cutting edge medical devices and treatments I offer at my practice."
He continues, 'I anticipate that we will continue to promote our practice on TikTok and Instagram through our videos, and I do see my practice expanding our social media presence to YouTube in 2022 to reach more of the aesthetic community and continue to educate both practitioners and patients. As many other practitioners can attest to, we are lifelong learners and teachers and I find that to be especially true in the aesthetic medical community as it is rapidly changing.'
From sunny La Jolla, CA, plastic surgeon Steven Cohen of Faces+ offered his personal perspective on what is working for his practice. 'For me, the key is a hands-on great care and experience for patients. Instagram has brought in the most consults, followed by our website. Pay per click, which we have not had to use until now, is something we are trying out. The cost of acquisition is high but so is the reward. I am considering adding EMSculpt and an integrative medicine program. I see this as a tool to maintain muscle health, improve or maintain muscle stem cells and to improve metabolism.'
His advice to colleagues is that the more educational content and the more professionally it is showcased works best. 'Posting about reconstructive surgical cases can showcase your humanitarian side and infrequent postings of your real-life can evoke empathy,' he says.
Dr. Alexander Rivkin of Westside Aesthetics in Los Angeles shares his predictions for what patients will want in 2022. 'Masks are not going anywhere soon, unfortunately, which means that the eyes will continue to be the most important aesthetic facial feature on display. Treatments optimizing the eyes and the areas around the eyes are going to rule 2022, especially as on label indications are arising for filling the tear trough area to address dark circles,' he says. An area that has not yet received the attention it deserves is the temples. Hollowing in the temples is a giveaway of advanced age, and as the periocular areas becomes more prominent, the temples will follow.
'Without a doubt, videos have been a cornerstone of social media in 2021. Words are fine but videos carry a stronger message and have the ability to engage your followers. I like to offer educational content that features my point of view on Instagram and TikTok primarily. This way, prospective patients can get to know what I'm all about and understand my practice before they book an appointment to come in. These channels are very powerful tools for aesthetic physicians in every market and will continue to be my primary way to promote my practice in 2022 and beyond,' he said.
Dr. Rivkin stresses that your patients are on social media, 'This is where they get their information, so if you want to reach your clients today, you have no choice but to be active on social.'
Plastic surgeon Anthony Youn in Michigan is a social media icon in medical aesthetics. I follow his channels religiously and often quote him in my courses and lectures because he is always ahead of the curve. He embraced TikTok very early on as he has mastered many other up and coming channels over the years. With 987,000 followers on Instagram, he has some good advice to offer his fellow physicians.
'My first and biggest recommendation for anyone interested in growing their TikTok account is to watch a lot of TikTok videos. One thing that TikTok viewers and the algorithm hate most are videos that were clearly not made for TikTok. TikTok videos must be original and obviously made by the creator, not by a social media company or repurposed content that is Facebook Live videos that were chopped up. Consistency and originality are key to being successful on TikTok. Posting regularly with content that is interesting and informative can go a long way to building an audience very quickly,' said Dr. Youn.
Dr. Jaisharee Sharad, Medical Director of Skinfinit Aesthetic & Laser Clinic in Mumbai, India, has been prolific on social media and amassed a loyal following of patients and colleagues internationally through her diverse and appealing content. 
'Videos, whether they are on Instagram, Facebook, Twitter, YouTube or even your website, are the number one thing people will look for. Videos should be short (no more than 2 or 3 minutes), crisp, and carry the exact message you want to convey to your audience. It could be a Reel, IGTV, or a TikTok video (Tiktok is currently banned in India). People enjoy quick visuals, and videos help build trust with potential clients. The content should be relevant, up to the mark and should not sound difficult to follow or do. It should invoke emotion and the client should be relatable, so they want to share it with friends, family, and on social media platforms,' she says.
Another thing she recommends are podcasts. 'Although they have been around for a long time, they are gaining popularity again. People love to listen to interesting content on podcasts while travelling, on their way to work, while working out or when they are just too tired to watch anything,' she adds. 'Creating content in advance and posting every day and engaging with my followers has helped me a lot. Conversational marketing is important. Having a team respond to messages on Instagram, Facebook, WhatsApp, and emails promptly makes things easier. Responding to comments personally and adding your own touch, will nurture more loyalty,' she adds.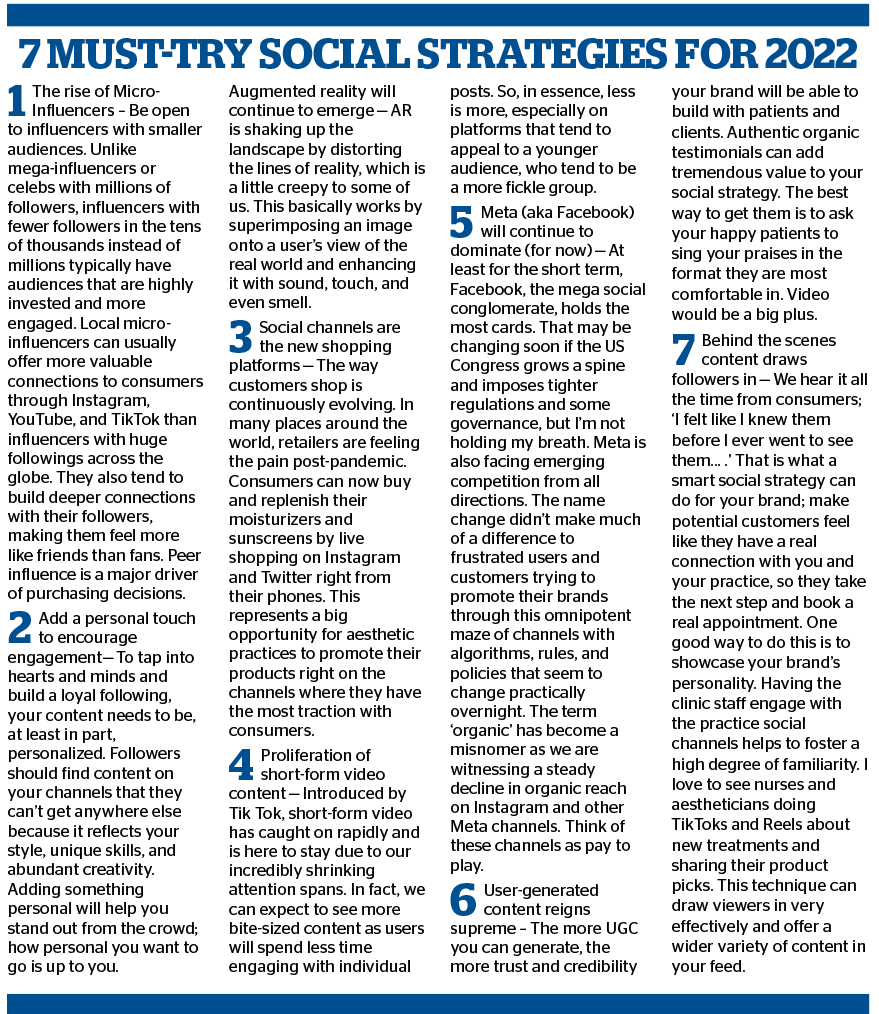 Grow your social footprint for 2022
The optimal goal of social media channels for businesses is to build a real community rather than just to get more clients or customers in the short term. Clients come and go for a long list of reasons, some of which may not be under your control. However, your 'community' can stay with you for the long term if you step up your content creation, appreciate them and show them respect. Remember that it's not just about you; it's about them too. Giving them what they want in terms of content that has meaning or entertainment value will go far to keep them viewing what you post, and sharing your content with their circle of friends.
References
Andrew Hutchinson. 26 Predictions for Social Media Marketing in 2022. Social Media Today. Industry Dive: October 18, 2021. Available at: https://www.socialmediatoday.com/news/26-predictions-for-social-media-marketing-in-2022/608443/ [last accessed 18 November 2021]
Brent Barnhart. Building your social media marketing strategy for 2022. Sprout Social, October 7, 2021. Available at: https://sproutsocial.com/insights/social-media-marketing-strategy/ [last accessed 18 November 2021]
Matilda Schieren. 6 lessons and predictions from the best social media campaign ideas of 2021. Sprout Social, 7 September, 2021. Available at: https://sproutsocial.com/insights/social-media-campaign-ideas/ [last accessed 18 November 2021]
World Tech News. Social Media marketing trends and predictions for 2022 and beyond. September 13, 2021. Available at: https://world-technews.com/2021/09/13/8-social-media-marketing-trends-and-predictions-for-2022-and-beyond-infographic/ [last accessed 18 November 2021]
Mark Walker-Ford. 8 Social Media Marketing Trends and Predictions for 2022 and Beyond. Social Media Today. Industry Dive, September 12, 2021. Available at: https://www.socialmediatoday.com/news/8-social-media-marketing-trends-and-predictions-for-2022-and-beyond-infogr/606424/ [last accessed 18 November 2021]
AAFPRS announces annual survey results. AAFPRS, February 1, 2021 Available at: https://www.aafprs.org/Media/Press_Releases/PageTemplates/New%20Survey%20Results%20Announced%20Feb.%201,%202021.aspx [last accessed 18 November 2021]
RecurPost. 15 Social Media Trends to Use in 2022 to Grow Your Online Business Available at: https://recurpost.com/blog/15-social-media-trends-to-use-in-2020-to-grow-your-online-business/ [last accessed 18 November 2021]
Olivia Garrison. Business Owners Tell All: 15 Savvy Social Media Trends for 2022. Creative Click Media LLC, September 30, 2021 Available at: https://creativeclickmedia.com/social-media-trends-for-2022/ [last accessed 18 November 2021]
Kelsie Rimmer. 8 Must-Try Marketing Trends for 2022. Envato Blog. 30 September, 2021. Available at: https://envato.com/blog/marketing-trends/ [last accessed 18 November 2021]