CAMBRIDGE ORIGINS
Established by a team of scientists and researchers, RCI Hairscience is a brand new innovation from the heart of Cambridge. Created by a team of specialists with expertise in growth factors, peptides and herbal medicine, RCI comes as a result of intensive research into hair loss solutions.
Knowing that hair loss has long affected all genders, and that there are limited non-prescription solutions available on the market for hair loss, the team dedicated their research towards inventing proven formulas for promoting growth, outside of finasteride and minoxidil.
Expertise in Growth Factors
The scalp has its own microenvironment, and the hair follicles within it are complex mini organs, consisting of intricate stem cell and progenitor cell structures. When it comes to the facilitation of hair growth, only a small molecule can enter the cells to stimulate the growth process – molecules known as growth factors or polypeptides. There are many different growth factor families which have been shown to be crucial for regulating the hair cycle, functioning via signalling pathways that govern hair follicle development, repair and regeneration. Researchers and development teams at RCI identified a number of key growth factors that could be safely and effectively incorporated into haircare, including:
Oligopeptide-41 – inhibits the activity of DKK1, a pathogenic mediator related to pattern baldness
Decapeptide-19 – an anti-inflammatory, calming agent that functions as a fibroblast growth factor-5, a substance that both induces regression of the hair follicle and regulates hair growth.
Decapeptide-18 – stimulates the formation of primary hair placodes and generates new hair follicles
Octapeptide-2 – stimulates hair growth by increasing angiogenesis and facilitating the migration of stem cells.
Nonapeptide-22 – (included in the serum and essence) boosts hair pigmentation by stimulating melanogenesis, a complex process in which the pigment melanin is produced in melanosomes by melanocytes, supporting healthy hair colour.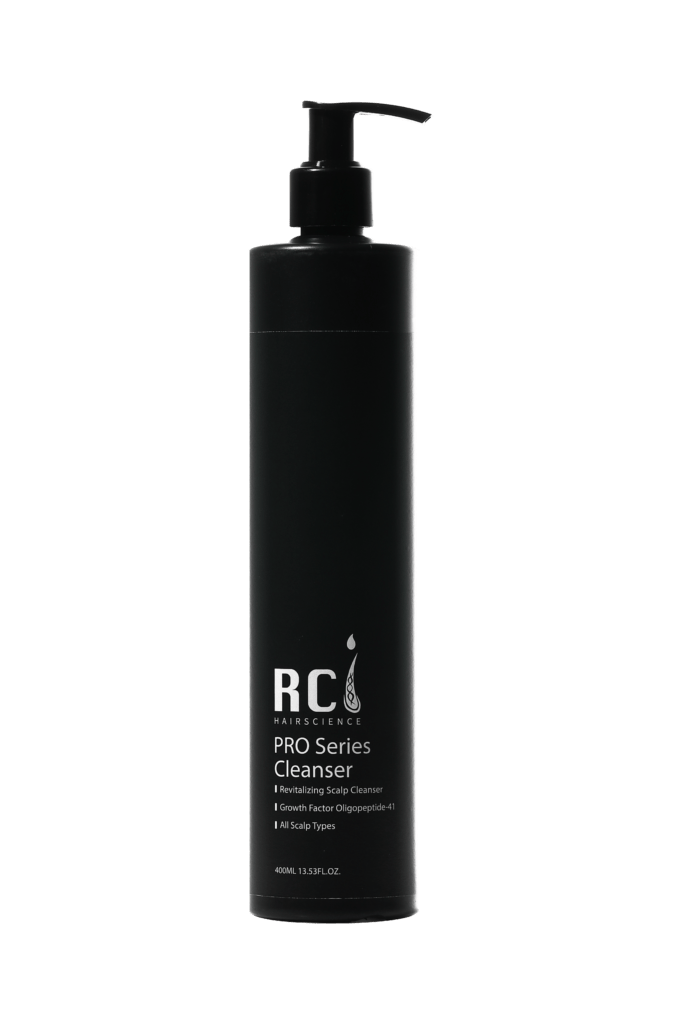 HIGH-SCIENCE
CAMBRIDGE DEVELOPED
POWERED BY PEPTIDES
THE POWERFUL PRO SERIES
Supported by clinical trials and strong clinical data, the PRO Series is designed to be used professionally to support ongoing hair health concerns. The range is small but powerful, comprised of four hero products:
PRO Series Revitalising Cleanser – £90, 400ml
PRO Series Thickening Mask – £100, 400ml
PRO Series Essence – £160, 30ml
PRO Series Serum (weekly treatment)– £220, 6x 5ml
ENQUIRIES
For PR enquiries – please contact
[email protected] or [email protected]
For all stockist enquiries, please contact
Emily Liu – [email protected]