SkinCeuticals, Advanced professional skincare backed by science, launches PHYTO A+ BRIGHTENING TREATMENT: Introducing the latest innovation from SkinCeuticals and addition to the Phyto Corrective Range: a NEW lightweight gel-crème moisturiser which works to soothe inflammation while correcting and reducing the appearance of hyperpigmentation simultaneously.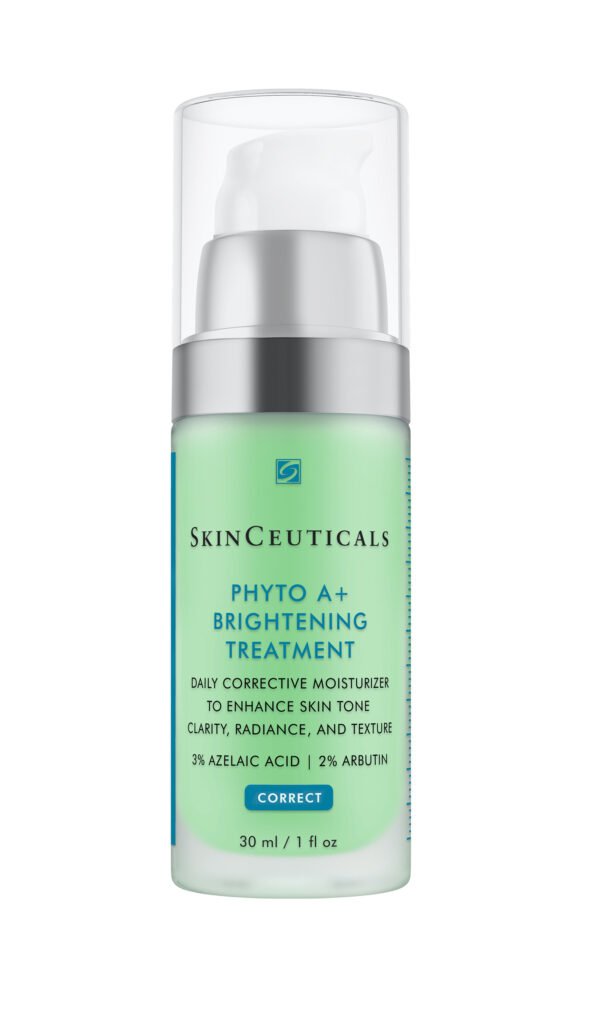 Patients in search of brighter skin can face challenging obstacles when using ingredients such as acids, hydroquinone and retinols as for some, they can create secondary skin concerns such as visible redness, post-inflammatory discoloration and blemishes. Not all skins can tolerate these ingredients and therefore patient non-compliance is not uncommon, resulting in a dissatisfaction with results. 
By tackling and modulating three key common skin complaints; dullness, rough texture and visible redness, patients can achieve bright, smooth and clear skin. This approach provides a compliant path to brighter, smoother and clear skin for all skin types by reducing secondary concerns.
Phyto A+ Brightening Treatment helps in the following three key areas:
• Lack of Cell Turnover which causes dullness, visible pores and imperfections
• Inflammation that gives a visible redness in the skin
• Excess Melanin Production contributes to an uneven skin tone
Phyto A+ Brightening Treatment is an oil-free moisturizer which soothes and helps correct out-of-balance skin to enhance radiance, texture, and clarity. It helps improve the appearance of discoloration and visible redness, including post-inflammatory hyperpigmentation.
Phyto A+ Brightening Treatment is enriched with the same phyto botanical blend at the heart of SkinCeuticals' hero product and #2 bestseller globally, Phyto Corrective serum, one bottle of which is sold every minute**.
Key Technology
Phyto A+ Brightening Treatment features a synergistic technology to modulate discoloration, cell turnover, and excess oil production while soothing skin simultaneously:
2% alpha-arbutin, to suppress the excess pigment that causes post-blemish marks
3% azelaic acid, to improve skin smoothness by improving cell turnover and balancing oil production
5.75% phyto botanical blend to calm and soothe skin, modulating inflammatory responses through a combination of cucumber, thyme, olive, rosemary, grapefruit and mulberry
Until now, for most patients our approach as dermatologists is to improve the look of the skin using ingredients and treatments available to us that exfoliate the skin on the face and we use products with high levels of actives to do so, some of which can cause mild irritation. It is true to say that not all patients are able to or wish to tolerate dryness or redness that retinoid, for example, can cause. It is good to have an alternative that addresses the three main contributing factors to dull skin without clogging pores or introducing unnecessary ingredients to the skin."



Professor Firas Al-Niaimi, Laser and Clinical Dermatology, London, UK
PHYTO A+ BRIGHTENING TREATMENT is clinically proven to:
• Brighten – whilst reducing post blemish marks by 20%
• Smooth – whilst improve rough skin texture by 19%
• Clarify – whilst reducing pore clogging surface oil by 28%
P R I C E : £ 7 8
R E C O M M E N D E D R E T A I L E R : WWW.SKINCEUTICALS.CO.UK