B-Lite breast implants are up to 30% lighter than conventional implants and reduce the stress and strain on the breast soft tissue, whilst maintaining the shape and appearance of the breast in the long term. The uniquely lightweight B-Lite® series has revolutionised the world of breast implants and is considered one of the most significant developments in the industry over the last 30 years.
B-Lite breast implants provide the same fullness and firmness look and feel as traditional implants with the added benefit of being lighter in weight.
To achieve this, B-Lite® combine proven materials with breakthrough technology: the standard silicone gel filling is enhanced with special microspheres and is designed to reduce the effects of gravity and the result is an implant that combines comfort with sustainable aesthetics. B-Lite® breast implants
minimise stress on the breast and connective tissue – even with large models and thus, they retain a natural, attractive shape and ensure a more relaxed wear. The B-Lite® series implants are currently manufactured in round and anatomical shapes and are available with POLYtxt® surfaces.
'

I have over 20 years experience in Breast Augmentation with silicone implants and a particular expertise in breast implant revision surgery. With the introduction of the B-Lite implants 4 years ago, this has become my overwhelmingly preferred breast implant for both myself and my patients. The lighter weight of this implant produces less stress on the breast tissue equating to better results, better recovery and a more natural feel. We especially witness this benefit in patients having old silicone implants replaced with B-Lite. The results give the patient a 'wow' feeling!'
Mr. Christopher Inglefield BSc, MBBS, FRCS(Plast)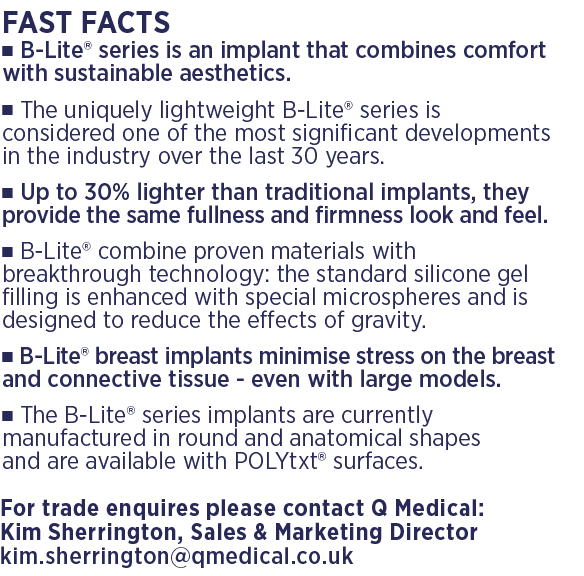 For trade enquires please contact Q Medical:
Kim Sherrington, Sales & Marketing Director
[email protected]