SkinCeuticals announces the arrival of two exciting, new retail kits delivering high quality, proven formulations to enhance the care you provide to your patients in-clinic. The Age Renewal System and Clarifying Skin System retail kits reflect the SkinCeuticals scientific approach to skincare and the development of effective topical regimens. The kits are designed to address the needs of two common skin concerns frequently seen in skin clinics: ageing skin on the one hand and ageing, blemish prone skin on the other. 
The Age Renewal and Clarifying Skin Systems create ideal opportunities for you to discuss effective management of ageing and problematic skin with your patients which in turn facilitates their introduction to evidenced based cosmeceutical skincare. The three step daily regimens are user-friendly making your patients feel that the move to advanced skincare is a logical and progressive next step in taking a long term approach to the care of their skin to provide a clearer, more revitalised complexion. 

Age Renewal System is suitable for patients who wish to tackle loss of elasticity and diminish the signs of photodamage caused by Atmospheric Skin Ageing. It comprises three high performance products that improve the appearance of fine lines, wrinkles and skin tone whilst safeguarding it against further damage. 
C E Ferulic 30ml is a patented triple antioxidant serum that fights Atmospheric Skin Ageing to deliver firmer, fresher and more radiant skin.

 

H.A. Intensifier 30ml is a fast- absorbing serum that boosts the skin's hyaluronic acid levels by up to +30% to support the skin's matrix, resulting in improved firmness and plumpness.

 

Retinol 0.3 30ml is a potent night cream featuring 0.3% pure retinol enhanced with the latest stabilisation and delivery technologies to ensure a steady, even release with minimal irritation.

 

Clarifying Skin System has been specifically designed for patients experiencing signs of problematic skin and ageing simultaneously, acting on blemishes while providing targeted exfoliation tackling concerns, such as inflammation, along with key signs of ageing such as hyperpigmentation and fine lines. 
The kit includes three clinically effective products to help with the unique set of ageing concerns experienced by patients with imperfections; as oil glands enlarge with age, pores increase in size and skin's texture becomes rough. 
Blemish + Age Cleanser Gel 240ml thoroughly cleanses skin removing impurities and excess oils. It contains salicylic acid which promotes desquamation and glycolic acid that acts as an effective exfoliant.

 

Blemish + Age Defense 30ml is a powerful lightweight corrective serum clinically proven to help prevent the formation of blemishes and clogged pores whilst improving the appearance of fine lines, wrinkles and uneven skin tone.1

 

Phyto Corrective 30ml is a lightweight oil-free moisturising serum to soothe reactive skin. It hydrates the skin for a clearer, fresher looking complexion whilst also calming irritated skin to reduce the appearance of redness and give a fresher looking complexion.

 
Both kits present ideal ways to introduce the benefits of evidence based cosmeceutical skincare to patients. The simple 3 step regimens are easy to follow for first timers and ensure that patients will see visible anti-ageing effects and clearer, smoother skin.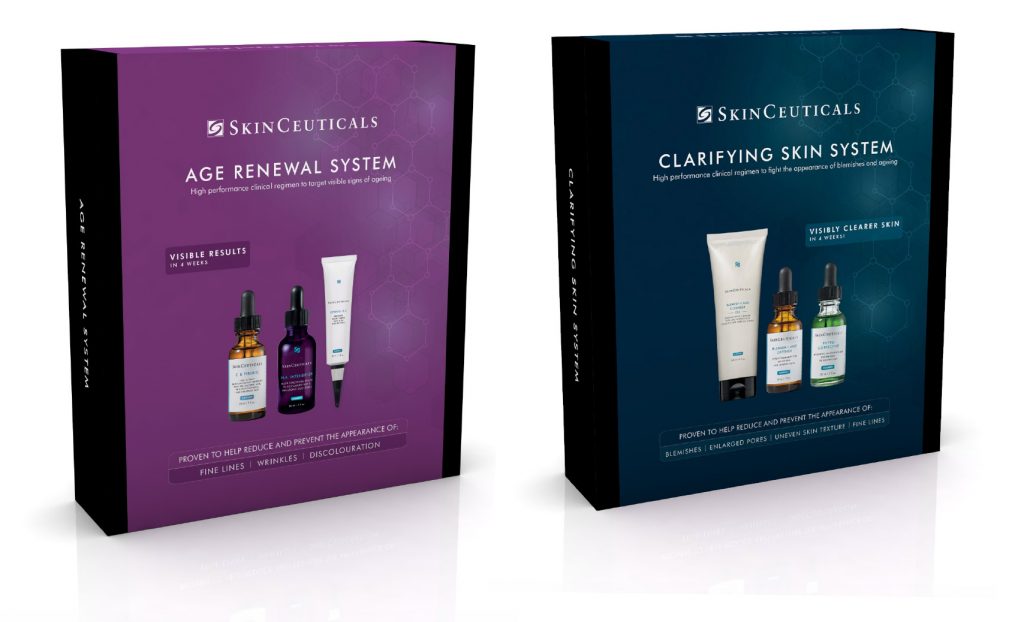 For further information about the kits and how to order, email: contact@skinceuticals.co.uk