This two-step system is formulated to combat lip photo-aging.
Like with all body parts, lips age too. But actual age is not the only culprit, the influence of environmental factors and bad habits are at play: solar exposure, poor water intake, temperature, smoking. The latter causes blemishes that make this area look older. Furthermore, the lips are one the most sensitive body tissues as they lack protective cells, sweat and sebaceous glands. This is a determining factor in an area that is particularly vulnerable to dehydration and prone to developing cracks.
Mediderma has just launched the 2-step FERULAC DUBAI LIPS Peel, the only chemical peel for medical use in photo-aging of the lips. Its formula, specifically created for the lip area, contains moisturizing, antioxidant and depigmenting actives that will even out the skin tone, moisturize them in Mediderma launches FERULAC DUBAI LIPS, the first peeling designed for the lips.
Step 1 prepares skin with FERULAC DUBAI LIPS TRX MIST. Formulated with tranexamic acid, it reduces pigmentation in this area and boosts results. Step 2 FERULAC DUBAI LIPS PEEL has a powerful moisturizing and antioxidant action due to its high content of lactic and ferulic acid. The synergic action of the two and their combination of actives achieves long lasting visible effects, with the highest safety from the first session.
Further, to boost and prolong its effects, we recommend following up with an at home treatment by regularly applying the depigmenting and moisturizing the lip balm FERULAC DUBAI LIPS.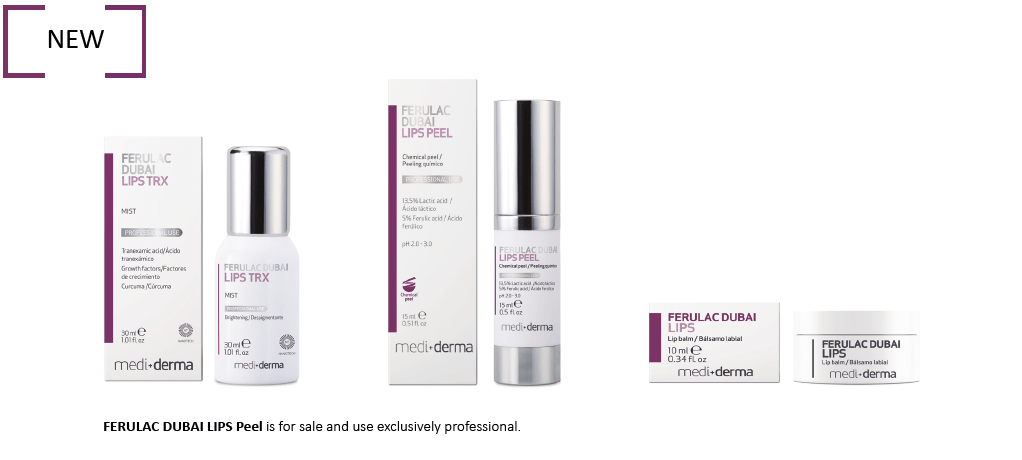 FERULAC DUBAI LIPS PEEL
Protocol to combat lip photo-aging
Preparing the skin
A) Cleanse the area thoroughly removing all traces of oiliness.
B) Protect the area around the lips with a suitable product with Silkses Moisturizing Skin Protector by Sesderma. 
Peeling
Apply a coat of FERULAC DUBAI LIPS TRX MIST and massage.

 

Apply 1-2 coats of FERULAC DUBAI LIPS PEEL and massage. Spread it evenly in order to avoid contact with buccal mucous.

 

Allow to work for 6-8 minutes approx. Then, remove the gel with gauzes soaked in plenty of water, ensuring there's no product residue left on the skin.

 

Seal treatment with a cream containing a slightly acid ph such as 3-RETISES NANOPEEL 1% GEL.

 

To complete the treatment, apply REPASKIN Lip Photoprotector SPF50 by Sesderma.

 
Frequency: A cycle of 4-6 treatments with a 10 day break.
Maintenance: Sessions will be carried out every 2 months. To speed up results it can be used by alternating it with microneedling treatments. 

Home Treatment
Apply continually our FERULAC DUBAI LIPS depigmenting and moisturizing lip balm. 
Regarding Mediderma: Mediderma is a medical laboratory specialized in the development, manufacturing and marketing of medical devices and cosmetic products for professional use. It was the first lab to introduce a complete range of chemical peels and is currently present in more than 80 countries. Mediderma was founded 30 years ago by Dr. Gabriel Serrano, a renowned Dermatologist and owner of Sesderma, a world-reference in the manufacturing of dermocosmetic products.