Lumenis has announced that the company supported a successful mission to treat children with burn injuries in Armenia.
Lumenis Ltd, the world's largest energy-based medical device company for aesthetic, surgical and ophthalmology applications announced today that the company supported a successful mission to treat children with burn injuries in Armenia.  The mission, led by R. Rox Anderson, MD, Director of the Wellman Center for Photomedicine and Professor of Dermatology at Harvard Medical School, was designed to provide immediate access to treatment for patients in need, but also to help local medical leaders establish a sustainable burn injury care network in Armenia.
The Lumenis UltraPulse®, the most powerful CO2 laser system for scar revision procedures, with the unique SCAARFX mode, was used in the mission.  It has also been used in similar humanitarian initiatives in Russia, China and Vietnam, and is considered the standard of care for treating soldiers injured in battle, for example in the VA hospitals in the USA.
"Unfortunately, sometimes the most effective and innovative healthcare technologies don't get to the patients who need them most," said Dr. Anderson.  "We're determined to change that.  Children with burn injuries   whether they live in the suburbs of New York City or a small village in Armenia – should have access to treatments like
UltraPulse." 
This is Dr. Anderson's second trip to Armenia.  In October 2013, a team that also included Dr. Lilit Garibyan of Massachusetts General Hospital and Dr. Ray Jalian of Ronald Reagan UCLA Medical Center treated more than 40 patients in Yerevan.  The ultimate goal of the 2015 mission is to establish a medical laser center in Arabkir Pediatric Hospital where physicians can be trained to perform laser procedures for children with vascular anomalies and scars.
"It is important to remember that scars do not just affect a patient's appearance," said Dr. Hrachya Arshakyan, chief of the plastic surgery department.  "For many patients with burn injuries, chronic pain and physical discomfort from their scars create a major quality of life burden.  Range of motion can also be compromised due to severe scarring.  These complex cases require advanced laser technologies like UltraPulse with SCAARFX that can penetrate deep into the skin, helping to aid healthy skin regeneration."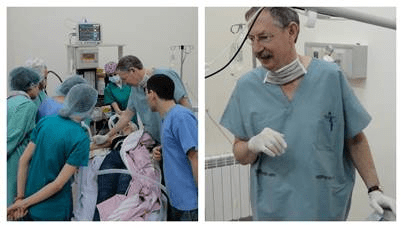 "Lumenis is honored to be supporting this important mission to help children in Armenia," said Tzipi Ozer-Armon, CEO of Lumenis. 
"The approach used by Dr. Anderson and the Wellman Center creates enduring change by empowering local medical leaders.  The benefits of these missions last for many years and continue to grow as more physicians are trained on the technology and more patients receive access to life-changing treatments."
About Lumenis
Lumenis is a global leader in the field of minimally-invasive clinical solutions for the Surgical, Ophthalmology, and Aesthetic markets, and is a world-renowned expert in developing and commercializing innovative energy-based technologies, including Laser, Intense Pulsed Light (IPL) and Radio-Frequency (RF). For nearly 50 years, Lumenis' ground-breaking products have redefined medical treatments and have set numerous technological and clinical gold-standards.  Lumenis has successfully created solutions for previously untreatable conditions, as well as designed advanced technologies that have revolutionized existing treatment methods in each and every one of the verticals we operate in.
For more information visit:  www.lumenis.com