Konika Patel Schallen, MD; Meghan Murphy RN, BSN;
and Raylene Piretti review the results of a study on
22 patients with photodamaged skin   


There is increasing demand by patients and practitioners alike for non-invasive treatments to address specific concerns of photoaging skin, such as brown (pigmentary) and red (vascular) dyschromia of the skin and an overall decline in skin texture with aging1,2. The cosmetic outcome with light-based treatments can be appealing to patients seeking gradual improvement with fewer risks and less downtime than that associated with more invasive procedures1. 
Lasers target the principal chromophores in human skin – hemoglobin, melanin and water – depending on the wavelength selected and absorption peak of the chromophore within the spectrum3. Non-ablative fractional laser skin resurfacing creates thermally-coagulated microscopic zones of epidermis and dermis, resulting in subsequent new collagen formation and re-epithelialization to treat skin textural irregularities2.
Unlike laser devices, traditional intense pulsed light (IPL) devices deliver a broad wavelength spectrum of light to tissue, ranging from 400 nm to 1400 nm, with a variety of pulse durations. As IPL devices emit a spectrum of wavelengths, the three chromophores can be targeted to address various clinical indications with a single modality. Treatment with IPL systems have shown visible improvements, such as a reduction in telangiectasias and pigmented lesions, and in skin texture5,6. Combining treatment with nonablative 1550 nm fractional photothermolysis to target textural irregularities can enhance the overall cosmetic effect7.
While first-generation IPL systems had a high incidence of side-effects, developments in technology have significantly reduced the risk4. The SWT® technology* was developed in 1997 as a narrowband technology. In 2015, the Nordlys system with SWT® technology was introduced as the first SWT system to deliver real sub-millisecond light pulses with high energy, traditionally used by pulsed dye lasers for the treatment of very thin vessels8. The Nordlys system with SWT technology was designed with dual-filtering technology to filter out the shorter and longer infrared wavelengths and to correspond with the absorption spectrum of a specific skin chromophore, while minimizing heating to the surrounding tissues. A fractional 1550 nm handpiece (Frax 1550) is also available with the Nordlys system to address textural irregularities by resurfacing the skin tissue9. The Frax 1550 treatment beam's width can be adjusted between 4–12 mm to quickly treat large areas or treat smaller areas around the nose or eye.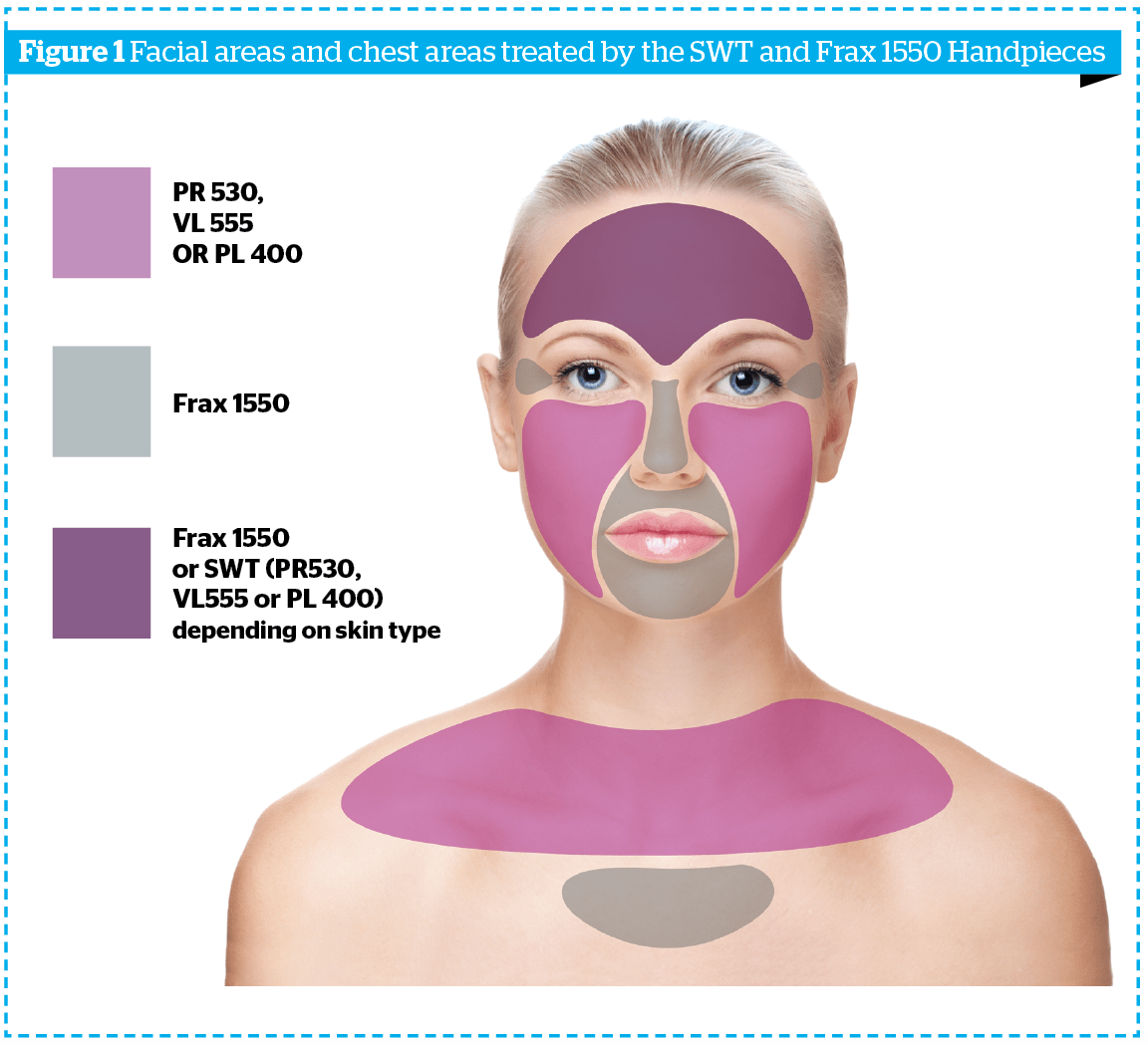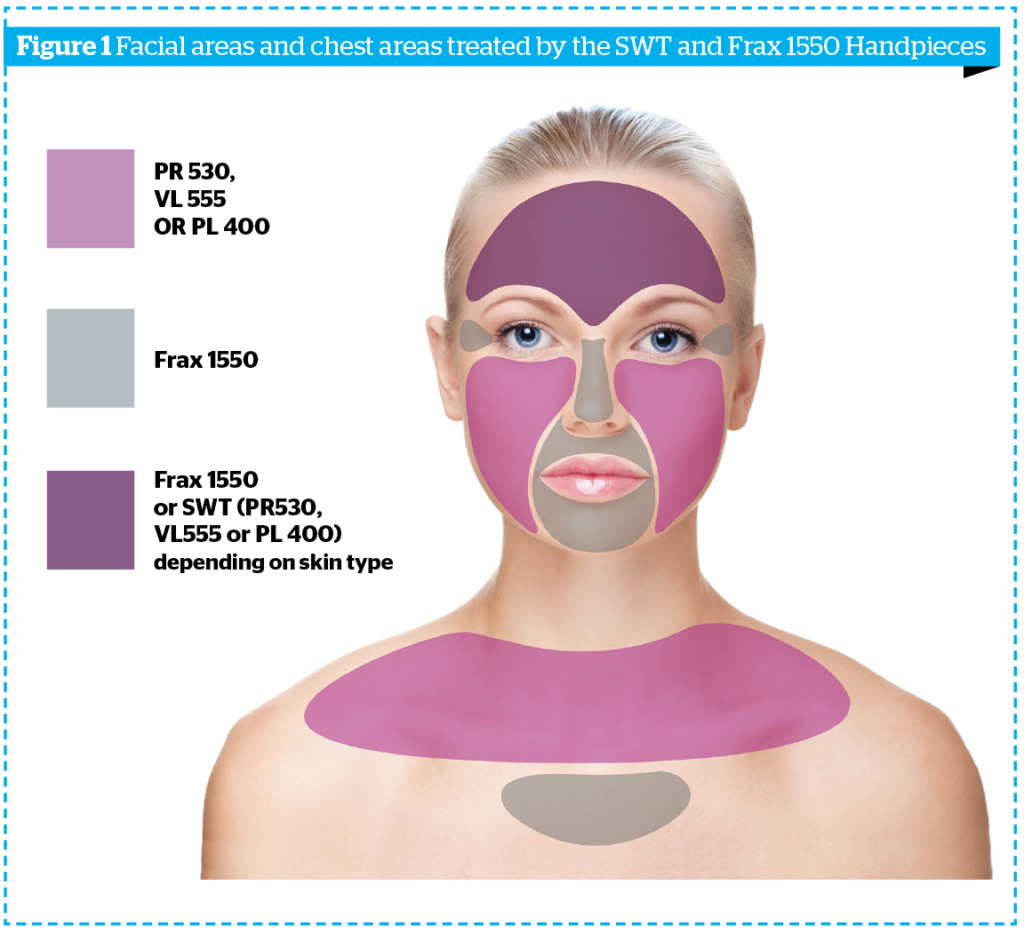 As described below, patients in our clinic underwent a series of three treatments to various areas of the face or the chest with the SWT and Frax 1550 handpieces to address the various aspects of photoaged skin.
Methods
Healthy male and female subjects presenting with clinically visible signs of photoaged skin on the face and/or chest area were eligible for treatment with the SWT and Frax 1550 handpieces. Subjects received three monthly treatments and were assessed at the 1-month and 3-month follow-ups after the final treatment. Fitzpatrick Wrinkle and Elastosis Score, as well as scales for pigment severity, rosacea or the presence of telangiectasias were reported for treated areas. Subjects reported on satisfaction with improvement in skin quality and signs of photoaged skin, using a 5-point Likert scale from 2=Extremely satisfied to -2=Extremely dissatisfied.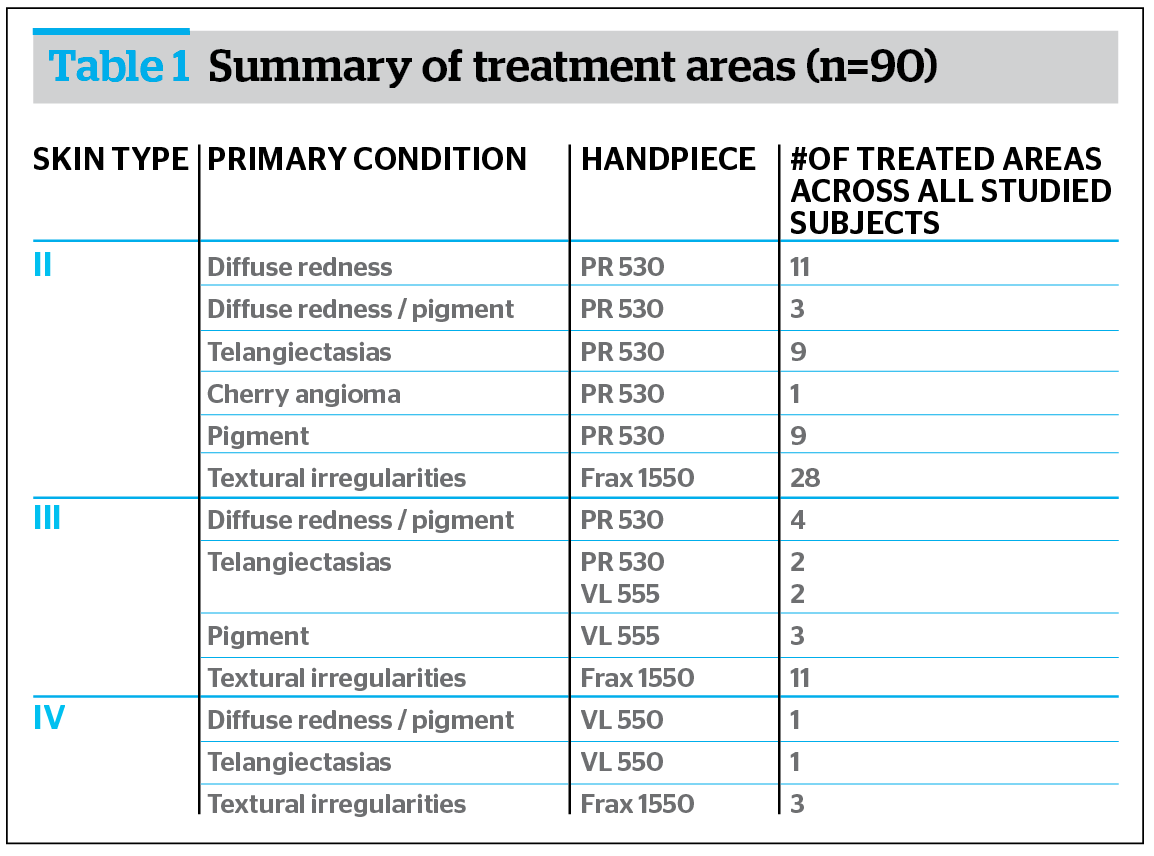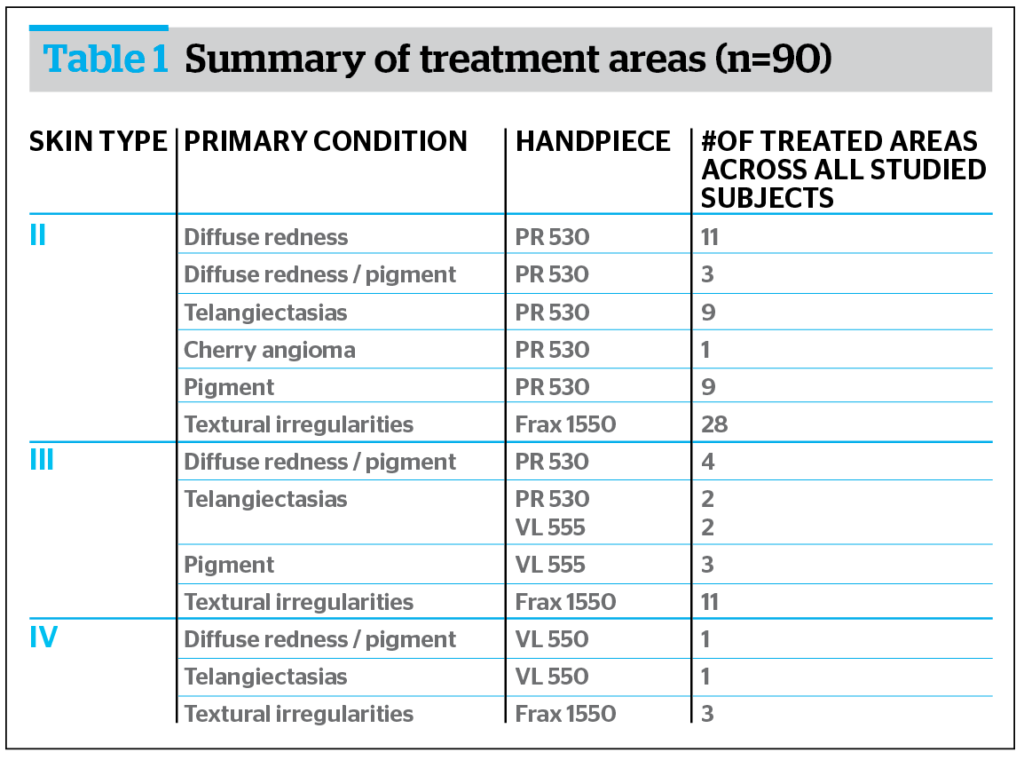 Results
Subjects
A total of 22 Caucasian subjects (20 females, 2 males) with Fitzpatrick skin types II (n=16), III (n=5) and IV (n=1) and mean age of 47±9 years (range 30-61) underwent a series of three treatments to the face (n=18 subjects) or chest (n=4 subjects). A total of 80 sub-areas of the face (i.e. cheeks, nasolabial fold, forehead, periorbital, nose and chin) and 10 chest areas were treated for vascular and/or pigmentary dyschromia, telangiectasias, cherry angiomas and textural irregularities (Table 1).
Treatments
Treatment parameters were provided by the guided mode software in the system, after indicating which Fitzpatrick Skin Type and clinical indication were being treated. Figure 1 demonstrates the various handpieces used on each area of the face and chest.Diffuse redness and pigment were treated with the SWT handpieces first using a double 2.5 ms pulse, with a delay of 10 ms to treat the entire area, since the pigment acts as a mask over the larger vessels. Individually visible telangiectasias were treated subsequently. Fluence was increased as needed until a clinical endpoint of darkening of pigmentation was observed and erythema appeared on the areas treated for diffuse redness. Textural irregularities were treated with the Frax 1550 handpiece with the 4-, 8-, 10- or 12-mm scan width, depending on the treatment area.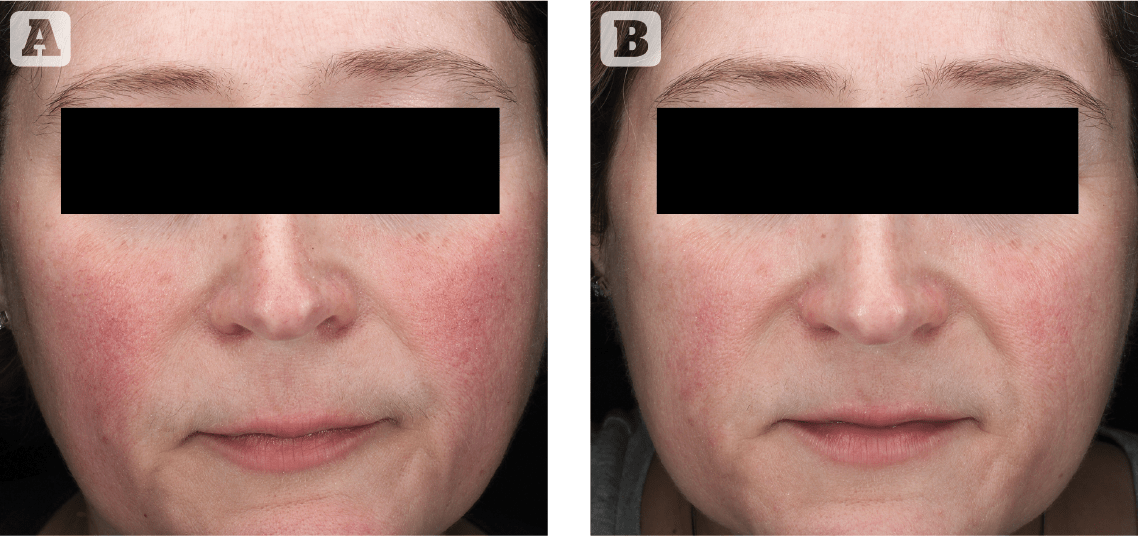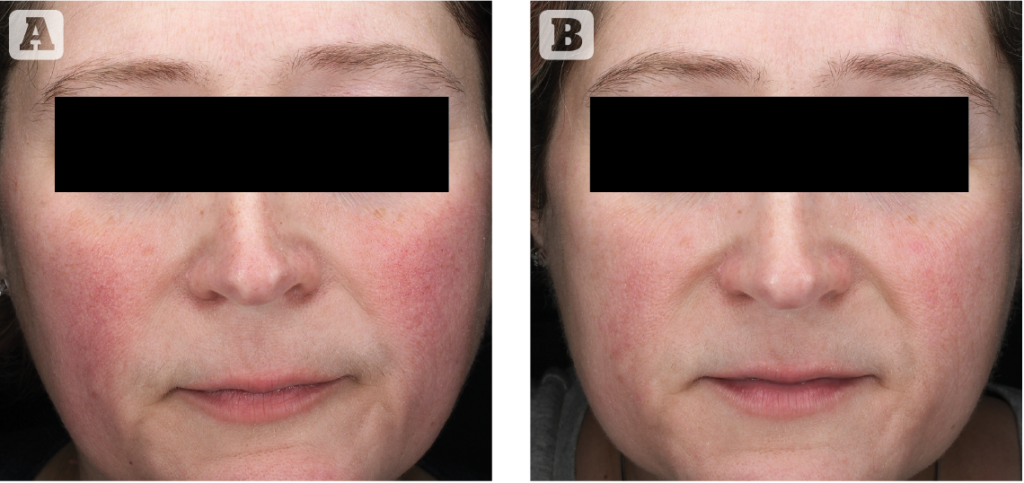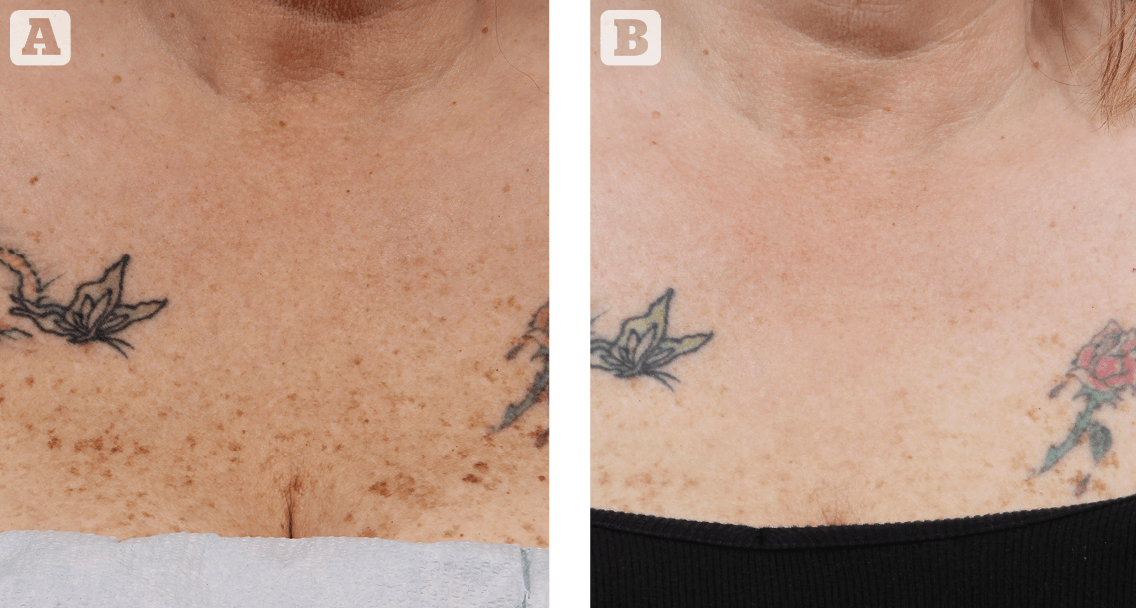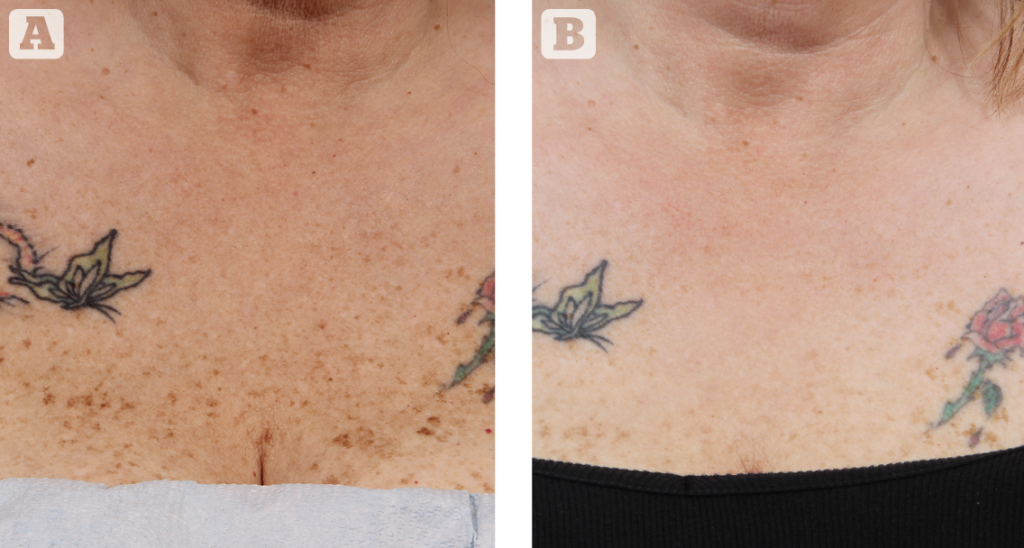 Subject Satisfaction
Subjects reported on satisfaction prior to the second and third treatments and at the 1-month follow-up visit. One subject did not report on satisfaction at the second treatment but did assess satisfaction at the 1-month follow-up. Another subject was lost to follow-up prior to the 1-month study visit but indicated that she was 'Extremely satisfied' after two treatments.
Following the first treatment, 82% (18/22) of subjects reported satisfaction with treatment, while the remaining four subjects (18%) were 'Neither satisfied nor dissatisfied'. At the 1-month follow-up after the treatment series, 95% (19/20) of subjects were 'Extremely satisfied' or 'Somewhat satisfied', while one subject was undecided ('Neither satisfied nor dissatisfied')†..
Examples of visible improvement in photoaged skin are shown in Figures 2–3.
Investigator Assessments 
Subjects were assessed for severity of telangiectasias or redness (mild, moderate or severe). At baseline, 10 of subjects presented with moderate or severe telangiectasias/diffuse redness. Following the treatment series, eight of the 10 subjects (80%) showed improvement with five subjects experiencing '51–75%' improvement in vessel size. One subject with moderate severity did not experience improvement, and one subject was not assessed at follow-up.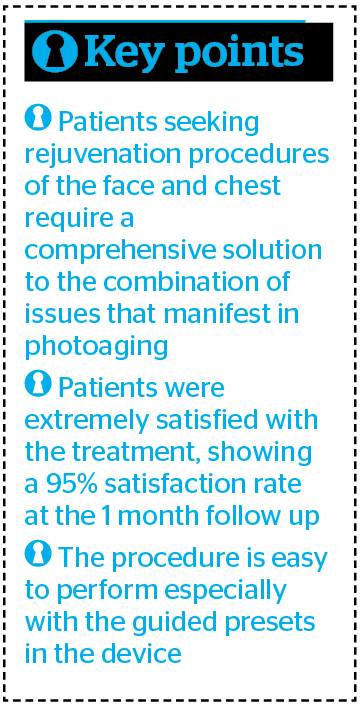 Subjects were also assessed for pigmentation, using a 4-point scale of 1=mild to 4=severe. Of the 20 subjects assessed for pigmentation at the 1-month follow-up, 60% (12/20) experienced improvement with a mean point improvement of 1.2±0.3.
Conclusion
In this study, there was high patient satisfaction following a series of three SWT® and Frax 1550 treatments to the face and/or chest. Subject satisfaction continued to improve during the treatment series, particularly for those patients who were extremely satisfied at the 1-month follow-up. Investigator assessments showed improvement in pigmentary and vascular dyschromia after the first treatment and continued to improve with successive treatments. Clinical photography demonstrated visible improvement in photoaged skin. The versatility of having a selection of SWT handpieces, with dual filtering, and a fractional resurfacing handpiece in one multi-application, multi-technology platform allows various clinical indications to be treated during a treatment session.
* SWT uses patented, selective waveband technology with dual filters to select precisely the right light needed to treat each condition; † Subject satisfaction at study visits
Declaration of interest Funding for submission of this paper was provided by Candela.
 Figures 2-3 © Konika Patel Schallen,
REFERENCES
Perper M., Tsatalis J., Eber A.E., Nouri K. (2018) Noninvasive Rejuvenation/Skin Tightening: Light-Based Devices. In: Nouri K. (eds) Lasers in Dermatology and Medicine. Springer, Cham
Manstein D, Herron GS, Sink RK, Tanner H, Anderson RR. Fractional photothermolysis: A new concept for cutaneous remodeling using microscopic patterns of thermal injury. Lasers Surg Med. 2004;34:426–38
Anderson RR, Parrish JA. Selective photothermolysis: Precise Microsurgery by selective absorption of pulsed radiation. Science 1983;220:524-527
Faucz LL, Will SE, Rodrigues CJ, et al. Quantitative evaluation of collagen and elastic fibers after intense pulsed light treatment of mouse skin. Lasers Surg Med. 2018 Jan 16. doi: 10.1002/lsm.22782.
Negishi K, Kushikata N, Takeuchi K, et al. Photorejuvenation by intense pulsed light with objective measurement of skin color in Japanese patients. Dermatol Surg. 2006 Nov;32(11):1380-7
Bitter PH. Noninvasive rejuvenation of photodamaged skin using serial, full face intense pulsed light treatments. Dermatol Surg 2000;26:835-843
Kearney C, Brew D. Single-session combination treatment with intense pulsed light and nonablative fractional photothermolysis: a split-face study. Dermatol Surg. 2012 Jul;38:1002-9.
Iyengar S. et al. (2018) Intense Pulsed Light (SWT®). In: Nouri K. (eds) Lasers in Dermatology and Medicine. Springer, Cham.
Tidwell WJ, Green C, Jensen D, Ross EV. Clinical evaluation and in-vivo analysis of the performance of a fractional infrared 1550 nm laser system for skin rejuvenation. J Cosmet Laser Ther. 2018 Aug 24:1-4