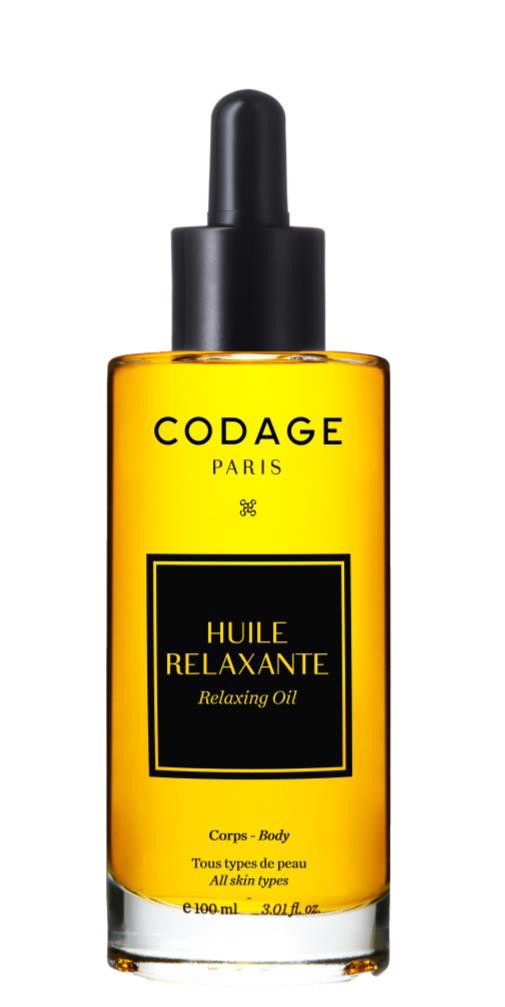 The RELAXING OIL is a mixture of moisturising and soothing oils combined with cannabidiol (CBD) for a guaranteed anti-stress effect. Enriched with lavender and chamomile essential oils, this non-greasy formula relaxes, releases tension and helps you unwind for a feeling of ultimate wellbeing.
Key Ingredients
Macadamia oil                   
Sweet almond oil
Sesame oil                         
Apricot kernel oil
Camellia oil            
Hemp oil
Cannabidiol (CBD)
RELAXING ESSENTIAL OILS
(no photosensitising effect)
Citrus notes: Caraway – Orange – Chamomile – Neroli
Floral notes: Lavender – Geranium – Ylang-ylang
Woody notes: Amyris – Patchouli – Cedar
DIRECTIONS FOR USE
Massage the desired amount of product on dry skin to the whole body or to targeted areas. Does not have any psychoactive nor photosensitising effect. Do not use if pregnant.
"We are delighted with the launch of the NEW CODAGE Relaxing Oil for our Harpar Grace practitioners. With their signature advanced formulation technology, the team at CODAGE have created an effective, results-driven body oil integrating the benefits of Cannabidiol (CBD) together with lavender, chamomile, macadamia, sesame, camellia, sweet almond, apricot kernel oil and hemp oil."
Kimberley Saunders
About Harpar Grace International | EXPERTS IN LUXURY
Harpar Grace International is a dynamic and entrepreneurial company with a focus on the development, distribution and management of luxury, cosmeceutical, spa and retail brands. They are the exclusive distributors for iS Clinical Cosmeceuticals, CODAGE, Déesse PRO LED Light therapy & Totally Derma. Their progressive yet refined collection of luxury and clinically proven offerings have been carefully selected, with pride for the best in class brands and formulations.
For further information please contact Jenny Pabila at Niche Public Relations:
jennyp[email protected] | +44 7971 032 570 | @jennypabila