AMWC 2017 celebrated its 15th year in beautiful Monaco this past April. PRIME reviews some of the highlights
The 15th edition of the AMWC exceeded expectations in many ways — beginning with the glorious weather. Many of the world's leading brands sang the praises of the Congress, while its highly qualified delegates and visitors promised even greater support for AMWC 2018.

under the High Patronage of H.S.H. Prince Albert II of Monaco, AMWC 2017 took place in Monte-Carlo from the 6 to 8 April 2017. The AMWC's 15th anniversary was celebrated under the theme 'Challenges & Opportunities', under the scientific supervision of the World Society of Interdisciplinary Anti-aging Medicine (WOSIAM). A total of 63 scientific sessions running concurrently in three auditoria and three lecture rooms welcomed 313 international faculty members from 46 countries. Over 9500 delegates and visitors came to Monaco from 137 countries; comprising dermatologists (36%), cosmetic and plastic surgeons (27%), aesthetic and general practitioners (16%), anti-aging practitioners (13%), and visitors and distributors (8%). Over 300 leading international companies and their 1700 staff showcased on the 5-floor exhibition area of 15,000m2.
The Congress kicked-off with two pre-congress courses. The first, 'Aiming for the Perfect 10' was part of the Aesthetics Masterclass 2017 and presented a new dimension of treatment based on the 'AESTHETIC 10' criteria, and welcomed more than 300 participants. The advanced course
on 'Genital Rejuvenation & Cosmetic Gynecology', attended by 100 delegates, highlighted the latest knowledge and breakthroughs covering a diversity of topics with live demonstrations.
The Congress sessions on preventive and anti-aging medicine focused on recent topics that have raised opportunities for aging research and technology with clinical implication or application. Examples can be highlighted from artificial intelligence, targeted genome editing technology, next-generation anti-aging drugs, and virtual reality exposure and their medical application. Telomere length computation, the effect of weight loss on metabolic function and adipose tissue biology, as well as gut microbiota were also addressed.
the aesthetic sessions, treatments with botulinum toxin were discussed in detail as well as the latest concepts and techniques for the management of head, neck and back pain. New and advanced techniques on full face rejuvenation and profiloplasty were also presented. Specific difficult zones were addressed in depth with live demonstrations on the treatment of the forehead and eyebrows, lower and upper eyelid, platysma, nose tip, and perioral wrinkles. Focused sessions on crafting a younger look for male patients as well as facial volumetry with consideration of the fat compartments and anatomy also featured. Complications associated with injectable fillers and botulinum toxin were examined with treatment protocols proposed by the expert speakers.
Forty-nine symposia with live demonstrations as well as promotional and educational information regarding products, devices, treatment techniques were sponsored by: Allergan, Galderma, Merz, Teoxane, Filorga, Sinclair, Croma, Vivacy, LG Life Sciences, Md Skin Solutions, Zeltiq, Revitacare, Adoderm, Cutera, Skin Tech, Syneron Candela, Caregen, and many others.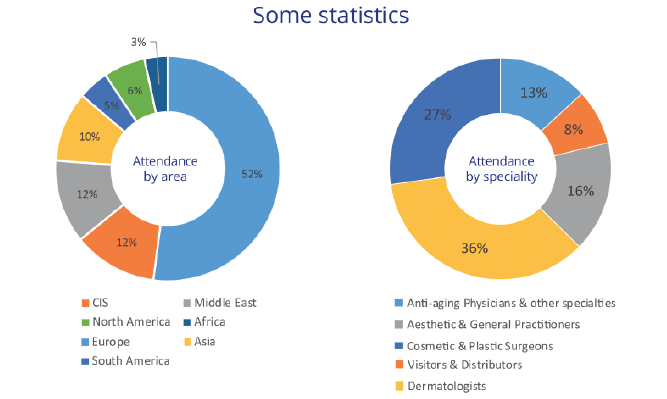 Missed out on AMWC 2017?
For those who want to come back to Monaco or failed to attend AMWC 2017, they are highly recommended to reserve a place at the AMEC/VISAGE Joint Meeting that takes place at the Grimaldi Forum (Monaco) on 15-16 September 2017. The meeting will be a combination of the largest and most interactive aesthetic live show in Europe (AMEC) with practical and academic training (VISAGE). Moreover, One2One private tuitions and hands-on learning will also take place on 14 September, allowing an opportunity for a close learning experience from the experts.

For more information, visit:
www.euromedicom.com