Galceran F. MD, Lorente E. MD, Vidal R. MD, and Luis L. MD discuss the reduction of wrinkles, eyelid ptosis, and idiopathic hyperchromia 
Research objective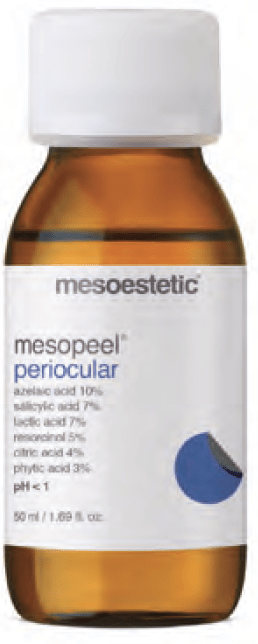 To evaluate the efficacy and safety of a medical periocular treatment through the combination of mesohyal™ MELILOT and mesopeel® periocular in the reduction of wrinkles, idiopathic hyperchromia (due to pigmentation and visualisation of the vascular network) and aponeurotic ptosis. 
Materials and methods
A prospective clinical study was performed between December 2018 and January 2019. It included 5 volunteers with ages ranging from 40 to 70 years, with no known diseases. Volunteers that had already received an antiaging treatment in the periocular area were excluded. The periocular treatment administered consisted of the combination, during intercalated sessions, of the following: 
mesopeel® periocular: Chemo-exfoliating solution that combines azelaic acid, salicylic acid, lactic acid, resorcinol, citric acid, and phytic acid. Specifically developed for the treatment of the periocular area: wrinkles, flaccidity and idiopathic hyperchromia of pigmentary type and due to tissue thinning4–7

 

mesohyal™ MELILOT: Sterile aqueous solution of hyaluronic acid with sweet clover and troxerutin extract that can repair aged tissues, enhance lymph draining and help reduce capillary permeability6–9

 
The treatment was applied in 6 sessions at the clinic, spaced one week apart. At weeks 1, 3 and 5 mesopeel® periocular was applied topically. At weeks 2, 4, and 6 mesohyal™ MELILOT was administered using the nappage technique. For this, a 3-body syringe with Luer-Lock® technology and 30–32 G x 4 mm needle was used. Application area: Upper arch of the eye (avoiding the upper eyelid), outer corner of the eye and lower eyelid.
mesohyal™ MELILOT puncture technique nappage 
Puncture depth: from 0.1 mm to 0.5 mm.

 

Puncture angle: 45° of slope.

 

Dose per puncture: 0.05 ml.

 

Distribution: 5–6 mm between points1–4.

 
mesopeel® periocular application technique 
Clean and remove oil from the area.

 

Protect the tear duct and outer corner of the eye with a protective balm.

 

Spread 2.5 ml (1.25 ml/eye) with a swab.

 

Máximum application time 3 min

 

Intensity of action: modulable based on the layers applied

 

Remove with water and neutralise5–8.

 
Results
Study in vivo
A clinical assessment was performed in all cases and a photographic register of them was made at the set-up visit (control) and 15 days after the end of treatment which allowed to highlight the following relevant cases: The safety of treatment was evaluated at all control visits, 7 days after each treatment session, ruling out the appearance of adverse effects such as: erythema, oedema, itching or pain. 
Conclusions
The intradermal application of mesohyal™ MELILOT in combination with the topical application of mesopeel® periocular represents an effective, safe alternative for the treatment of several of the imperfections located in the periorbital area: wrinkles, idiopathic hyperchromia (due to pigmentation or visualisation of the vascular network), and aponeurotic ptosis. The combined use of mesopeel® and mesohyalTM during the treatment allows to obtain global results thanks to its synergism and complementariness. 
For more information, visit mesoestetic.com/en