How many surgeons does it take to twist a breast implant? This was the question asked last week at Europe's biggest aesthetic surgical trade show, where Britain's only implant manufacturer played host to an international delegation consisting of 150 eminent clinicians from 22 countries.
GC Aesthetics (www.gcaesthetics.com); parent company of UK-based Nagor (www.nagor.com) and France-based Eurosilicone (www.eurosilicone.com); held a day-long global conference at the prestigious event, which also ran alongside the Annual Scientific Meeting of the British Association of Aesthetic Plastic Surgeons, taking place at London's Olympia on 8th – 9th October. GC Aesthetics' exclusive VIP programme saw lectures and keynotes from some of the world's most respected breast surgeons, as well as an introduction by GC Aesthetics' CEO Ayse Kocak, the industry's first-ever female Chief Executive.
Whilst the day-long meeting covered a variety of subjects, such as changes in surgical techniques and videos on how implants are made, surgeons were widely encouraged to have fun and take part in the aesthetic surgery sector's unique new social media craze, the #IMPLEOtwist.
Breast implants have historically been available in a wide range of textures and shapes, the established rule has always been that the softer and more natural they feel, the less cohesive the silicone within has been. To counteract this, implants have increasingly been filled with more solid-feeling gels making them harder, or less natural, to appearance and touch.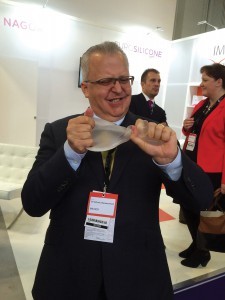 However, Nagor's own 6th generation British-made IMPLEO range is a round, malleable implant so soft it can be squeezed or twisted and not only does it retain its shape, but the silicone within is so cohesive that even if the shell is sliced open, the gel will remain form stable.
Fast becoming a best seller in Britain, Spain, Mexico and France, and hailed by surgeons as a 'change in paradigm', the British IMPLEO range has technology so innovative, it has over the past few months sparked a series of light-hearted social media stunts where surgeons around the world attempt to manipulate and wring the device in different ways to test its resilience – with one surgeon in Argentina repeatedly running it over with his car and a British clinician using an excavator in unsuccessful attempts to split the device.
Unlike other brands, IMPLEO's shell is 100% filled with gel – rather than 90% to 95% as most in the market – therefore minimising the common 'rippling' effect. Its unique, squeezable consistency also means that surgeons can insert the implant through a smaller incision, resulting in a smaller scar for the patient.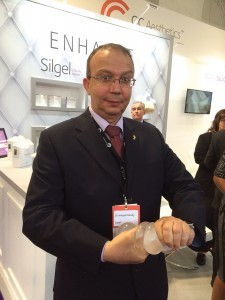 Some of the world's top surgeons were seen over the two days straining and #IMPLEOtwist-ing, with their efforts photographed and spreading on Twitter and Facebook.
GC Aesthetics' Chief Executive Ayse Kocak commented;
"It was exciting to witness surgeons from all round the world coming together to not just witness – but test themselves with their own strength – the revolutionary softness, stability and durability of our bestselling range of our implants. I am delighted that so many people took part and had fun whilst learning about this innovative technology. Our IMPLEO really has been twisting all round the world, well, in the hands of people from all over the world, at least!"