The Anti-Aging & Beauty Trophy is presented by EuroMediCom and WOSIAM. Judged in 13 categories, products and treatments are rated by health professionals and journalists

BEST INJECTABLE /  SKIN BOOSTER
TEOSYAL REDENSITY 1, TEOXANE Laboratories
It is not just the passing of time that causes the loss of skin luminosity and the appearance of wrinkles on our face. An unhealthy lifestyle associated with other factors, such as an unbalanced diet, sun exposure or cigarette smoking also affects the skin's appearance.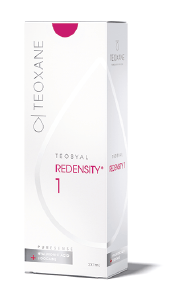 Used for many years, TEOSYAL® PureSense Redensity 1 is a hyaluronic acid based injectable treatment that hydrates from within to bring a youthful luminosity to tired ageing skin.
It is a patented hyaluronic acid formula that contains a high concentration of HA and a cocktail of nutrients (amino acids, anti-oxidants, minerals and vitamin B6), all naturally present in the skin. The unique formula works with to hydrate the skin, restructure the tissue, regenerate cells, and provide that much needed antioxidant protection. For optimum treatment outcomes, it is recommended that patients follow the required protocol of 2 to 3 sessions at 3 or 4-week intervals, followed by 1 session 2 to 3 times a year to maintain the level of hydration in the skin.
www.teoxane.com/dermal-fillers/
BEST NON-INVASIVE BODY SHAPING TECHNOLOGY
EMSCULPT, BTL Industries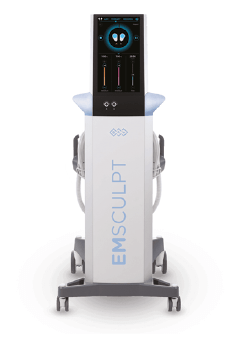 EMSCULPT, developed by BTL, is a medical device used in a non-invasive procedure to simultaneously build muscle and burn fat. EMSCULPT introduces the first-of-its-kind application of a unique magnetic field. The HIFEM® (High intensity focused electromagnetic field) technology penetrates through the skin to impact muscle tissues and fat. This is the only technology that builds muscle and burns fat simultaneously, both while leaving the surrounding tissues unaffected. EMSCULPT treatment areas are abdomen, buttocks, arms and calves.
www.btlaesthetics.com/en/btl-emsculpt

BEST LASER, LIGHTS & ENERGY-BASED DEVICE
LUXEA, DEKA
Luxea is the newest complete, modular and continuously expandable system including 9 pulsed light and laser handpieces. This system provides users with greater power for quicker, more effective skin and beauty treatments; enhanced and optimized cooling for greater safety and improved patient comfort as well as improved handpiece ergonomics for greater operator comfort. Luxea offers multi pulse selection, top hat technology and proper pre-cooled handpieces for optimal results in hair removal, vascular and benign pigmented lesions, acne, skin resurfacing, anti-ageing, wrinkles and tattoo removal. Luxea is the ideal solution for clinics seeking for expanding their business.
www.dekalaser.com
BEST IMAGING DEVICE
3D LIFEVIZ® MICRO, QUANTIFICARE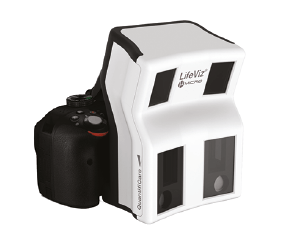 The LifeViz Micro is the first, portable 3D imaging system to analyze microstructure skin measurements. Being able to visually track progress with reproducible images is priceless in treatment evaluation. By adding measurements and data to the system, the 3D LifeViz Micro upgraded with the 3D Track® module is a comprehensive micro-surface assessment solution. With the LifeViz® Micro, begin by taking a 'life-like' 3D image of the patient, then chose a comparison reference and obtain detailed measurements of distance and surface. This new addition to the LifeViz® product range will provide an essential tool for any type of study performed in practices or research sites.
www.quantificare.com
BEST COSMETIC PRODUCT
FULGORA 30/50, SKIN TECH PHARMA GROUP
Intensive care FULGORA 30/50 helps to prevent and improve skin tone imperfections, including hyperpigmentation, associated with photoaging. FULGORA 30/50 advanced formula contains Tranexamic Acid and Hexyl resorcinol, it is also enriched with anti-oxidants and hi-tech sunscreen filters which effectively interfere in the melanin synthesis through a synergistic effect. FULGORA 30/50 reduces and prevents skin marks and unifies skin tone by offering a triple indoor and outdoor photoprotection against UV, IR and HEV. FULGORA 30/50 brings a chameleon effect to the skin by activating the skin's photo-sensory system, adapting it to the different hostile environments the skin is exposed to, contributing in this way to prevent digital-environmental chronoaging and photoaging of the skin.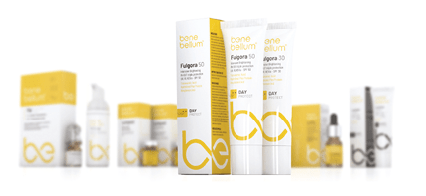 www.skintechpharmagroup.com
BEST SKIN TIGHTENING DEVICE
ULTHERA® SYSTEM, MERZ AESTHETICS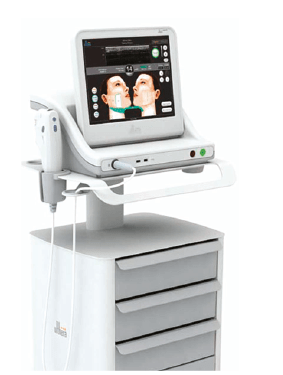 Ultherapy® uses time-tested ultrasound energy to lift and tighten the skin naturally — without surgery or downtime. It harnesses the power of ultrasound to transform the brow, chin, neck and décolletage. Ultherapy® relies on ultrasound therapy to deliver its collagen-boosting treatment. It also incorporates traditional ultrasound imaging, which allows practitioners to see the layers of tissue they are treating, ensuring the treatment energy is delivered to where it will be most beneficial. The Ultherapy® procedure stimulates collagen production by delivering focused ultrasound energy to the skin's foundational layer typically addressed in cosmetic surgery — without cutting or disrupting the surface of the skin. This energy initiates the body's natural response to stimulate the growth of fresh, new collagen.
www.ultherapy.com
BEST TIGHTENING THREAD & SUTURES
INFINITE-THREAD®, Thread & Lift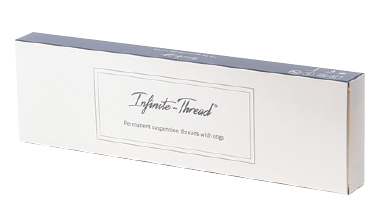 We are specialised in the aesthetic field and most specifically thread lifting. Our permanent suspension thread named Infinite-Thread® is CE marked. It allows a non-surgical facelift, with a long-lasting and natural result, for the patient who is a victim of subcutaneous tissue sagging. We meet the expectations of the modern patient since the intervention is made under local anaesthesia, ensures minimal downtime and keeps the natural features of the face. Our customers, surgeons and physicians specialise in the field of aesthetics, serve patients around the world, too young to accept the surgical alternative but also aware of the objective limit of the simple filler injections.
www.threadandlift.com