The American Society of Plastic Surgeons (ASPS) conference brings together 2300 plastic surgeons and their staff who share their expertise and discuss cutting-edge clinical research and the newest advancements in surgical techniques and regenerative medicine. Despite the Columbus Day holiday weekend and the Chicago Marathon that attracted 45000 runners and visitors to the Windy City, the ASPS conference offered 5 days of learning and debate on topics of importance to plastic and reconstructive surgeons.
The ASPS is the world's largest organisation of board-certified plastic surgeons, comprised of over 7000 members. Founded in 1931, ASPS represents physicians certified by the American Board of Plastic Surgery or the Royal College of Physicians and Surgeons of Canada. Plastic Surgery The Meeting attracts plastic surgeons, trainees, nurses, and other allied health professionals, including a substantial number of physicians from Latin America, Asia, Europe, and the Middle East.
'With advancements in plastic surgery happening at an unprecedented pace, having the ability to join together, teach each other and collaborate on future processes is invaluable to keeping the specialty viable and ensuring the highest quality patient care is being provided,' said ASPS Past President Robert X. Murphy, Jr., MD.
Plastic Surgery The Meeting highlights
With over 79 instructional courses and 56 panels to choose from, it was an intensive 5 days for the attendees.
The exhibit hall had over 250 exhibitors, featuring products and devices including the latest breast implants, injectable fillers, professional skin care, fat grafting systems, wound healing and scar reduction, and body contouring technologies. The major sponsors of The Meeting this year were Sientra, ALPHAEON, and LifeCell as Platinum Supporters, as well as  the Musculoskeletal Transplant Foundation (MTF ), and Merz Aesthetics as Gold Supporters.
As always, there was a major focus on breast cancer detection and reconstruction, including flap reconstruction as well as implant techniques, fat grafting, and nipple repair. But that was just the beginning. Not surprisingly, few plastic surgeons today are able to survive by solely offering surgical solutions for scar revisions, facial ageing, and body contouring; therefore, the programme included numerous sessions on botulinum toxins, dermal fillers, fat grafting, PRP, as well as laser and light based devices for hair removal, skin resurfacing, acne scarring, hyperhidrosis, hair restoration, tattoo removal, and burns.
[pull_quote align="left" ]The ASPS is the world's largest organisation of board-certified plastic surgeons, comprised of over 7000 members.[/pull_quote]
In fact, a study entitled, 'A 12-year analysis of the relationship between market trends and cosmetic case volume,' was presented by author Marc Walker, MD, MBA, and a member of the plastic surgery staff at Yale University in New Haven, Connecticut, that showed an overall decline in the number of major cosmetic procedures, such as facelifts.
In an effort to stay ahead of the evolving technology, the specialty's hottest topics and research were presented. The Hot Topics in Plastic Surgery symposium featured the latest discoveries and technologies and what's new on the horizon. Areas of controversy included adipose derived stem cells (ADSC) and regulation, fat grafting, automation and robotics in hair transplantation, non-invasive body sculpting, non-surgical skin tightening technologies, Google Glass, and post-operative pain management.
According to New York plastic surgeon Alan Matarasso, one of the co-chairs of the hot topics session, 'Plastic Surgery The Meeting featured the latest information on aesthetic and reconstructive plastic surgery techniques, including a focus on non-surgical procedures and technologies that have become an important component of the continuum of care we offer to patients.'
International breast device registry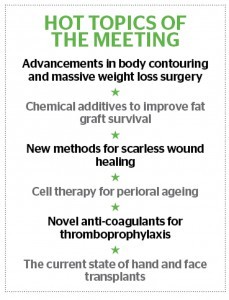 Among the most important new developments this year was the launch of a breast implant registry initiative for US patients. Past President of the Australian Society of Plastic Surgeons, Rod Cooter MD FRACS (Plast), delivered a presentation on the history of the PIP crisis that precipitated the need for a breast device registry to improve patient safety. Through national and international collaboration, Australia has been very instrumental in bringing together a consortium of concerned surgeons around the world to join in this important mission. The Australian registry is an 'opt-in' database, which means that patients and surgeons must voluntarily agree to participate.
International Collaboration of Breast Registry Activities (ICOBRA), has participation from the UK, France, Germany, Ireland, New Zealand, Australia, and the Netherlands. Its stated mission is '…to establish an internationally agreed and comparable minimum data set, made up of standardised and epidemiologically sound data that reflect global best practice. Contributing countries and organisations consist of national plastic and reconstructive surgery societies, national health services and national health regulatory agencies. At the heart of the ICOBRA concept is the core ethic and commitment to improving patient outcomes.'
For more information, visit: 
Breast Device Registry: http://tinyurl.com/m4fwtrp
Clinical research
A study presented by Max Yezhelyev, MD, PhD, Department of Plastic Surgery, Vanderbilt University in Nashville, TN, entitled 'Safety of cosmetic procedures in elderly and octogenarian patients,' showed good news for seniors in search of rejuvenation.
As the US population ages, more men and women age 65 and older are opting for cosmetic enhancement procedures. An extensive review of information from May 2008 to May 2013 from the CosmetAssure database illustrated that postoperative complications among the elderly occurred at approximately the same rate as among younger patients. The study indicated the only cosmetic procedure that had a higher complication rate among older patients was abdominoplasty, and noted that post-surgical complication rates among 80‑year‑old patients were statistically insignificant as compared with younger populations.
According to another study presented, patients who undergo body contouring plastic surgery are more likely to maintain a lower body mass index (BMI) than those patients who elect not to have the surgery. While laparoscopic adjustable gastric banding surgery is the safest reported method for massive weight loss, it is also considered to be the least effective, according to study authors, with 30 to 50% of patients regaining some of their post-surgery weight loss within 2 to 4 years. Evidence suggests that body contouring plastic surgery has become a key element of successful, long-term weight control for patients who undergo laparoscopic adjustable gastric banding.
New developments
New York City plastic surgeon Scot Bradley Glasberg, MD, took over the reigns as the new President of ASPS. In addition, Nicholas B. Vedder, MD, Chief of Plastic Surgery; Vice Chair, Department of Surgery University of Washington, Seattle, was named President of The Plastic Surgery Foundation (PSF). Founded in 1948, the PSF's mission is to improve the quality of life of patients through research and development in plastic surgery. The Foundation also supports humanitarian surgical missions and international educational opportunities. As Dr Vedder said, 'The future of plastic surgery is defined by innovation. By contributing to and engaging with the PSF, members are contributing to the future of their specialty.'
The all‑new Aesthetica meeting will be held on 30 April 2015 in Las Vegas for 3 days, featuring the content of four clinical meetings at the same time and place.