Prime previews the 13th Anti-aging Medicine World Congress (AMWC), 26–28 March 2015, and the three pre-congress courses (Practical Anti-aging & Preventive medicine, S.A.F.E. – Scientific Aesthetic Facial Expert and Advanced course on Genital Rejuvenation & Cosmetic Gynecology) on 25 March 2015, held in Monte-Carlo (Monaco).
The AMWC 2015 will be held under the High Patronage of H.S.H. Prince Albert II of Monaco, at the Grimaldi Forum. The AMWC's unique hallmark is centered on effective aging prevention and treatment by comprehensively addressing aesthetic strategies (dermatology and surgery) for the external appearance and applying preventive & anti-aging medicine for internal wellbeing.
Under the scientific supervision of the World Society of Interdisciplinary Anti-aging Medicine (WOSIAM), the AMWC 2015 overall concept is 'Charisma and Future Challenges in Aesthetics' guiding the construction of scientific sessions.
Together with Monaco's 2015 celebration of the 'Year of Russian Culture', the AMWC 2015 will give a special recognition to Russia for its contributions to the advancement of global anti-aging medicine representing Russian plastic & aesthetic surgery, aesthetic dermatology and preventive & anti-aging medicine.
The congress offers a 2.5-day programme with over 350 speakers and covering more than 60 scientific sessions and 45 practical workshops/symposiums running in 3 auditoriums and 4 conference rooms with simultaneous translation in six languages. At least 9000 participants from over 120 countries worldwide are expected to join. 300 exhibitors will showcase on the 4-floor exhibition space.
Kicking-off with 3 newly released pre-congress courses (25 March 2015)
Practical anti-ageing and preventive medicine (directed by Drs Claude Dalle & Bernd Kleine-Gunk): The participants will learn how to apply safe therapies for a global anti-ageing management and how to combine aesthetic approach with anti-ageing and preventive solutions to optimise rejuvenation treatments
Advanced course on genital rejuvenation and cosmetic gynecology (directed by Drs Laurent Benadiba and Nicolas Berrini) provides the participants with essential and advanced information on genital rejuvenation (for women and men) and different cosmetic gynecological procedures including hyaluronic acid and new treatments
S.A.F.E.® Monaco 2015 – Scientific Aesthetics For Experts (directed by Dr Ali PIRAYESH) presents the clinically related and highly practical information including cadaveric anatomy videos, videos on 'How I do it', choice of products or devices and how to avoid and manage complications. Different aesthetic treatment strategies and holistic understanding of the 'Full face' approaches will be presented by taking into account different levels of expertise of the participants.
Main programme 26-28 March 2015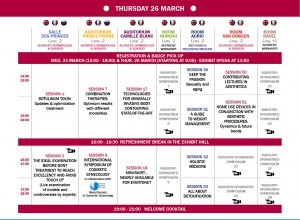 More than 350 international reputed speakers from academic institutes and private practice will share their expertise in this event. Examples of confirmed keynote speakers include:
Aesthetic Dermatology and Plastic Surgery: Anthony V. Benedetto (Prof., USA), Massimiliano Brambilla (Italy), Sydney Coleman (USA), Doris Day (USA), Tamara Griffiths (UK), Merete Haedersdal (Prof., Denmark), Harryono Judodhidardjo (Prof., UK), Andreas Katsambas (Prof., Greece), Steven Liew (Australia), and more.
Anti-ageing and preventive medicine: Laurent Alexandre (Belgium), Khaled Asal (Saudi Arabia), Anna Cabeca (USA), Vittorio Calabrese (Prof., Italy), Jean-Paul Curtay (France), Leonidas Duntas (Prof., Greece), Peter C. Konturek (Prof., Germany), Francesco Marotta (Prof., Italy), Alexey Moskalev (Russia), Jean-François Narbonne (Prof., France), Hussein F. Sakr (Egypt), Yoke Meng Wong (Singapore), and more.
Highly practical and updated event in global anti-ageing management
Aesthetic dermatology and surgery sessions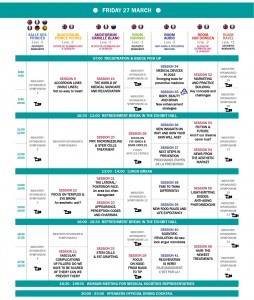 Facial rejuvenation management in each region from anatomical to advanced techniques with live demonstrations will be presented in different sessions focusing eye and periocular area, lips and perioral area, nose, midface and lid/cheek junction, platysmal bands, mandibular line, neck and decolleté and particularly the Accordion wrinkle (smile lines) identified as difficult to treat. The sessions on newest treatments cover hyperpigmentation, hair, legs and more. 'The lateral/posterior face' will feature as an important but most neglected area having an influence on the total facial aesthetics.
Included now as the everyday aesthetic treatment armamentarium, the subjects on Botulinum toxin will be treated in 2 sessions: 'Update and optimisation treatment' with anatomy review until clinical management and 'The ideal examination before Botulinum toxin treatment to reach excellency and avoid touch up' with live examination along with advices, treatment planning and choices by experts. Non-surgical threads will be treated in 2 sessions with round table discussion of different types of threads and live demonstrations (face & body) with an aim to define the correct indications, assess the clinical results until analyze possible complications and management.
The International symposium of cosmetic gynecology provides update information from the women expectation to medical techniques and complications. Products and technologies are updated in the sessions on Home-use devices, LEDS, lasers and energy-based devices. Rejuvenation approaches/strategies with skin tightening, chemical peels, skin care, PRP, stem cells & fat grafting until mesotherapy will be treated in dedicated sessions from clinical evaluation to different conventional and advanced treatment strategies. Finally, the Marketing session includes concepts and challenges of medical practice and news from aesthetic market.
Must-attend sessions
The experts will show, in the 'My Nightmare Case' session, their worst complication cases after aesthetic treatment along with round table expert-talk and discussion. In spite of new products and devices on the market every year and articles published describing procedures and technologies, acne scars remain the most frequent problems encountered by dermatologists, plastic surgeons and aesthetic clinicians. The acne scar management session will present the state of the art and the most relevant advances in the field. The 'Off label techniques for fillers in facial rejuvenation' session will present certain techniques used today but hardly openly discussed or published. Objective and scientific discussion on these techniques will help understand better their rationales and possibility to improve the treatments and would represent an important step forward in the direction of an open recognition of some off-label procedures.
Anti-ageing and preventive medicine Sessions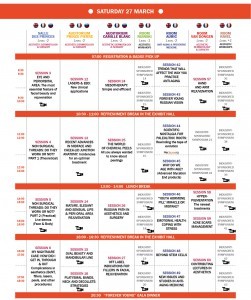 Educational sessions relating to effective and safe anti-ageing medicine will be an important part of the AMWC 2015. The sessions are focused on innovations, new way of anti-aging approaches, until the future of medical practice. Some selected sessions can be highlighted.
The Sexuality and ageing session will show how ageing can affect sexuality and what can be done to maintain a fulfilling sex life. A session on detoxification covers the essential subjects on detox therapies and process in medical practice. New technological developments, robotics and medical devices as emerging tools including their impact on preventive medicine and their potential applications will be presented. Intrinsic and extrinsic aging mechanism and new perspectives in aging skin prevention will be presented. Through the latest scientific innovations, the signs and symptoms of accelerated skin aging can be dramatically slowed down, and potentially reversed.
The 'New look at gut microbiota' session will present recent research findings on the intestinal microbiota. These bacteria have become major factors in understanding certain diseases such as obesity, type 2 diabetes and Crohn's disease. Important and direct links have also been demonstrated between these bacteria and the immune system, as well as with the brain. Amazing medical discoveries related to potential rejuvenation such as new molecules, 'miracle' component in blood will be presented and discussed. Advanced Glycation End products (known as AGEs), subject of ongoing research as substances that can be a factor in the development or worsening of many degenerative diseases, will be presented.
Industry crossroads
Over 300 leading International companies, showcasing on the 4-floor exhibition area, will be waiting for you to discover their latest products, technologies and services to be launched onto the market at the AMWC 2015. 45 workshops includes live demonstrations, promotional and educational information regarding products, devices and treatments techniques. Beyond scientific and educational exchange, you will find this congress an excellent forum for state-of-the-art information making your visit to Monaco worthwhile and rewarding.
For more information: www.euromedicom.com