Dr Tapan Patel's award-winning Harley Street clinic, PHI, have been announced as Cutera's first London-based provider of their new muscle stimulation and body contouring device, truSculpt flex. Already housing the world's leading portfolio of aesthetic technology for almost all aesthetic treatments, PHI have now decided to introduce this "unique and exclusive MDS (Multi-Directional Stimulation) muscle stimulation technology" to the clinic, a technology shown to increase muscle mass by an average 30%. 
Dr Patel, Clinical Director at PHI Clinic: "At PHI, we only use the highest quality devices that ensure our patients undertake treatment that is both safe and that will deliver the best possible results achievable. With this in mind, the Cutera truSculpt flex ticked both these boxes and really stood out as the device with a clear differentiator in technology, helping us ensure we deliver the most efficacious results for our patients. We like that with the truSculpt flex, we have the ability to tailor the treatment dependent on the individual's fitness levels and that we are able to target specific muscles directly, instead of just treating a large area. An average 30% muscle hypertrophy is something that will resonate with our patients".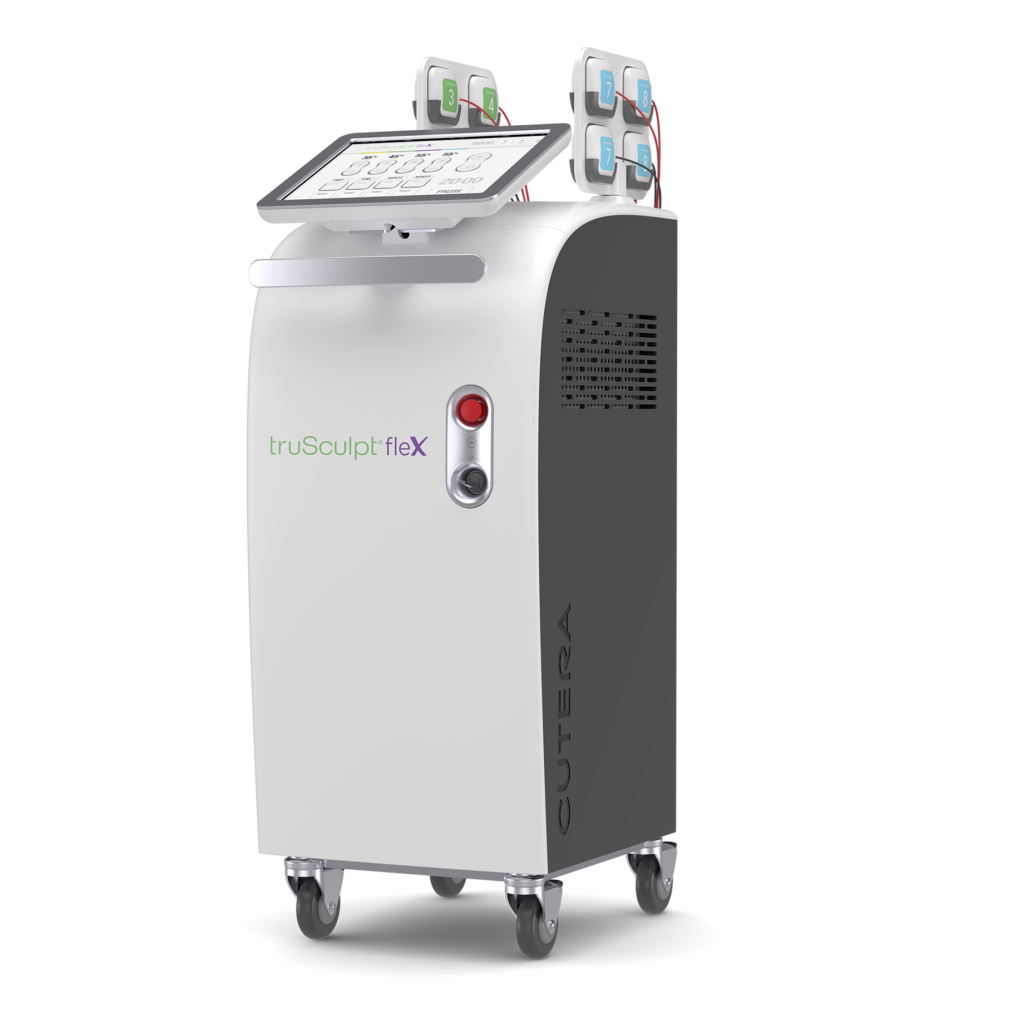 truSculpt flex is a muscle-sculpting device that offers personalised treatments based on patient fitness level, shape, and goals. The Cutera truSculpt flex with Multi-Directional Stimulation (MDS) deploys a unique method of electrical muscle stimulation to target specific muscle groups using three treatment mode options, covering the largest treatment area in the body sculpting industry. Low levels of energy achieve deep muscle contractions at high intensity via a proprietary handpiece design with truGel to optimize results and increase practice revenue.
truSculpt flex is FDA-cleared for the improvement of abdominal tone, strengthening of the abdominal muscles, and development of a firmer abdomen. It is also cleared for the strengthening, toning, and firming of buttocks and thighs.
"We are proud to be the first aesthetics laser company to offer a muscle toning system that treats up to eight areas simultaneously, covering the largest treatment area in the body sculpting industry," said Jason Richey, COO and Interim CEO of Cutera. "The truSculpt flex technology is further differentiated from other devices through its proprietary Multi-Directional Stimulation (MDS) technology that delivers three distinct treatment modes by replicating intensified crunch, squat and twisting actions. Furthermore, truSculpt flex extends our strong momentum in the $1 billion body sculpting market as the system's muscle toning technology perfectly complements our truSculpt iD fat reduction technology. truSculpt flex is another significant step forward in shaping the future of aesthetics."
How is the truSculpt flex different?
Eight muscle groups can be treated simultaneously with truSculpt flex, covering the largest treatment area in the body sculpting industry, experts explain. Another benefit is that the device offers three treatment modes to simulate the effects of different workouts by rep­licating intensified twist, squat, and crunch actions, which further differentiates truSculpt flex from other muscle ton­ing devices on the market.
Prep Mode creates a twisting motion to warm up the muscles and slowly build a tolerance to contractions.
Tone Mode contracts the muscles, holds it to the point of exhaus­tion, and then relaxes it to increase strength and enhance endurance.
Sculpt Mode creates fast, deep, sequential con­tractions of the muscles. This action develops new muscle fibers and increases basal metabolic rate (BMR).
The truSculpt flex device consists of a touch screen LCD user interface and sixteen handpieces, which allow for simultaneous treatment of up to eight body areas. It's easy to teach physician extenders how to operate the device.
For more information, visit: https://cutera.com/trusculptflex
Email: [email protected]