Abstract
The main aim of this article is to identify and quantify the side-effect profile of microcannulae with dermal filler treatments, specifically from a patient's point of view. One of the biggest concerns patients have with dermal filler treatments is the degree and visibility of side-effects, and the extent they will have on impacting social events. Following on from the study reviewed in this article, the results will allow treating physicians to give a better understanding to their patients on the expected side-effect profile when using microcannulae.
The use of microcannulae for dermal filler treatments is a rapidly expanding treatment approach and has reached popularity among physicians over the last 2 years.
The proposed benefits of microcannulae, when compared with hypodermic needles, are reduced downtime (trauma and bruising) and minimal insertion points. Furthermore, the progress of technology in the manufacturing of microcannulae has allowed physicians to treat every part of the face, neck, and hands.
There are very few published studies that demonstrate the advantages, disadvantages, and differences between microcannulae and hypodermic needles1,2,3. There have also been no studies, until now, that specifically quantify the degree and profile of possible side-effects from a patient's perspective with microcannulae, including erythema, bruising at insertion points, bruising of treated areas, pain and discomfort, swelling, tenderness at insertion point, tenderness of treated areas, and patient satisfaction following the dermal filler treatment with a microcannula2.
Outline of study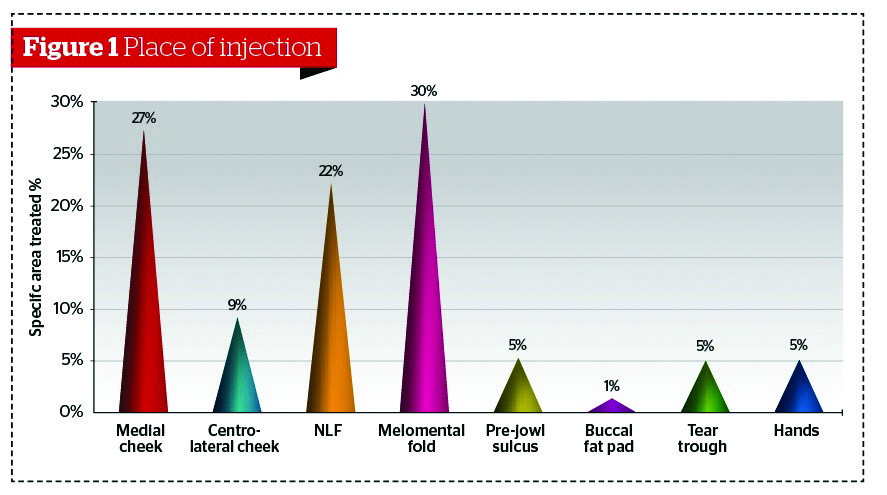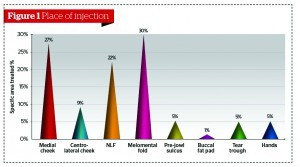 The aims of the study were to determine the degree and extent of the side-effect profile when using microcannulae with dermal filler treatments, specifically from a patients perspective. A total of 76 female patients were enrolled in the study and all were treated with a microcannula. Either a 22 gauge (G) or a 25 G calibre was used depending on the area being injected. At the time of the treatment visit a total of 41% of patients had only one area treated, 38% had two areas treated, and 21% had three or more areas treated. The specific areas treated (Figure 1) were medial cheek (27%), centro-lateral cheek (9%), nasolabial fold (22%), melomental fold (30%), pre-jowl sulcus (5%), lower-cheek (1%), tear trough (5%), and hands (5%). All patients received a small bolus of lidocaine with adrenaline at the insertion point(s) to try and minimise discomfort and bruising at these entry points.To ensure that the post-treatment questionnaire remained unbiased and anonymous, all treated patients were asked to complete an online questionnaire that did not identify or ask for their personal details. Grading scales were used for each of the key areas of analysis. These results were automatically emailed to the author.
All results were based on a single treatment at the first visit and do not include any treatment changes or 'touch‑ups' made at the second follow-up visit.
Pain and discomfort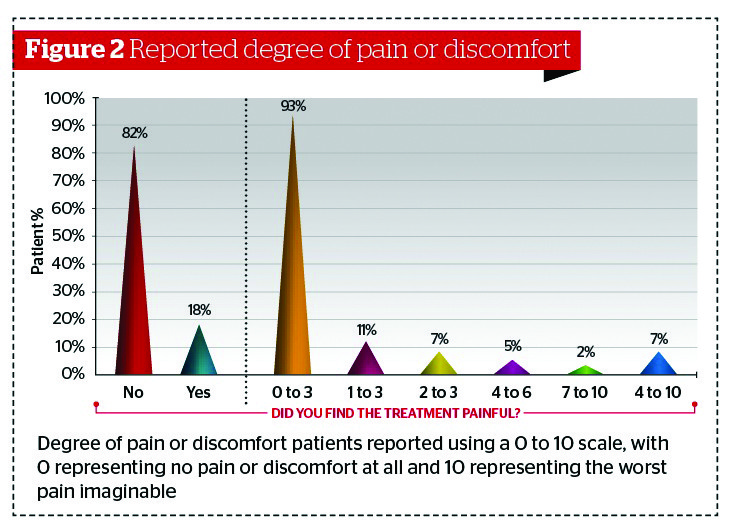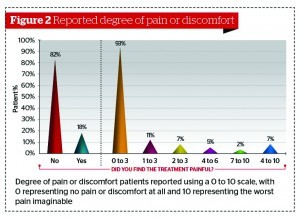 Patients were asked to grade the degree of pain and/or discomfort using a 0 to 10 scale with 0 representing no pain or discomfort at all and 10 representing the worst pain imaginable. A surprising 82% of treated patients reported no pain or discomfort during the procedure. A total of 11% of patients found the discomfort level tolerable, using a grading scale that ranged between 1 and 3, and 7% of patients graded the pain between 4 and 10 (Figure 2).
Erythema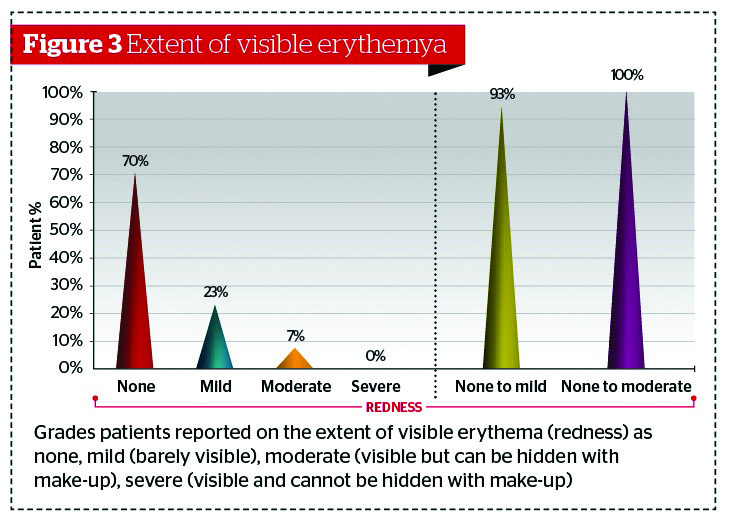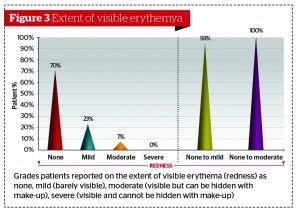 Patients were asked to grade the extent of visible erythema (redness) from none, mild (barely visible), moderate (visible but can be hidden with make-up), or severe (visible and cannot be hidden with make-up). A total of 70% of patients reported no visible erythema, 23% reported mild erythema and 7% reported moderate erythema (Figure 3). This indicates that post-procedure, the majority of patients treated with a microcannula will not have any visible erythema or if present, can be hidden with make-up. The results indicate that erythema is unlikely to impact on any social commitments that the patient may have following microcannula dermal filler treatments.
Bruising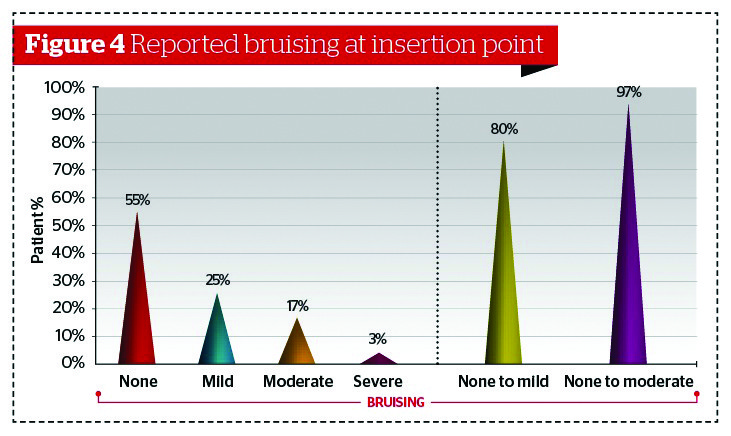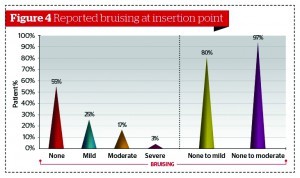 All patients continued to use medically-prescribed blood thinners and were not told to stop taking anti‑inflammatories, supplements such as vitamin C and Omegas, or any other blood-thinning agents.
Not a single patient reported bruising at the treated anatomical areas, but bruising was noted at the insertion point. The same grading system used for erythema was also used for reporting bruising at the insertion point (Figure 4). A total of 55% of patients had no bruising at the insertion point, while 25% reported mild bruising, 17% reported moderate bruising, and 3% reported severe bruising (could not be hidden with make-up). This indicates that for the majority of patients (93%), they would not need to postpone or interrupt any social events as a result of visible bruising at either the treated area or the entry point following a treatment with a microcannula.