An impressive team at Nestlé Skin Health and Galderma Pharma are on a mission to raise awareness of skin health around the world. Wendy Lewis investigates this new high-tech think tank.
A  shortlist of executives at Nestlé Skin Health S.A. and Galderma Pharma S.A. had a dream; to create a formidable network of high-tech centers around the world where everyone from healthcare professionals, researchers, scientists, educators, as well as consumers, public officials, and community leaders can exchange ideas in a hub that fosters open collaboration.
That dream became a reality in 2014 when Nestlé Skin Health announced its plan to open a global network of SHIELD centers designed to address the mounting skin health challenges that result from our increased longevity. The first SHIELD center will open in New York City at The Alexandria Center for Life Science — NYC by the end of 2015. Located at 29th Street and 1st Avenue, practically next to the NYU Medical Center, this campus is poised to be the flagship location for New York's evolving life sciences sector. Thus, it is an ideal home for the first of a dozen SHIELD centers planned on five continents.
SHIELD, which is an acronym for Skin Health Investigation, Education, and Longevity Development is the brainchild of Humberto C. Antunes, President and CEO of Nestlé Skin Health S.A. and Chairman of the Board of Galderma Pharma S.A., the operating company of Nestlé Skin Health and his team.
According to Antunes, 'Already a cultural and medical hub, New York is the perfect place for Nestlé Skin Health to host its flagship SHIELD center, the first of our global network of hubs interconnected to our research. Our vibrant vision for SHIELD is now becoming a reality. We want Nestlé's Skin Health Investigation, Education, and Longevity Development center to be a hub where academia and technology converge, where healthcare professionals, researchers and caregivers can meet to engage and innovate.'
SHIELD New York City will be a multi-functional showcase combining state-of-the-art technology and tools, cloud-based conferencing, spacious meeting rooms, exam rooms, and more areas for discovery. The ultra-modern and sleek architectural renderings resemble the set of a futuristic Bond film. It epitomizes the theme of a convergence of technologies and products to stimulate the kind of cerebral discussions they are hoping for.
Mapping out the SHIELD network
Didier Leclercq, Managing Director of the SHIELD Network, is a man with a passion for life sciences. He began his career with Galderma in his native France as a chemist in 2003 and later became a manager of global development for 6 years, before landing in Uppsala, Sweden when Galderma acquired Q-Med.
The SHIELD program was only officially kicked-off in December 2014, after its inception during a summit held in Manchester, UK in July 2014.
'We are moving very fast,' says Leclercq. 'SHIELD will be a network of innovation hubs around the world where professionals from a range of fields from dermatology and medicine to technology will interact and stimulate discussion to promote a life course of healthy skin through medical investigation. We want to act as a magnet for innovators in the field of dermatology with all of the core specialties. It is a very holistic approach with the emphasis on skin and anti-aging, and the goal is for everything we do to be science-based.'
As he explains, 'The operative Swiss word that describes the core SHIELD concept is "Stammtisch," loosely defined as an informal meeting of a group sitting around a large table, a friendly gathering to share ideas.' To that end, there will be a series of conferences and seminars to discuss key aspects of the aging process and find answers to the most pressing issues. He sees this as a way to connect doctors and other healthcare professionals from all over the world under one proverbial roof.
'Our hope is to forge cooperation between leading educational and research centers. This is about more than just looking at aging skin and skin health. It is much bigger than that. It is evolving into an incubator for skin innovators across many fields of expertise who can bounce back their ideas for discussion. And it is global — so these events at future centers will be in real-time taking place in many corners of the world,' he says.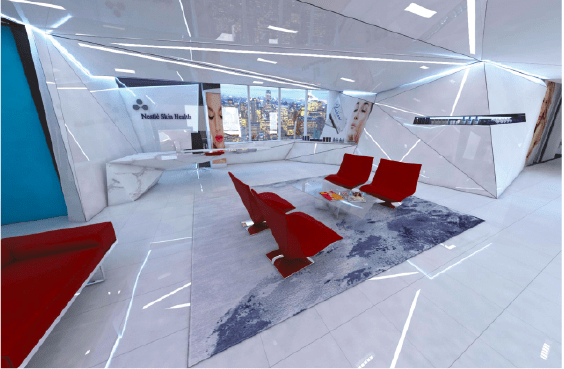 Leclercq and his team have big plans. Next on their hit list after the flagship in New York is the Shanghai SHIELD center, expected to be up and running during Q1 2016. Hong Kong will follow in early 2016 and Tokyo in late 2016. So far, Sao Paulo is the only location slated for Latin America. There will also be centers in Stockholm, as well as one in Switzerland, either Geneva or Zurich. Then they will circle back to North America by opening locations in San Francisco or San Diego, Dallas/Fort Worth. Lastly, Sydney and Seoul are targeted. The sequence of the rollout is anticipated to take two to three years, which is a staggering undertaking when you consider the distance, cultural variances, and language barriers between each location.
'We plan to adapt the activity to the individual environment. All of the SHIELD sites will have the same main activities and education focus with full time physicians on board to run the center and an advisory board for each,' says Leclercq. There is also a Global Advisory Board consisting of physicians, scientists, and other specialists. They are banking on igniting a combination of internal innovations from Galderma and Nestlé Skin Health with interdisciplinary advances in clinical dermatology and research with this unique strategy.
Skin health initiative
According to New York based dermatologist Neil Sadick, MD, 'Nestlé Skin Health is really breaking new ground with the SHIELD program. It is not just geared to aesthetics and external rejuvenation. The comprehensive global undertaking aims to develop cutting edge solutions improve global health throughout life. SHIELD plans to get involved in public health by promoting outreach programs to educate the elderly, improve public school systems and to help people with all aspects of their lives.'
Warren Winkelman, MD, MBA, PhD, FRCPC, FAAD, a board-certified dermatologist and social scientist in e-health innovation policy, management, and evaluation, joined Galderma in 2012 as Medical Director, and has now taken on the role of Senior Medical Director and Head of Medical Innovation for SHIELD in New York City.
As he explains, 'Clinicians and other professionals know that skin health is a highly fragmented and dispersed discipline across the globe. It can seem frustrating, if not impossible, for knowledgeable, experienced clinicians with unique perspectives or interesting ideas to have their voices heard. SHIELD will be the new gathering places for passionate and creative private practitioners, clinician-researchers, and nursing and academic professionals in dermatology, plastic surgery, gerontology and others, to share thoughts, values, experiences, and ideas about the future of skin health.'
He continues, 'SHIELD teams across the globe will work collaboratively to develop innovative projects, documents, technologies, and educational initiatives to drive skin health thinking and practice in the 21st century.'
The plan is for SHIELD to serve the dermatology and skin health professional community in two ways; first, according to Winkelman, as an incubator for new ideas and unique collaborations between clinicians, scientists, healthcare and health service professionals, business leaders, healthcare organizations, technology enterprises, and others dedicated to the future of skin health. Secondly, it will be a showplace for healthcare professionals to immerse themselves in the most innovative technologies in skin health education, investigation and discovery.
According to Todd Zavodnick, President and General Manager for Galderma North America, 'As the valued partner of healthcare professionals, Galderma will uniquely contribute to advance the science and education about skin health by fostering innovative collaborations through SHIELD. SHIELD embodies our commitment to advance skin health science and research. At Galderma, we look at SHIELD as a visionary tool and terrific accelerator of innovation fueled by a unique multidisciplinary approach.'
Global challenges of aging
As American Jazz musician James Herbert ('Eubie') Blake who died at age 100 is credited with saying, 'If I knew I was going to live this long, I would have taken better care of myself.'
That rings true today as well. 'Fifty years ago people were dying in their 50s, so taking care of their skin was not so important. But now we may live to 100, 110 or more, so it becomes more important, and disease prevention takes precedence over treatments. We want to change the way people are living through their silver years,' says Leclercq.
The SHIELD initiative is a response to the expected emphasis on the importance of skin health for a rapidly growing, aging population, which has a powerful effect on healthcare and society as a whole.
Enter The Global Coalition on Aging (GCOA), launched in 2011 as an organization whose stated vision encompasses innovative market solutions enabled by progressive public policy with the goal of creating a framework for healthy and active aging.
According to Executive Director Melissa Gong Mitchell, the driver behind GCOA was recognition that there were not enough business voices talking about aging, and the talk was all negative. 'We wanted to make the conversation more positive. If we can make significant advancements to keep us healthier and more active as we age, we can turn aging into a positive thing,' said Mitchell. So they brought together more than a dozen global brands across healthcare, pharmaceuticals, financial services, technology, and the home care industry, all of whom shared an optimistic view of the aging population. Galderma is a founding member of the organization.
She continues, 'We have been working with our member companies to better understand the demographic shift and investigate the actions that will help turn global aging from a burden to an opportunity. We examine issues from how to adapt commercial strategies to an aging population to the impact of health on active aging. We have looked closely at how companies can adapt their products, services, and also how aging impacts the workplace and work force. If we are living 30 years longer than a century ago, we can't look at aging in the same way. We need to explore ways to leverage the value of older workers in the work force and how to use intergenerational teams more productively.'
In myriad ways, the GCOA are championing the idea that being older does not mean people cannot be productive in the workplace. 'Research shows that productivity increases with age, and it should come as no surprise that our physical and mental health play a critical role in that workplace involvement. In the global aging conversation, there is a strong focus on the chronic diseases of aging, such as Alzheimer's, heart disease, diabetes, and cancer. These are critical areas that must be addressed. However, the "aging dialogue" was missing conversations about the natural conditions as we age, including vision loss, muscle mass deterioration, and skin aging. For example, skin health is not always seen as a health issue. As our largest organ, our skin protects us and serves as our interface with the outside world. Because we are living longer, our skin must protect us for longer. Skin health must become a priority within the aging agenda requiring innovative approaches. To that end, we are working with Nestlé Skin Health and Galderma to elevate the topic among key global audiences,' says Mitchell.
One of the GCOA's main roles is to help SHIELD define the concept and what it will become over time. 'We will shape the public discussion on how policymakers, businesses and society at large can comprehensively address these new demographic realities and apply innovative solutions that recognize the opportunity of global aging. By 2020, there will be 1 billion people over the age of 60. Nestlé Skin Health's SHIELD initiative recognizes that longevity leads to an even greater demand for healthier skin across our lifetimes and will serve as a leading innovator to enable healthier and more active aging,' says Mitchell.
'Skin health is vital to the quality of life of all age groups. Proactive skin care will help us obtain healthier skin as we age and support more active aging throughout our lifetime. To Galderma's credit and Humberto Antunes' vision, they are embarking on something that can really change the world,' said Sadick, who will be presenting the global developmental aspects of the SHIELD program at IMCAS Paris in January 2016.
The next big idea
Winkelman makes it clear that SHIELD is not just another research and development organization. On the contrary, he considers the centers to be hubs of a vast international network of like-minded partners who recognize that idea generation in skin health needs a new paradigm and an accelerator. 'SHIELD intends to be that accelerator,' he adds.
According to Chicago-based facial plastic surgeon Steven Dayan, 'This represents the future of skin health and skin education. Nothing like this has ever existed before, and it is very exciting. It is more theoretical or ethereal than just about actual product development. If you're a doctor with a creative idea, you are going to want to be part of this. Nestlé Skin Health is creating something that is ahead of its time.'
Leclercq sees this mission as a flat world where there is no hierarchy. 'All people will have access to the benefits of SHIELD,' he says. 'SHIELD is all about convergence; convergence of skill, of expertise, and of ideas. We will create the forums for this convergence to bring new concepts to life.'
So for anyone who has a new idea and is searching for a home, SHIELD is positioned as the mothership of skin health and internal health innovation that will embrace all levels of experts. No idea is too big or too small.
Resources: www.Nestléskinhealth.com
www.globalcoalitiononaging.com