A clinical assessment of each patient was made at 2 weeks, 1 month and 3 months postoperatively in the presence of two physicians. Scoring was based on re-epithelialisation rate, reduction of rhytides, reduction of tactile roughness, and reduction of hyperpigmentation and telangiectasia. The prolongation and severity of erythema, as well as the presence of negative side-effects (e.g. herpes were also recorded by both patient and doctor). The degree of photoageing and the efficacy of treatment were evaluated using a variation of the five-point scale originally suggested by Dover et al30 (Table 1). In the original Dover Scale, patients and blinded investigators assessed pain during treatment and post-treatment improvement in photoageing with lasers by measuring rhytides, lentigines, texture, and pore size using a five-point scale. In this study the author included facial veins and complexion rather than pore size.
A total global score was recorded for each patient based on the addition of points obtained from six variables of photodamage: fine lines, coarse wrinkles, hypo/hyperpigmentation, sallow complexion, tactile roughness, and telangiectasia. The author felt that this method would allow individual photoageing parameter response to be recognised, while also allowing any differences in the laser effect to be exaggerated in the overall higher global totals. The positive results related to overall aesthetic outcome for treatment of photoaged skin, while the negative (Table 2) were more a reflection of patient satisfaction to the type of laser device that performed the treatment.
A small number of patients (< 3%) received full facial herpes. This figure is well below the number of herpetic infections noted in other CO2 ablative laser studies30. Both lasers were considered comparatively similar with regard to downtime, erythema and overall aesthetic effect in this form of 'soft' resurfacing. However, histopathologic penetrative effect and adverse side-effects were considered higher with the ActiveFx than the SmartXide, although this may be owing to non-comparable device settings.
The devices
The ActiveFx is not a new laser, but rather a particular protocol of settings applied in conjunction to an improved CPG to the ultrapulsed CO2 laser (UltraPulse Encore). Technical differences exist between this upgraded non-sequential fractional device and the older ultrapulsed CO2. These include the device leaving intact tissue bridges between spots, which results in faster healing time and less thermal damage to the basal cell membrane. The device also has a smaller spot size (1300 mm instead of 2500 mm), resulting in less post-procedure erythema as a result of reduced heat build-up in the tissues. The CPG lays a random series of spots rather than a sequential arrangement, resulting in greater thermal relaxation time (τr) and less overheating of the treated tissue. The application of random rather than sequential beams is termed 'Cool Scan' and this feature was used for every patient in the study.
The SmartXide DOT is a 30 W fractional CO2 laser with computerised scanner, which allows the user to deliver a customised pattern with adjustable power, pattern density and dwell time. With DOT (Dermal Optical Thermolysis) technology, the physician is able to deliver a superficial 'soft' treatment with no downtime, a moderate treatment requiring a few days of downtime, or a fully ablative laser resurfacing treatment. The author wished to see whether there was also a single treatment schedule comparable to the ActiveFx settings.
The SmartXide was used at the following parameters (Table 3):
■

30 W DOT mode ON, spacing 300–500

μ

m, scan dwell time 500–800

μ

s

■

30 W DOT mode ON, spacing 300–1000

μ

m, scan dwell time 2000, stack 2 or 3.
Pre-procedure
For full-face resurfacing, the author typically prescribes the following analgesic medications to be started on the day of treatment. One hour before treatment, the patient applies a thin layer of BLT Cream (Benzocaine 20%/Lidocaine 6%/Tetracaine 4%) topical anaesthetic to the entire facial area. This is used with particular care at the periorbital areas and other lateral facial regions not easily covered by a regional block.
For anxiety and analgesia, Valium (diazepam 5–10 mg orally) and Tylex (co-codamol) to be given 45 minutes prior to the procedure, are usually prescribed.
Every patient is prescribed Valtrex (valciclovir) 500 mg twice daily for 8 days, starting 3 days before surgery. (The author noticed a <5% viral outbreak in over 450 patients before using strict anti-viral prophylaxis with every patient when using fractional devices.)
If the patient had a strong history of acne, By-Mycin (doxycycline 100 mg daily) or Augmentin-Duo (amoxicillin trihydrate/potassium clavulanate) was prescribed for 7 days, starting 1 day before surgery. If the patient had a history of frequent yeast infections, Diflucan (fluconazole 150 mg daily) was prescribed, starting 1 day before surgery. The author does not routinely prescribe antibiotic and antifungal medication. If just the periorbital area or neck are to be treated in isolation, no specific medication is usually prescribed.
Treatment procedure
The patients were treated under topical and regional anaesthetic. IV sedation was not required for any patients, although 5 mg of midazolam can provide useful anxiolysis if required.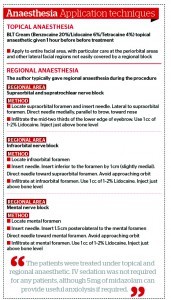 For ActiveFx, the treatment parameters used were density 3/9/5, 100–125 mJ, rate 125 Hz. The CPG was set to maximum size and an energy density of 2–5 depending on the area of the face being treated, as necks are treated at lower settings. The author used the square-shaped pattern (number 3) with the largest spot size available for the pre-selected energy density used. For the SmartXide the author used at 30 W, Dot mode spacing 200–400 μm, scanning dwell time 500 μs–1 ms. These setting are much faster to use.
The cheek and perioral (under regional anaesthesia) areas were treated first in order that the patient could acclimatise to the laser. The periorbital area was treated next, finally extending down onto the neck. When treating the neck area, the parameters were modified to use the lowest energy density possible (ActiveFx density 1). The Cool Scan was always used, with a repeat delay of 0.5–1 ms. Care was taken in the inferior regions of the neck to feather in the posterior border. In general, the patients experienced no pain post-procedurally, and the author placed them under a 633 nm Omnilux Revive™ (Photo Therapeutics, Ltd., A Photomedex® Company, London, UK) to biomodulate fibroblast activity, thereby leading to faster and more efficient collagen synthesis32.