Based in San Diego, Puregraft LLC specializes in the development and commercialization of closed, sterile, fat grafting solutions. Their FDA cleared and CE-marked Puregraft technology provides surgeons with purified adipose tissue for immediate re-injection. With a leading and growing body of clinical data and its evolving product pipeline, the Puregraft system has been used over 30000 times in operating rooms around the world.
Autologous fat transfer offers a natural and safe way to recontour the face, breast, and body. With rising patient demand, the procedure has the potential to change the scope of aesthetic and reconstructive surgery. However, successful outcomes are highly dependent on several variables, including harvesting, re-injection methods, and importantly, the techniques used for preparing the graft.
The most frequently used technique for fat processing today is centrifugation, which exposes the tissue to potentially damaging forces and unsterile environments. The process does not always address the variability from patient-to-patient, and has reported retention rates between 20–80%. Studies have shown that unpredictable results may be caused by the presence of contaminants such as blood, lipid, and residual fluid within the graft.
Leadership in adipose science
In the early 2000's, a group of adipose scientists developed the Puregraft filtration technology to address the lack of standardization in fat grafting. Known as a company bringing evidence-based medicine to aesthetics, Puregraft is now widely accepted by plastic surgeons, facial plastic surgeons, and dermatologists as the fat grafting experts.
The Puregraft system offers an innovative method to selectively wash and filter fat for graft purification. The main advantages are its closed-system design, speed for larger volume graft processing, and the efficiency of removing graft contaminants. Combined, these advantages have been clinically proven to lead to higher, and more predictable fat retention.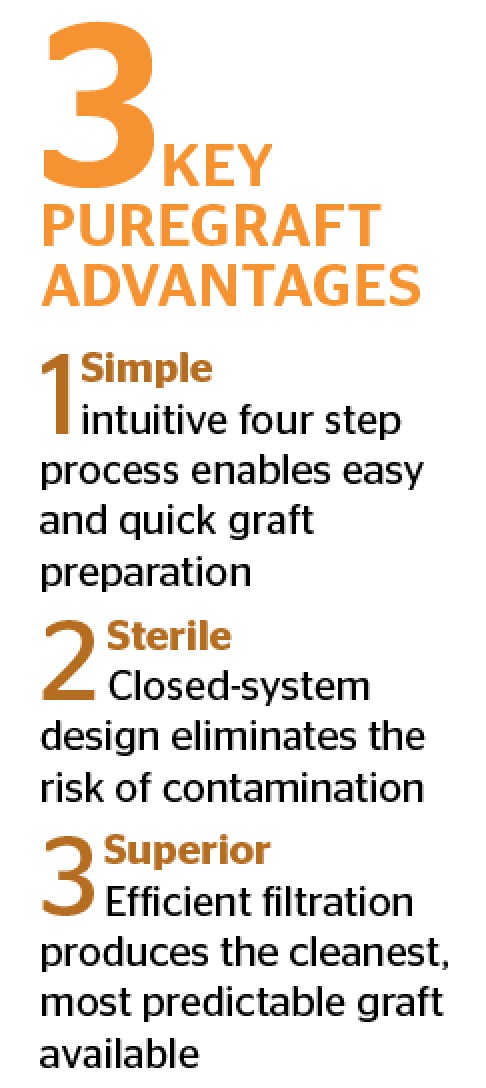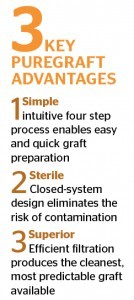 'All of us are trying to improve graft survival. It has long been believed that a cleaner graft means better take. Puregraft is the only system to scientifically validate their processing technique for improved graft retention and more predictable outcomes than other methods,' said San Diego, California, plastic surgeon Steven R. Cohen. 'It delivers an improved process that translates into better results for patients.'
Puregraft was designed to process fat tissue in a gentle and consistent manner, while preserving the integrity of the tissue without the use of centrifugal forces that can reduce graft viability.
Plastic surgeon Gordon Sasaki in Pasadena, California, has been working with Puregraft since 2010. 'Based on our work, it has proven to be one of the most reliable methods to obtain viable fat that has been reduced in its water content to about 92–95%. If you take lipoaspirate fat and put it into the Puregraft system as it is recommended, meaning that you put the fat in the filtered membrane, wash it and allow it to filter by gravity for 3 minutes, it is one of the best ways to reduce the oil content that is present after liposuction. Red blood cells which are inflammatory are almost completely eliminated as well,' he said. After a 1 to 2 year follow up, according to Sasaki, 'We achieve retention rates around 60%. The traditional centrifuge method will yield 30–40%.'
Sasaki continues, 'By exposing the fat to air in a strainer or using centrifugation methods at high G forces, the viability of the cell count will go down. In a closed system such as Puregraft, handled in a very gentle way with mild massaging and without being exposed to air, the viability of the cells that we examined were in the 95% plus range.'
Facial fat grafting superiority
Data published in multiple peer-reviewed studies demonstrated that the Puregraft process removes more contaminants and leads to higher retention rates than centrifuged tissue. In a study recently published in Aesthetic Surgery Journal (ASJ)1, the investigators compared the rates of graft retention in 26 patients using the Puregraft technology versus a historical study of centrifuge processed fat grafts. The mean follow-up period was 17 months and the mean amount of fat injected into the treated areas was 8.88 mL. The authors reported that the mean retention rate of 53% (in subset of patients less than 55 years of age) found in the Puregraft population was statistically significantly higher than the 31.8% found in the centrifuge-processed samples.
According to Highland Park, New Jersey, facial plastic surgeon Mark Glasgold, senior author of the paper, 'Fat grafting has long been criticized for its unpredictable rates of retention. Puregraft helps to address this shortcoming and fat processing was less traumatic and more efficient at removing free lipids, blood cells, and fluid as compared to the centrifuge method.'
As Glasgold said, 'When I started using Puregraft, the quality of the fat became much better. There is a lot less swelling because you are just injecting fat cells without the free fatty acids, blood, and contaminate which is highly inflammatory. The Puregraft fat injects more like an HA and has greater consistency.'
The landmark study in ASJ is the first long-term human study to measure 3D volumetric retention, and its results confirm the value of the Puregraft technology. 'Glasgold's article is the first time anyone has ever compared two different techniques and it is significant work. It is well thought out and showed very significant differences in graft survival. They isolated the only variable to be how the fat was processed,' said Cohen
Fat grafting with facelifting is the new gold standard, according to Cohen. 'Used judiciously, without overcorrecting in anticipation of loss, I cannot imagine prettier results because it addresses a very legitimate cause of facial aging. We are placing it everywhere the patient has lost volume; in the temples, eyelids, marionette lines, cheeks, and buccal space. You need a large volume even if you are putting small amounts into all of these areas. Puregraft 50 mL offers an extremely efficient way of processing the fat.'
'Fat addresses both physical changes, like the loss of soft tissue volume, but also allows us to change an operation that was 2D into something that is more 3D. It has been a huge benefit in the facelift world,' he said.
Fat grafting in breast surgery
Fat grafting for breast reconstruction has become an essential element of optimizing outcomes.
According to aesthetic and reconstructive plastic surgeon Kamakshi R. Zeidler based in Los Gatos, California, 'Fat grafting is like God's gift to plastic surgeons. It allows us to do finishing touches for almost anything in surgery. Fat can be used to hide any imperfections, and the icing on the cake for patients is that they get rid of fat from other areas of the body.'
'Puregraft is the best new technology in fat grafting, and in my view, it is better than anything else on the market. I use it every single week for both breast reconstruction and cosmetic breast surgery. It is especially beneficial for breast cancer patients. I offer it to 100% of my breast reconstruction patients, and about 95% of them take me up on it,' she said. 'It has given me tremendous power to correct asymmetries and small imperfections and thus, it can take a great result to an outstanding result.'
'The Puregraft technology offers some very distinct benefits in breast surgery due to the higher volumes that are often required. 'With the Puregraft system, I can do high volume fat grafting with precision and have a very low complication rate. I have been shocked by how much the fat takes. I tried several other systems but I believe Puregraft is the gold standard. In my opinion it is the gentlest way of processing fat,' said Zeidler.