The Great British Academy of Aesthetic Medicine, a leading British academy focused on raising standards of training in aesthetic medicine, announced that they would be hosting a premiere Aesthetic Medicine Scientific Congress in Shanghai, China. This advanced scientific congress will take place at the prestigious Kerry Hotel, Pudong, Shanghai China on Tuesday 17 and Wednesday 18 April 2018.
The conference will attract 500 of China's top plastic surgeons, dermatologists and aesthetic doctors where they will be trained in the latest, safe, evidence-based techniques and science for 3D treatment and rejuvenation of the Asian face. The scientific congress has a distinguished faculty and panel of international and national speakers including the founder of the Great British Academy of Aesthetic Medicine, Dr. Souphiyeh Samizadeh, a visiting Associate Professor from the UK, Dr. Lakh Belhouri, a published world-renowned plastic surgeon from France, Dr Lou, a prominent published dermatologist in China, Dr Yubin Peng, an international published expert from Taiwan, Stanford trained dermatologist Dr Xia Wei from China, Dr Han, a prominent published plastic surgeon from China, and Professor Xing Ying Ji, Honorary Vice President of Chinese Association of Plastic and Aesthetics and President of Chinese Journal of Aesthetic Medicine.
This scientific congress will provide scientific, non-commercial, non-biased education and training; merge standards of practice by bringing together both western and eastern experts; help doctors update their knowledge, and help improve standards of clinical practice and patient safety. The pre-congress workshops on the 17th and live-demonstration sessions will take place at an international clinic in Shanghai.
Of the academy's announcement, founder and director Dr. Samizadeh said, "We are proud to be the first British institution to organise such highly scientific and unbiased scientific congress in China. Having visited over 100 Chinese hospitals, it is clear to me that China will soon emerge as the frontier of aesthetic medicine".
Editor's notes:
Last minute press passes are still available please contact [email protected] to secure a press seat.
Press kits and gift bags are available on the day or to organise an electronic press kit after the event please contact [email protected]
For the summary video of the 2017 conference, please see the link below: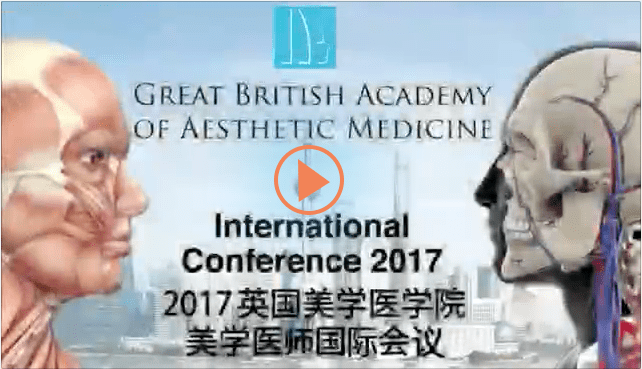 To learn more about GBAAM Scientific Congress 2018, please visit the congress webpage below:
https://www.eventbank.cn/event/11369/
About Great British Academy of Aesthetic Medicine and its founder and director Dr. Souphiyeh Samizadeh: The Great British Academy of Aesthetic Medicine is a British institution that trains healthcare professionals on safe and ethical practice of aesthetic medicine with a thriving associate network.
Dr Souphiyeh Samizadeh's biography (In China known as Dr Souphi)
• King's College London graduate
• Master's degree in Aesthetic Medicine
• Associate Visiting Associate Professor, Shanghai Jiao Tong University
• Faculty, Aesthetic Medicine, Queen Mary University of London
• Honorary Clinical Teacher, King's College London
• Aesthetic Medicine Committee member, The Royal Society of Medicine, London, UK
• Junior Fellow, The Royal Society of Medicine
• Clinical Director, Revivify London Medical Aesthetic Clinic
• Founder and Director, Great British Academy of Aesthetic Medicine
• Editorial Board Member, Aesthetics Journal
• Peer Reviewer, Journal of Aesthetic Nursing
• Speaker, National and International-Aesthetic Medicine
• Multiple Publications
• International Consultant, Allergan Plc