Eric Song*, William Wei-Chih Ko, Chao-Chin Wang, Alexander Kyungreal Lee, and Renita Lourdhurajan, describe the many uses for the latest picosecond laser from Candela Medical  

Facial rejuvenation procedures comprise a myriad of techniques and procedures that aim to restore skin youthfulness. Techniques and procedures are typically non-operative, minimally invasive (e.g., various injectables such as botulinum toxin or soft tissue fillers), and include modalities such as microdermabrasion, chemical peels, skin resurfacing, light-based therapies, and non-surgical skin tightening. There are also many commercially available, over-the-counter skincare products. Although the regular use of these products may provide some benefit, there are limitations on what these products can achieve in terms of anti-ageing or rejuvenation. 
Facial rejuvenation procedures address various aspects of the ageing process that can surpass the effects observed from the regular use of topical skin products without employing invasive surgical methods. These procedures can achieve positive clinical outcomes successfully and may provide additional beneficial effects when delivered in tandem with appropriate skincare products. Facial rejuvenation treatments can further improve skin integrity by acting directly at the cellular level to restore a younger appearance in patients. Combination strategies allow for customised treatment plans, optimised clinical outcomes and improved patient satisfaction.
With a wide variety of skin rejuvenation procedures, technical approaches can be customised for each patient based on their individual circumstances, needs and expectations. Many factors influence the selection of such procedures, which include the severity of presenting concern, the patient's skin type, and underlying skeletal characteristics. Additional factors that may influence treatment strategy include social factors, such as downtime allowed or financial constraints.
Facial rejuvenation procedures have gained much popularity due to their simplicity, clinical efficacy, and safety profile. According to the 2019 Plastic Surgery Statistics Report1, the total number of cosmetic minimally invasive cosmetic procedures conducted reached 16,349,031. The top five non-surgical cosmetic procedures were injection of Botulinum toxin (7,697,798), soft tissue fillers (2,721,469), chemical peel (1,387,607), intense pulsed light treatment (685,755) and laser hair removal (1,055,456). In 2019, facial rejuvenation procedures continued to experience growth with a 4% increase in botulinum toxin, 1% increase in soft tissue fillers and 2% increase in I.P.L. treatments. The trends have shown a 2% increase in minimally invasive cosmetic procedures across age groups 30–39 years, 40–54 years, and 55 years or older1. These trends may be attributed to the minimally invasive nature of these procedures, the ability to perform them in outpatient settings and a low incidence of side effects.
Key objectives for skin rejuvenation treatments
Key objectives for skin rejuvenation range from improvement to the loss of facial volume, skin elasticity, and lines of facial expression, as well as improving skin deterioration (e.g., wrinkling, formation of scars, pigmentation, discolouration, or visible blood vessels). In this report, aspects of interest are skin rejuvenation therapies focused on skin brightening, pigmentation improvement, wrinkles, and fine line reduction. Advances in medical technologies have furthered the utility of non-surgical strategies to address these ageing appearances. Patients benefit from the abundance of procedural approaches and can discuss their individual skin concerns with providers to determine a customized treatment plan for optimal results.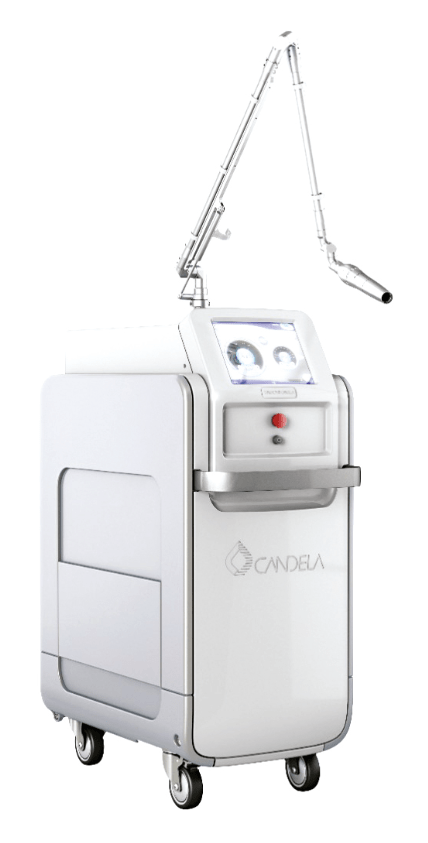 The ageing process should be viewed as a progressive clinical condition. Anti-ageing treatments and skin rejuvenation procedures largely deliver a degree of symptomatic benefit, although the outcome may only be sustained over a limited duration in time. In ageing, it has been proposed that the underlying decline and reduced functionality of cellular processes contribute to the clinical manifestation of ageing symptoms2. Mitochondrial dysfunction is commonly associated with age-related diseases and implicated as a major contributor to the ageing process3. Deficits in the energy output of cells directly impact normal cellular function. High levels of reactive oxygen species (highly reactive molecules generated from cellular activities) are known to reduce certain protein production (e.g., collagen and elastin) and increased enzyme activity, resulting in the breakdown of critical protein molecules, which are responsible for regulating skin dexterity3. Understanding these specific cellular processes offers valuable insight into the underlying biology of ageing, as well as aiding in promoting evidence-based treatment strategies. Identification of key contributors to the ageing process provides a guide to key targets for skin rejuvenation treatment strategies2. Directly targeting key proteins and cellular processes leads to better clinical outcomes. These treatments are typically repeated. The clinician's input on recommended modalities and parameters are critical and should take into consideration patients' socioeconomic factors as well.
Energy-based devices — focus on picosecond laser technology
Long term goals for skin rejuvenation can be best obtained through comprehensive strategies that utilize a combination of different modalities. Several energy-based devices have been developed with advancing technologies that made it possible to target various aspects of the ageing process. These devices have become commercially available for use in medical clinics and office settings, to be integrated into skin rejuvenation strategies. These devices are designed to utilize or deliver different types of energy, such as plasma, electromagnetic, laser, ultrasound, or light-based energies4. Continued research efforts have suggested possible mechanisms of action at the cellular or even molecular level responsible for the beneficial treatment effects, further establishing scientific validity for these technologies. When compared to traditional surgical skin tightening procedures, energy-based devices are not only substantially economical, they also share several other advantages such as an improved safety profile, quicker recovery time, minimal skin invasion and less patient discomfort. In addition, results are often immediately noticeable with continued further improvement over a period of time. These procedures may be easily integrated into the patient's schedule and provide a multitude of options that can be customized to the patient's concerns to maximize benefit and patient satisfaction.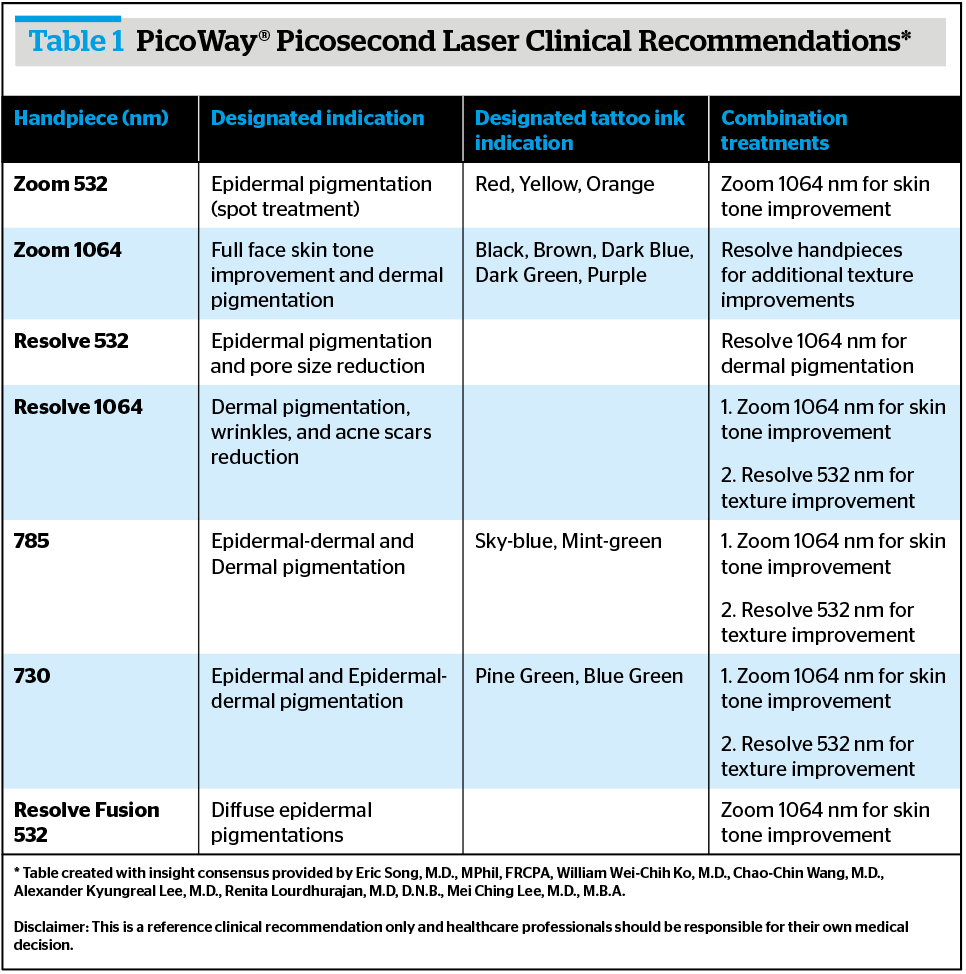 The picosecond laser technology used for non-invasive skin rejuvenation procedures was first introduced in 20125. Picosecond domain lasers have revolutionized the field of dermatologic treatment of tattoos and benign cutaneous pigmented lesions in all skin types. Picosecond laser skin rejuvenation is currently FDA-approved for the laser treatment of benign pigmented lesions, multi-colour tattoo removal, wrinkles and acne scars reduction. Common pigmented skin conditions include melasma, ephelides, café au lait macules (CALMs), Hori's nevus (acquired bilateral nevus of Ota-like macules), lentigines and post-inflammatory hyperpigmentation (P.I.H.). Pigmentation or discolouration in skin lesions, scarring, acne, sunspots, age marks, freckles and tattoos are commonly reported skin conditions that patients are interested in improving5. Evaluation of the current literature demonstrates that picosecond laser is a safe and effective treatment for a wide variety of benign pigmented lesions in different skin types.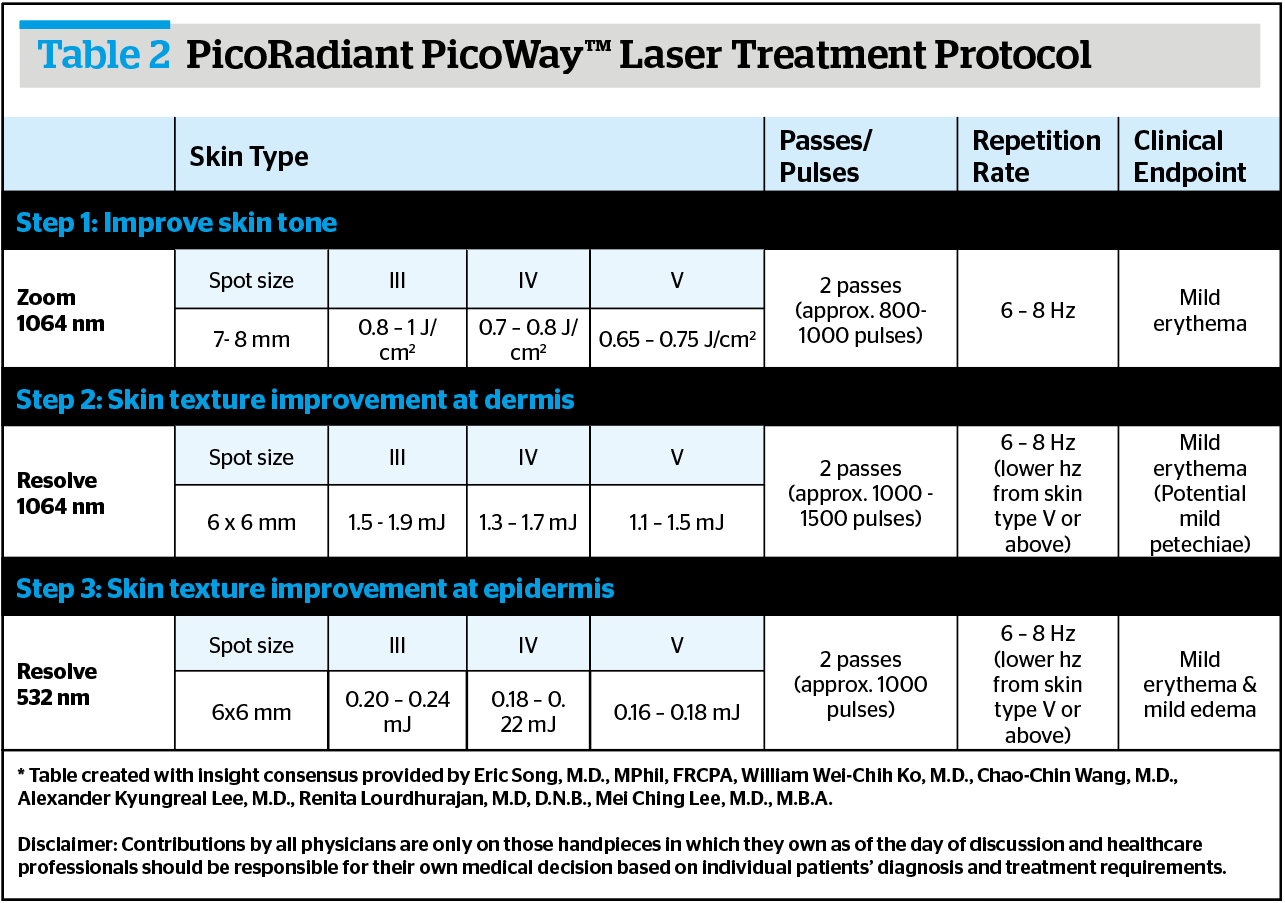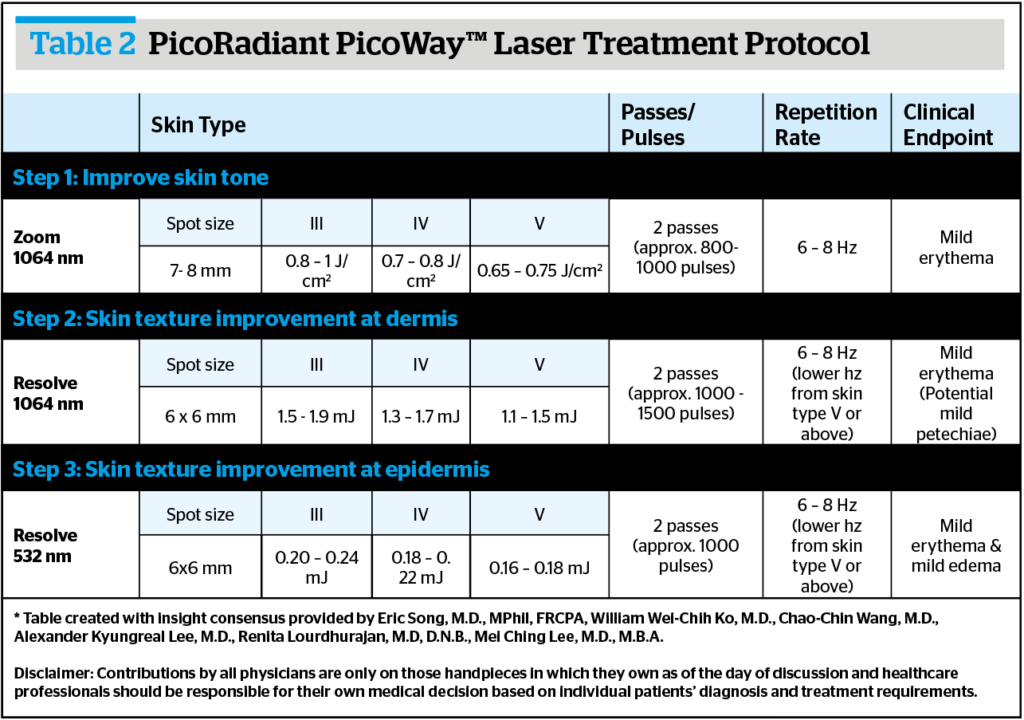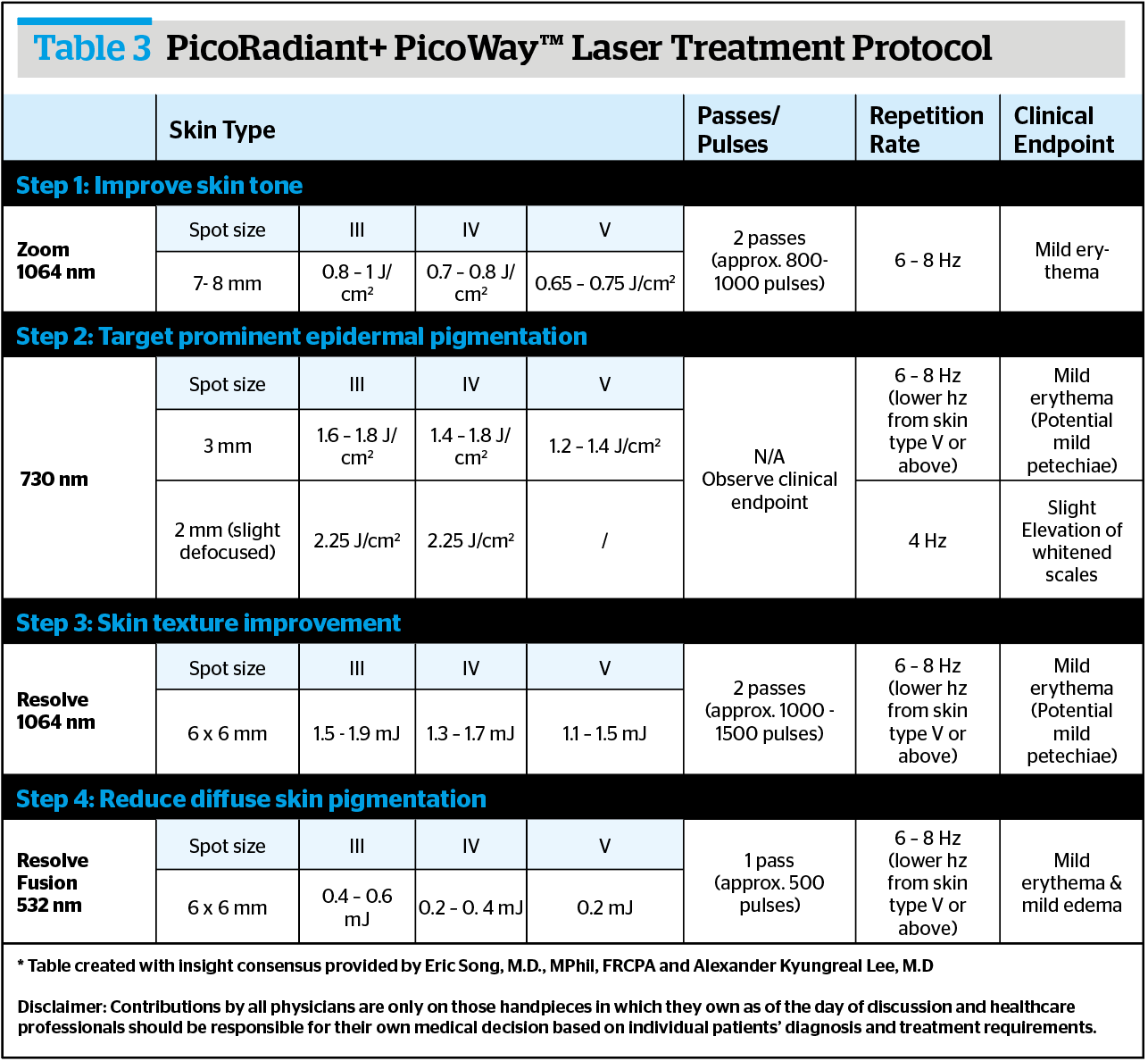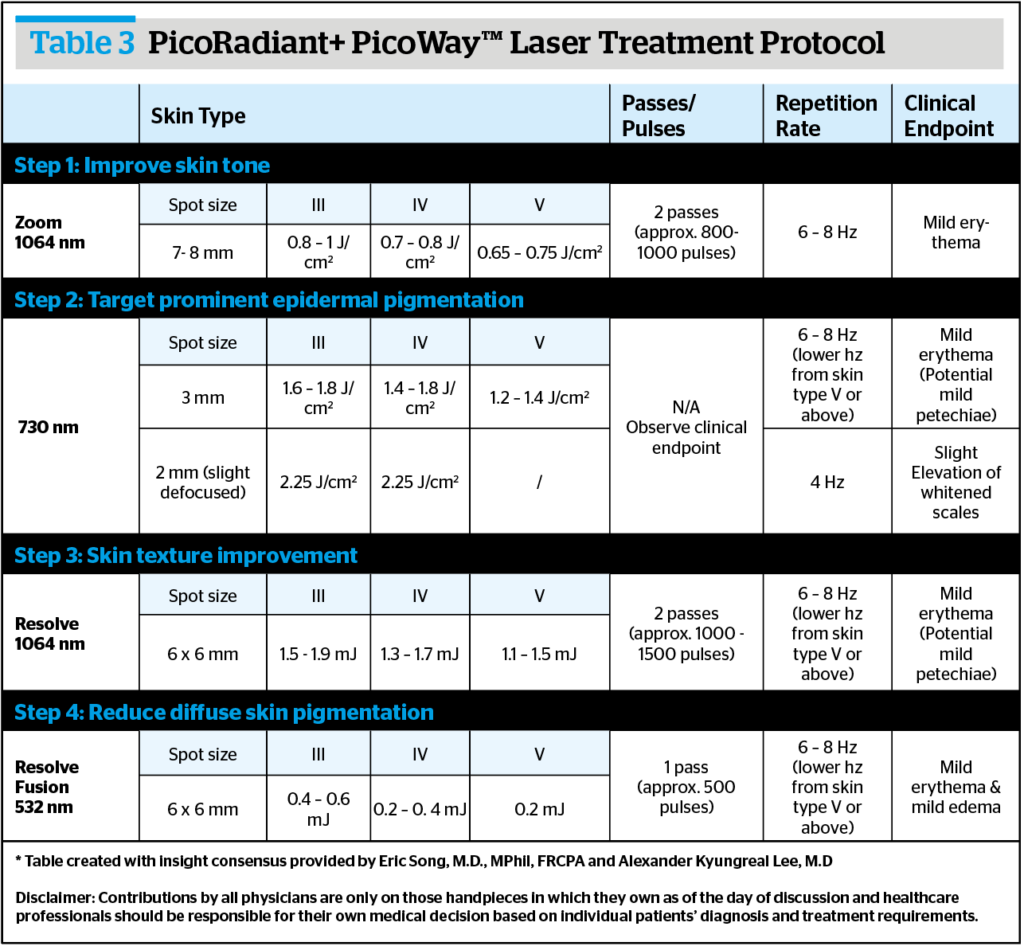 Picosecond technology delivers a pulsed laser beam at a selected energy level within a picosecond domain (i.e., one trillionth of a second)5. The picosecond lasers currently available for dermatologic applications generate pulse durations between 250 and 900 picoseconds. The picosecond laser creates microscopic changes to tissue components below the epidermis through a phenomenon termed laser-induced optical breakdown (LIOB). The main mechanism of action on pigmented lesions involves the photoacoustic fragmentation of the chromophore. The unfractionated beam delivers photoacoustic effects to the target chromophores and induces ultra-rapid fluctuation in temperature responsible for the breakdown of these intracellular organelles. This photoacoustic mechanism is more efficient in the disintegration of target melanin in pigmented lesions and tattoo ink particles, allowing more efficient removal of the debris through normal elimination processes (e.g., macrophages or melanophages). Subsequent activation of underlying cellular processes results in tissue healing response, skin remodelling and production of collagen and elastin, resulting in the skin rejuvenation effects. The neocollagenesis and neoelastogenesis responses may be directly related to photothermal effects of superheated plasma generation with LIOB phenomenon, and/or photoacoustic cell signalling stimulatory effects within the dermal layers5–8.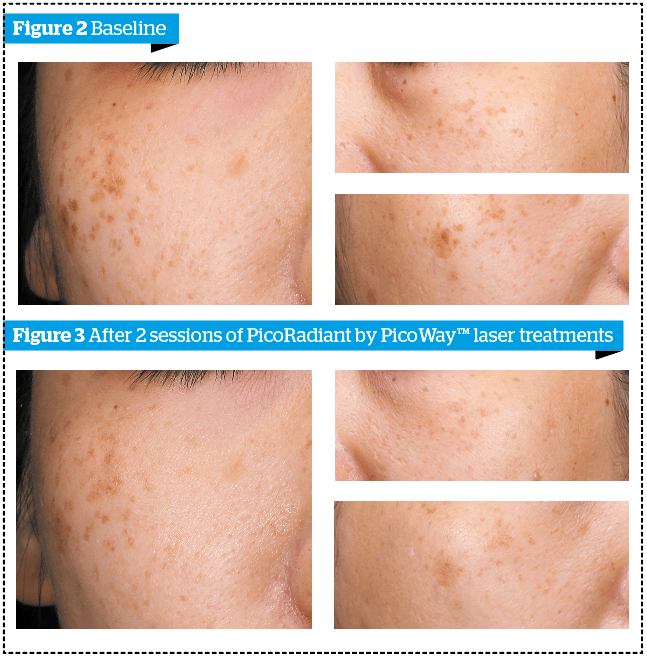 The earlier use of picosecond lasers for tattoo removal had shed some light on the mechanism of action, suggesting a possible benefit in other dermatologic conditions9. The ultrashort picosecond pulses pulverize tattoo ink or melanin pigment into smaller fragments compared with conventional short-pulsed lasers, with improved power and precision5. Laser pigment treatment in patients with skin of colour (Fitzpatrick skin types IV–VI) always presents considerable challenges due to certain biological, structural, and functional differences, as compared to lighter skin types (Fitzpatrick skin types I–III)10. Patients may experience increased sensitivity and erythema post-treatments for a few hours but without significant prolonged downtime.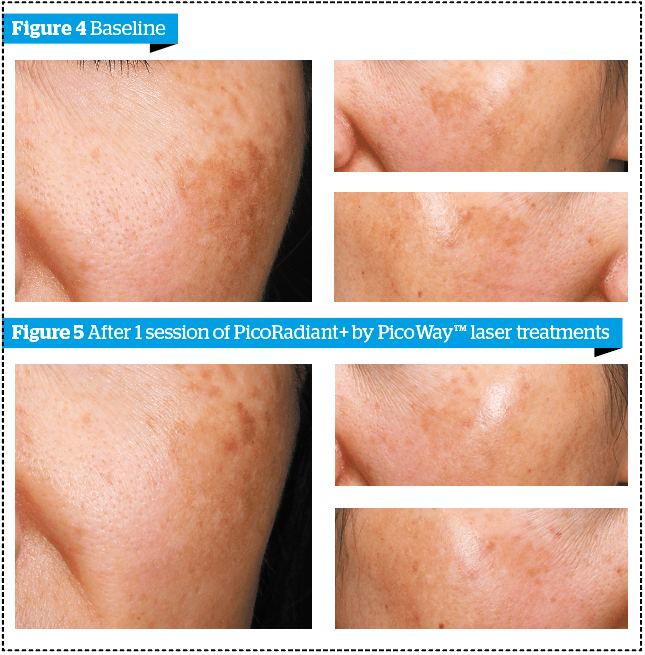 The picosecond laser technology is gaining increasing recognition and this trend is predicted to continue according to recent reviews5,11. The authors report that picosecond laser is a safe and effective treatment modality for a broad range of dermatologic indications. The authors suggest that evidence from comparative studies indicate better safety and efficacy profile of the picosecond lasers than nanosecond laser in both clinical and histological outcomes. Of note, a reduced risk of post-inflammatory hyperpigmentation was suggested5,11. They suggested the potential improvements in the safety profile were attributed to the reduction of non-targeted tissue damage in the melanocytes and the dermal-epidermal junction. 
Multiple open-label clinical studies and three comparison trials involving approximately 200 patients have demonstrated the efficacy of picosecond laser for rejuvenation of the face, chest, and extremities12–21. Collectively, these studies demonstrated a favourable safety profile associated with a moderate level of efficacy. When compared with traditional non-ablative fractional lasers, picosecond lasers showed an improved safety profile without reduced treatment efficacy5. A review of the literature suggested that the ability of nanosecond laser devices to deliver both non-fractionated and fractionated beam profiles provided optimisation for a dual-approach modality for superior clinical outcomes and patient satisfaction. Advancement of the picosecond technology will continue to optimise treatment techniques and further improve patient outcomes. Laser technology presents a multitude of treatment parameters such as wavelength, power density, pulse structure, treatment time and treatment interval, as well as distinct tissue scatter and absorption parameters for each wavelength. In addition, the cellular targets are not equivalent across wavelengths. In tattoo removal procedures, a review of the literature points towards better results in tattoo pigment removal following laser treatments with shorter pulse durations5. Further research and more experience in clinical use will help establish refinement and expansion of this technology for the wider range of dermatologic conditions and skin rejuvenation.
The PicoWay® system handpiece functionality
The PicoWay system is an FDA-cleared picosecond laser with label indications for acne scars, wrinkles, benign pigmented lesions (dark spots) and tattoo removal. The PicoWay system generates four wavelengths — 532 nm, 730 nm, 785 nm, and 1064 nm with a set of six handpieces providing seven unique treatment modalities. Each of these PicoWay handpieces and laser wavelengths can be specifically used to treat different indications. The PicoWay Zoom handpieces were designed for removal of tattoo and dark spots while the PicoWay Resolve handpieces were developed for acne scars, wrinkles and skin discolouration treatments. Each handpiece can be selected according to the treatment designation for the patient. The multi-functionality of these handpieces allows for a comprehensive approach in treatment strategy for optimized and customized treatments for individual patients. Each handpiece has been developed and tested with specific indications in mind(Table 1).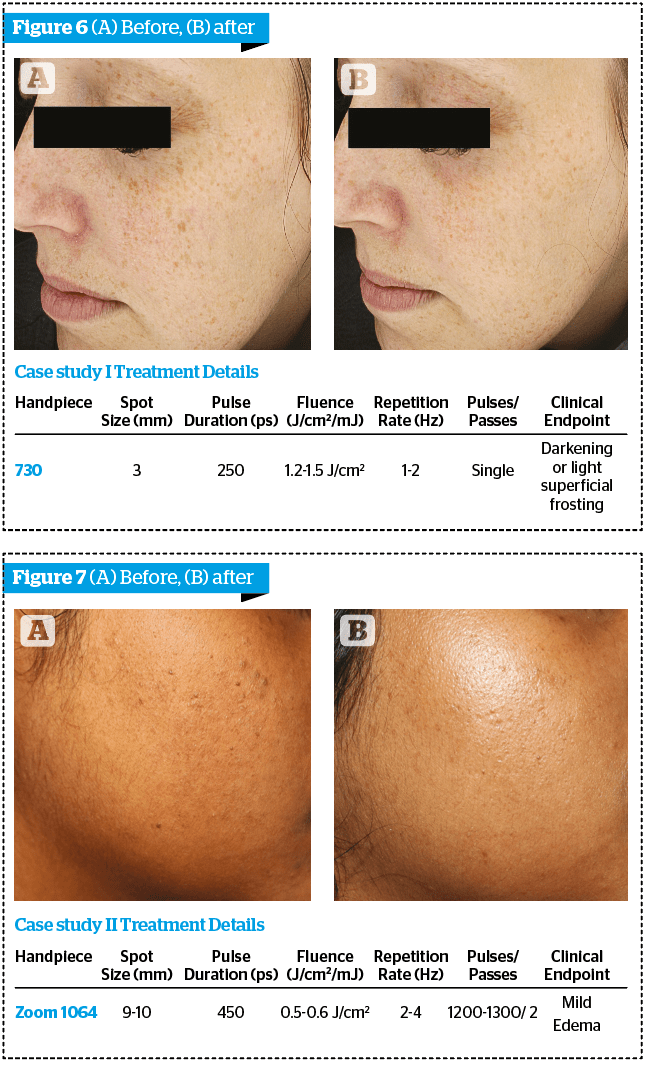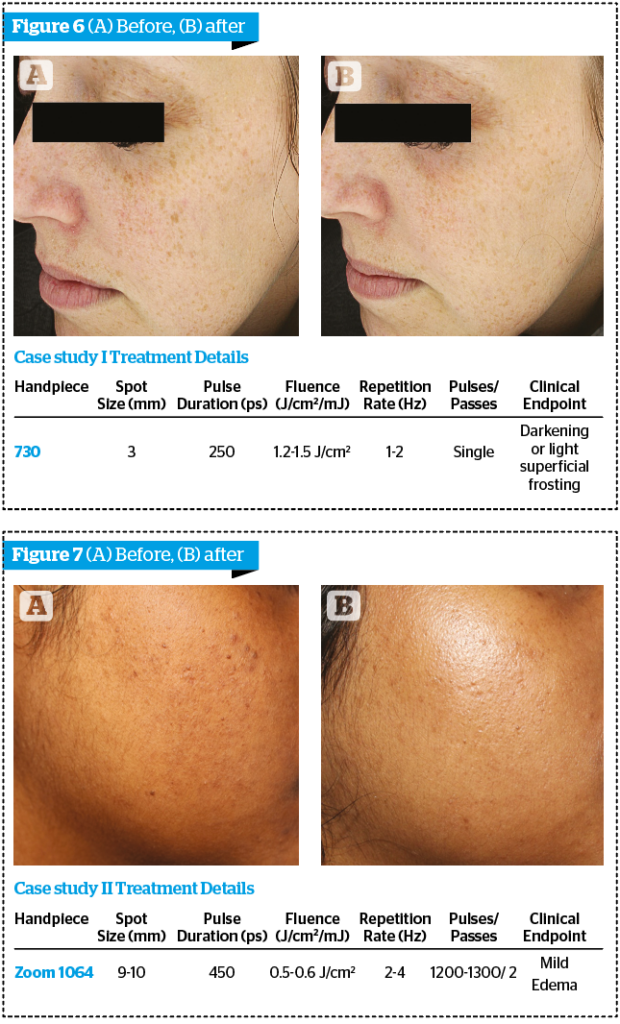 The PicoWay® laser branded protocol
The PicoWay system branded protocol was developed to:
Set safe and effective benchmarks of skin rejuvenation protocols for the treatment providers
Increase patient welfare by taking steps to deliver consistent and reproducible results 
Promote positive awareness of appropriate laser interventions. 
There are several caveats. Firstly, the branded protocols may only serve as no more than a general guidance for the treatment providers. Secondly, the utilisation of the handpieces should be preceded by the accurate diagnosis of the condition, preferably by healthcare professionals. Lastly, the treatment plan may vary according to the patient's individual needs or circumstances.
PicoRadiant by PicoWay™ Laser Treatment
The PicoRadiant by PicoWay™ Laser Treatment Protocol (Table 2) was developed to provide treatment for pigmentary and texture improvements with low downtime and a high safety margin.
Patients are recommended to undergo 1–3 treatment sessions with re-treatment sessions every 4–8 weeks for optimized results. Prior to the treatment session, patients are administered an optional topical anaesthetic for 15 minutes. Following the treatment session, it is recommended that patients protect their skin with >50+ SPF sunscreen. It is advisable to reduce repetition rates for higher skin types to avoid acneiform eruptions. The base protocol steps 2 and 3 can be interchanged based on the physician's final professional opinion.
The case shown in Figures 2–3 demonstrates the clinical outcomes after two sessions of PicoRadiant PicoWay™ Laser treatments.
PicoRadiant+ by PicoWay™ Laser Treatment
The PicoRadiant+ by PicoWay™ Laser Treatment Protocol (Table 3) is a slightly modified version of the PicoRadiant treatment protocol, with the addition of 730 nm and Resolve Fuson™ 532 nm handpieces to optimize treatment outcomes based on these handpieces' specific features and benefits.
The case shown in Figures 4–5 demonstrates the clinical outcomes after one session of PicoRadiant+ PicoWay™ Laser treatments. Continuous improvement is anticipated from subsequent sessions monthly with minimal downtime and discomfort.
Featured case studies
The following case studies outline the versatility of PicoWay laser treatments, ranging from single applicator treatments to multi-applicator treatments.
Featured case study I
The patient was a 40-year-old woman with Fitzpatrick Skin Type II who presented with epidermal pigmentation (Figure 6). Her diagnosis included moderate sun damage, freckles, and subtle epidermal melasma. The patient underwent one treatment at the specifications above, following topical benzocaine lidocaine tetracaine anaesthetic cream. Follow-up treatment with the PicoWay Resolve Fusion™ 532 nm handpiece was recommended. The Resolve Fusion™ handpiece is an additional beam type to full and split beam, with 100 split beams surrounded by diffuse rings, enables 50% more coverage per pass than original Resolve applicator technology.
It should be noted that the 730 nm handpiece was chosen because of its ultra-short pulse duration and the property of the novel wavelength providing a high melanin to haemoglobin absorption coefficient ratio.
Featured case study II
The patient was a 25-year-old woman with Fitzpatrick Skin Type V who was looking for general rejuvenation and improvement of dull skin (Figure 7). The patient was preparing for multiple events and did not have much downtime available in her schedule. The patient underwent six treatment sessions at two weekly intervals at the specifications above.
The patient was recommended retinol 4% topically for the first hour post-treatment since she developed an acneiform eruption after the first session.
Featured case study III
The patient (Figure 8) was a 30-year-old woman with Fitzpatrick Skin Type IV who presented with neurofibromatosis, freckles on face, neck, chest and axillary area, a co-existing Nevus of Ota on her right CNV1 dermatome and melasma on bilateral cheeks. The patient underwent multi-laser treatments delivered in 14 sessions over 6–8 weeks at the specifications above.
Freckles responded positively to 785 nm and Resolve 532 nm and were almost cleared in 3-4 sessions. Nevus Ota over the lower eyelid and zygomatic area had significantly improved after 10 sessions; additional sessions were requested to remove the residual Nevus Ota lesions on the right upper eyelid with the protection of an eye shield. For melasma lesions on cheeks, the goal of treatment was to improve rather than clear. Post-treatment care included oral vitamin B / C supplement, topical mid potent corticosteroid, and sunscreen.
Featured case study IV
The patient was a 46-year-old woman with Fitzpatrick Skin Type IV (Figure 9). The patient underwent multi-laser treatments delivered at an 8-week treatment interval at the specifications above. The photo depicts changes observed one month after the second treatment.
Featured case study V
The patient was a 50-year-old woman with Fitzpatrick Skin Type IV (Figure 10). The patient has multiple prominent lentigines on her forearm. The clinical response after 2 weeks was also followed where mild remaining petechiae was seen, as laser treatment performed on the trunk could exhibit a longer recovery period relative to the face. A complete resolution was achieved with no occurrence of undesired complications after a year.
Featured case study VI
The patient was a 42-year-old woman with Fitzpatrick Skin Type IV (Figure 11). The patient presented with facial lentigines and was seeking a solution for pigment reduction and skin quality improvement. In the following one session with the 730 nm handpiece and nine sessions of Zoom 1064 nm handpiece weekly, marked clearance and long-lasting overall skin improvements are accomplished.
Conclusions
Evidence supports the use of the PicoWay picosecond laser system for a variety of dermatologic conditions that may benefit from skin rejuvenation procedures. The multi-wavelength functionality of the included handpieces and precision of the PicoWay Laser provides a stand-alone device that can be customized to varying patient needs for optimized clinical outcomes in all skin types. The PicoWay system exhibits minimal risks for complications, including post-inflammatory hyperpigmentation. PicoWay laser treatment protocols provide optimized plans that can be tailored for specific patient demands. The multitude of PicoWay system handpieces and treatment modalities provides physicians with the ability to select and modify treatment options for the best possible patient outcomes.
Declaration of interest Eric Song, M.D., MPhil., FRCPA, William Wei-Chih Ko, M.D., Alexander Kyungreal Lee, M.D. and Renita Lourdhurajan, M.D., D.N.B. received honorariums for participating and sharing their clinical experience with the PicoWay® system in a roundtable forum.
*Authors are listed according to contribution with the second onwards contributing evenly
  Figures 1–5 © APAC HQ Candela Institute for Excellence; 6 © Eric Song, M.D., MPhil, FRCPA; 7 © Renita Lourdhurajan, M.D, D.N.B; 8 © Chao-Chin Wang, M.D; 9 © William Wei-Chih Ko, M.D; 10–11 © Dr. Alexander Kyungreal Lee
References
Americam Society of Plastic Surgeons. PLASTIC SURGERY STATISTICS REPORT. ASPS National Clearinghouse of Plastic Surgery Procedural Statistics. 2019.
Zhang S, Duan E. Fighting against Skin Aging: The Way from Bench to Bedside. Cell Transplant. 2018;27(5):729-38.
Cui H, Kong Y, Zhang H. Oxidative stress, mitochondrial dysfunction, and aging. J Signal Transduct. 2012;2012:646354.
Waldman A, Bolotin D, Arndt KA, Dover JS, Geronemus RG, Chapas A, et al. ASDS Guidelines Task Force: Consensus Recommendations Regarding the Safety of Lasers, Dermabrasion, Chemical Peels, Energy Devices, and Skin Surgery During and After Isotretinoin Use. Dermatol Surg. 2017;43(10):1249-62.
Wu DC, Goldman MP, Wat H, Chan HHL. A Systematic Review of Picosecond Laser in Dermatology: Evidence and Recommendations. Lasers Surg Med. 2021;53(1):9-49.
Habbema L, Verhagen R, Van Hal R, Liu Y, Varghese B. Efficacy of minimally invasive nonthermal laser-induced optical breakdown technology for skin rejuvenation. Lasers Med Sci. 2013;28(3):935-40.
Brauer JA, Kazlouskaya V, Alabdulrazzaq H, Bae YS, Bernstein LJ, Anolik R, et al. Use of a picosecond pulse duration laser with specialized optic for treatment of facial acne scarring. JAMA Dermatol. 2015;151(3):278-84.
Bernstein EF, Schomacker KT, Basilavecchio LD, Plugis JM, Bhawalkar JD. Treatment of acne scarring with a novel fractionated, dual-wavelength, picosecond-domain laser incorporating a novel holographic beam-splitter. Lasers Surg Med. 2017;49(9):796-802.
Jakus J, Kailas A. Picosecond Lasers: A New and Emerging Therapy for Skin of Color, Minocycline-induced Pigmentation, and Tattoo Removal. J Clin Aesthet Dermatol. 2017;10(3):14-5.
Alexis AF. Lasers and light-based therapies in ethnic skin: treatment options and recommendations for Fitzpatrick skin types V and VI. Br J Dermatol. 2013;169 Suppl 3:91-7.
Brunk D. Authors of picosecond laser review predict more widespread use of the technology. Dermatology News; Aesthetic Dermatology. 2020.
Yim S, Lee YH, Choi YJ, Kim WS. Split-face comparison of the picosecond 1064-nm Nd:YAG laser using a microlens array and the quasi-long-pulsed 1064-nm Nd:YAG laser for treatment of photoaging facial wrinkles and pores in Asians. Lasers Med Sci. 2020;35(4):949-56.
Gold MH. Dual wavelength treatment protocol with a picosecond laser for the reduction of facial wrinkles. J Cosmet Laser Ther. 2019;21(3):147-51.
Wat H, Yee-Nam Shek S, Yeung CK, Chan HH. Efficacy and safety of picosecond 755-nm alexandrite laser with diffractive lens array for non-ablative rejuvenation in Chinese skin. Lasers Surg Med. 2019;51(1):8-13.
Serra M, Bohnert K, Sadick N. A randomized, single-blind, study evaluating a 755-nm picosecond pulsed Alexandrite laser vs. a non-ablative 1927-nm fractionated thulium laser for the treatment of facial photopigmentation and aging. J Cosmet Laser Ther. 2018;20(6):335-40.
Bernstein EF, Schomacker KT, Paranjape AS, Bhawalkar JD. Treatment of Photoaging With a Dual-Wavelength, 532 nm and 1,064 nm Picosecond-Domain Laser Producing a Fractionated Treatment Beam Using a Holographic Optic. J Drugs Dermatol. 2017;16(11):1077-82.
Weiss RA, McDaniel DH, Weiss MA, Mahoney AM, Beasley KL, Halvorson CR. Safety and efficacy of a novel diffractive lens array using a picosecond 755 nm alexandrite laser for treatment of wrinkles. Lasers Surg Med. 2017;49(1):40-4.
Saluja R. Evaluation of the Safety and Efficacy of a Low Fluence, Picopulsed, Alexandrite Laser in a Pico-Toning Technique With a Diffractive Lens Optic for the Treatment of Photodamage and Textural Improvement in "Off the Face" Applications. J Drugs Dermatol. 2016;15(11):1398-401.
Khetarpal S, Desai S, Kruter L, Prather H, Petrell K, Depina J, et al. Picosecond laser with specialized optic for facial rejuvenation using a compressed treatment interval. Lasers Surg Med. 2016;48(8):723-6.
Wu DC, Fletcher L, Guiha I, Goldman MP. Evaluation of the safety and efficacy of the picosecond alexandrite laser with specialized lens array for treatment of the photoaging décolletage. Lasers Surg Med. 2016;48(2):188-92.
Ge Y, Guo L, Wu Q, Zhang M, Zeng R, Lin T. A Prospective Split-Face Study of the Picosecond Alexandrite Laser With Specialized Lens Array for Facial Photoaging in Chinese. J Drugs Dermatol. 2016;15(11):1390-6.