Spanish pharmaceutical laboratory, mesoestetic Pharma Group, an international leader in the cosmetic medicine sector, has launched an extensive range of injectable medical devices with CE mark, to administer as mesotherapy with aesthetic purposes.
mesohyal™ the most comprehensive range on the market
With 10 products, mesohyal™ is currently the most extensive range of injectable products with CE mark that addresses the signs and symptoms of skin ageing, as well as unsightly figure concerns.
The range includes:
mesohyal™ HYALURONIC: skin rehydration and rejuvenation

mesohyal™ NCTC 109: intensive cell biorevitalisation

mesohyal™ VITAMIN C: with antioxidant and brightening effects

mesohyal™ DMAE: enhanced elasticity and firmness

mesohyal™ ORGANIC SILICON: skin tissue regeneration and restructuring

mesohyal™ OLIGOELEMENTS: stimulation of the extracellular dermal matrix

mesohyal™ BIOTIN: reactivation of skin cell metabolism and scalp

mesohyal™ CARNITINE: for treating compact and fibrous cellulite. Speeds up metabolism of fatty acids

mesohyal™ ARTICHOKE: for treating soft cellulite. Detoxifying and draining effect

mesohyal™ MELILOT: for oedematous cellulite with a vascular component. Activates micro-flow.
Bespoke treatments
The products in the mesohyal™ range can be used alone or combined to create made-to-measure cocktails. This makes mesotherapy a highly targeted option for addressing each patient's specific aesthetic disorders.
Formulated with hyaluronic acid
All the products in the mesohyal™ range contain non-reticulated hyaluronic acid, a product without a filler effect. This substance provides the skin with additional moisture, improving its quality and turgor in both facial and body treatments.
Quality and safety seal
mesoestetic Pharma Group is the only Spanish pharmaceutical company that manufactures intradermal medical devices with the CE mark.
All the solutions in the range come with the CE mark, which gives patients a quality and safety guarantee and peace of mind that these are supervised products with proven efficacy.
Application protocol
The treatment takes between 20 and 30 minutes. Patients are immediately able to go back to their daily lives. The therapeutic protocol depends on the aesthetic disorder to treat and how far it has progressed at the start of the treatment.
Body treatments require between 8 and 12 sessions, at least 1 week apart. With regard to facial treatments, 5–10 sessions are required at 15-day intervals.
Although the therapeutic effects are immediate and long-lasting, patients are required to follow the usual hygienic–dietary guidelines and to have regular top-up treatments to maintain the effects every 6–8 months, according to the doctor's recommendation.
mesohyal™: precursor to aesthetic medicine à la carte
The mesohyal™ range makes it possible to offer genuine 'à la carte' mesotherapy treatments, because doctors can tailor the treatment in each session according to the patient's evolution and requirements.
Experts say that this is an innovative, comprehensive line of highly effective, safe products, which is heralding the immediate future: 'aesthetic medicine à la carte'.
mesoestetic Pharma Group enters the Chinese market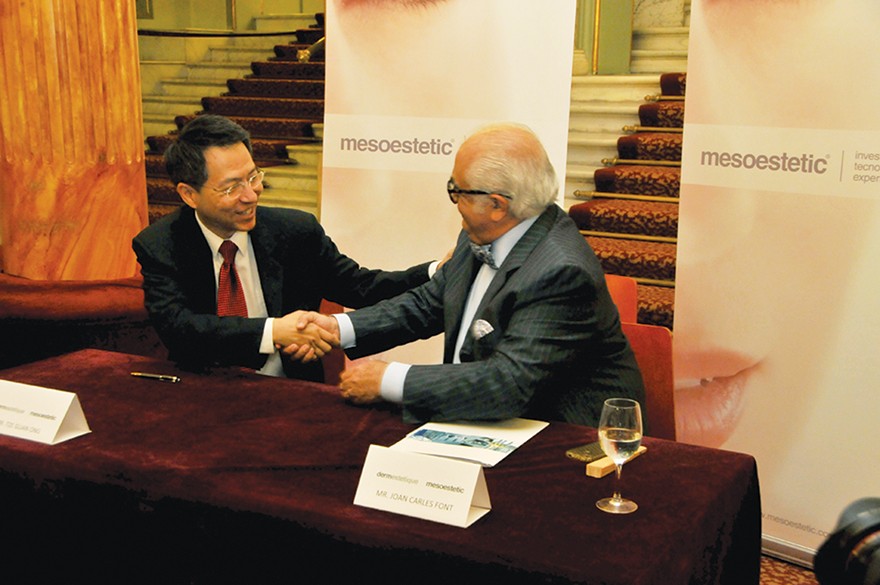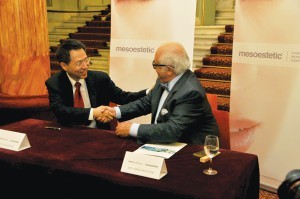 Medical cosmetic and multinational company, mesoestetic Pharma Group, has finalised an exclusive distribution agreement for the brand's products in China.
The arrangement will allow mesoestetic to make inroads in the Chinese market. The agreement includes opening approximately 300 points of sale across China, including beauty salons, hotel clinics and spas.
According to the chairman of mesoestetic Pharma Group, Joan Carles Font, this is a 'strategic arrangement for the company because China is a market with enormous potential for growth in the aesthetics sector'.
China will join the other 62 countries where the company currently sells its products. The Spanish company is present in more than 30000 points of sale around the world and is analysing how to grow in other markets.
mesoestetic® company profile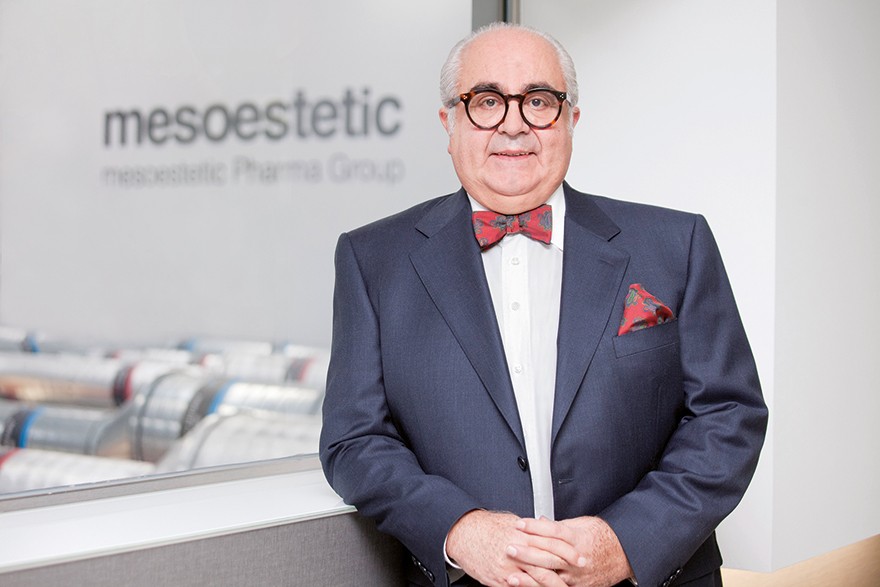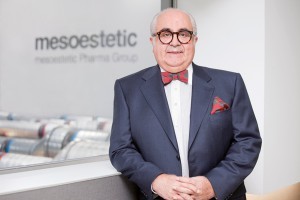 mesoestetic Pharma Group is a pharmaceutical laboratory of worldwide renown in the medical cosmetics sector, which offers the most innovative and efficient solutions for skin treatment and care.
Its origins date back to 1984 when, from his pharmacy in the centre of Barcelona, Joan Carles Font started to develop his own cosmetics. Since its founding, the company has been committed to developing and marketing high quality products with scientifically proven results, the manufacturing and control processes of which are regulated by stringent pharmaceutical protocols.
Its growth is linked to ongoing efforts in research, to which 40% of profits are dedicated, and its collaboration with hospitals, universities and renowned specialists in the sector, who collaborate on research into new treatments.
In 2011, mesoestetic Pharma Group inaugurated its current facilities, and with an area spanning 8500 m2, it shows a clear commitment to growth and excellence. The new headquarters house separate lines for the production of cosmeceutics, medications and medical devices for intradermal application, and has a state-of-the-art biotechnology division. mesoestetic therefore completes the circle, integrating the ability to research even more efficient active ingredients and manufacture cutting-edge products with proven efficiency.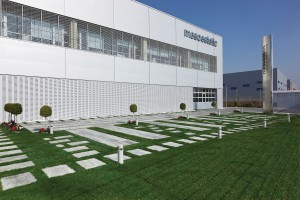 In less than 30 years, the company has become a multinational firm of reference in the medical cosmetics sector and has been strengthening its international presence. In 2012, 88% of its sales were exported and its products and treatments are sold in more than 60 countries on all five continents, most notably in USA, Brazil, Singapore, Italy, the Philippines, Australia, Chile, Mexico and Dubai.
The company continues to strive day after day to reach maximum excellence and is committed to the efficiency, safety and quality that aesthetic professionals and their customers demand.