RADARA® for the total eye area is the latest high-performance eye rejuvenation offering from the micro-channelling innovators at Innoture. Following the highly successful launch of the award-winning original patch to treat crow's feet in February 2016; this year sees the eagerly awaited new RADARA micro-channelling patch.
The new extended patch has been specifically designed to target ageing skin concerns for both the crow's feet and under-eye (tear trough), delivering intense hydration, resulting in reduced fine lines, a smooth texture and a youthful, rested appearance.
RADARA for the total eye area, like the original patch, features ergonomically designed, hypoallergenic patches with 'micro-needles' made from patented, cone-shaped, microscopic plastic structures. When applied to the skin, the patches painlessly create physical micro-channels in the stratum corneum, to allow the flow of the specially formulated pure hyaluronic acid serum into the epidermis. Not only does this deliver deep, intense hydration, but it also kick-starts new collagen formation (neocollagenesis). Unlike using a serum alone, RADARA achieves impressive skin rejuvenation results due to the unsurpassed micro-channelling technology. Clinical studies report on average a 35% decrease in fine lines in just 28 days.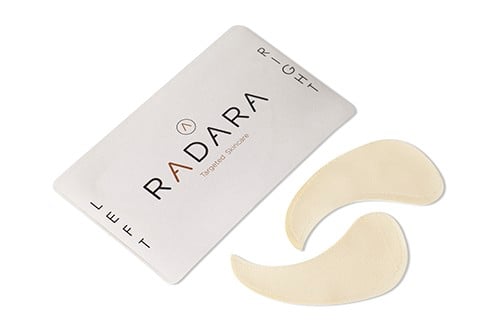 The new RADARA eye patch has over 3,000 microneedles for each eye, that's almost double the amount of the original patch, enabling it to penetrate the full outer eye area, rejuvenating tired eyes and fines lines in one easy, daily application. The original design will remain the patch of choice for any patients mainly concerned about their crow's feet and or are contraindicated to use the RADARA total eye patch, namely those with significant periorbital oedema.
Aesthetic practitioners now have two micro-channelling skincare products to choose from within the RADARA family, depending on their patient's individual needs and skincare concerns:
RADARA Crow's Feet: The original patch, designed to effectively target crow's feet (lateral canthal)
lines
RADARA Eye: The newest patch design for the total eye area, covering both the crow's feet and
under-eye area
METHOD
The new RADARA patch follows the same method of action and treatment protocol as the RADARA crow's feet patch; namely a five-minute nightly application for a four-week period. Studies show that this innovative, targeted and painless treatment delivers smoother, firmer skin and reduces fine lines by an average of 35% after 28 days. Visible reduction of fine lines can be seen as early as two weeks, with skin benefits continuing even after treatment completion: tests showed skin quality improvements and line reduction continued for up to eight weeks i.e. results lasts for 12 weeks (3 months). RADARA is gentle enough to be used every day. It is painless, however may cause a minor tingling sensation or mild redness; this is temporary and typically reduces within 10 minutes, this sensation is due to the microchannel creation in the stratum corneum.
Trade Price: £82 +VAT, RRP: £165