Chances are, like almost everyone else on the planet, you use a smartphone to email, text, browse, post, tweet, and shop , as well as making an occasional phone call. It's the ultimate tool for multitaskers, and today, that's just about everyone.
According to a 2013 Pew Research Center study1, more than 50% of adults in the US own a smartphone, and considering their ever-expanding range of capabilities, it's no surprise that smartphones are beginning to dominate our world. What you may not know is how mobile may be impacting on your practice's leads.
As a data-driven lead generation company, Etna Interactive (www.etnainteractive.com/) set out to learn how smartphones are affecting leads for an average plastic surgery practice.
The data
We began by selecting three established plastic surgery practices from across the US — two group practices and a single-surgeon practice. We tracked hundreds of phone and form enquiries, all generated from their websites. In the first quarter of 2013, we found that an average of 31% of these leads originated from smartphones. At the end of 2013 — the span of less than 1 year — this figure jumped to 43%. Similarly, the average mobile traffic (site visits) for the same three plastic surgery practices increased from 27% to 38%.
Although this is a limited study and these numbers can vary from practice to practice, it's safe to say more and more patients are visiting your website on their smartphones and looking for a way to contact you. If you haven't adapted your website for the mobile audience, you're turning your back on the needs of today's consumer, and turning away prospective patients.
Why usability matters
If acquiring leads is the number one goal for your website (hint: it should be) you'll want to make it as easy as possible for the end user to reach out to you. Clearly, that end user is increasingly viewing your site on a mobile device. Easily accessible phone numbers, contact forms and directions are a must, and it shouldn't stop there. Think of your website as the first impression many prospective patients will have of you and your practice.
If you don't provide a mobile-ready website, your basic desktop site will be squeezed to less than one third of its size to fit on a smartphone screen. This can make it very hard for users to browse, read and find out how to take the next step toward becoming a patient. If your site is limited and frustrating for a smartphone user and your competitor's website is fast, informative and easy, who's more likely to get that lead? You get the picture.
So do you need to build an all-new site for mobile? The good news is, you don't. That's the beauty of responsive mobile.
What is responsive mobile?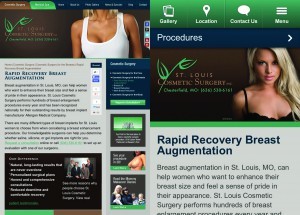 Responsive web design essentially means creating a site flexible enough to automatically adjust to the screen size and platform of the user. This means that, with one site, you can reach visitors on computers, tablets, and smartphones, all with the same effectiveness.
If you don't know whether or not your site is responsive, try viewing it on a computer and shrink your browser window down to the size of a mobile device. If the site transforms into a mobile friendly site, it's responsive (Figure 1).
SEO benefits
If there was any doubt that responsive mobile design was a good thing, Google has made it clear. In June 2012, Google announced responsive web design as their recommended configuration for building smartphone-optimised websites. In fact, the search giant went so far as to name responsive design a 'best practice' for developers. When Google makes a recommendation, most of us in the web business take note.
One of the search engine optimisation (SEO) benefits of responsive design is that you have a single URL for a page of content, rather than a separate mobile URL. This means that existing and future links will be channelled to a single URL, which Google likes. Also, as there is just one URL for that page of content, the potential penalty for duplicate content is avoided, which is not always the case with a separately designed mobile site.
More importantly, however, is the idea of creating quality content and presenting it in the most user-friendly way possible. Google has consistently reinforced this as priority number one for those seeking higher rankings. Based on the data available, adapting your site to the mobile audience via responsive design is the best way to do this.
User benefits
Simply put, responsive design uses cascading style sheets (CSS) to change the way a website is rendered based on the size of the device. If the viewer is using a smartphone, his or her experience will immediately adapt to that device's screen size.
At Etna Interactive we use the technology to provide a tailored, completely unique smartphone experience to users. We can adjust the type size, graphics, navigation and feature elements to provide a better browsing experience. We can also provide quick links to the things we know are most important to users, such as contact information, directions, photo gallery, and procedure content (Figure 1).
If built correctly, a responsive site can also be delivered to an end-user on a mobile device significantly faster than a full desktop site. This means your visitors don't have to wait as long for the site to load. Also, it is unknown to what extent, but Google does factor page load speed into their rankings calculation.
From a practical perspective
The beauty of responsive design is the ability to provide a flexible browsing experience while keeping the content the same. This makes future updates and site maintenance easier and more cost‑effective by eliminating the need to make edits to more than one site. It's also the easiest way to ensure your brand remains consistent in both environments.
Get responsive in 2014
Most experts agree that in 2014 mobile browsing will overtake desktop browsing. Recently, Google chairman Eric Schmidt stated, 'The trend has been mobile was winning; it's now won'. For that reason alone, you should consider making your site as smartphone-friendly as possible. If your site doesn't use responsive design, you are likely overlooking a goldmine of leads. Add to that the SEO and other practical benefits of going mobile, and it's a no-brainer for any practice that wants to reach more patients and grow their business.