The International Confederation for Plastic Reconstructive and Aesthetic Surgery (IPRAS) is a huge organisation, with over 37000 aesthetic and plastic surgeon members and 35000 residents in training across 99 nations. With their size and resources they recognise they have the capabilities to do great humanitarian work and are continuously developing new initiatives to make use of their skills for the benefit of others. One such initiative is the Women for Women programme and I spoke to one its founders and now Managing Director, Dr Constance Neuhann-Lorenz, to find out more.
Women for Women aims to provide reconstructive plastic surgery and medical care to women in developing countries who have suffered the effects of an injury. These women would have little to no access to health care, and the programme works to help alleviate their suffering through reconstructive surgery.
The programme was developed in 2006 by the current President of IPRAS, Dr Marita Eisenmann-Klein, and Dr Neuhann-Lorenz, who was at the time Chairperson of Quality Assurance of the International Plastic, Reconstructive and Aesthetic Surgery Foundation (IPRAF). The two were good friends and shared the belief that there was a need for a programme that dedicated its efforts to helping women in developing countries, who they felt were under-represented in humanitarian medical missions. They took their vision to the 2007 IPRAS delegate meeting and convinced the board of directors and executive committee to green-light the programme.
Since it was founded, the programme has travelled to many countries helping women who had been the victims of domestic violence, accidents, war or natural disasters. Their work has not only restored physical function and external appearance to many women, but also increased the educational or employment options for these women who were often marginalised in society because of their injuries.
Women for Women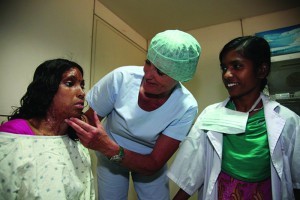 A key difference between the Women for Women programme and other volunteer schemes is that all the plastic surgeons who volunteer for the programme are women. To understand why they made such a decision, Dr Neuhann-Lorenz tells me you have to understand the society in which these women live.
'Many women from certain socio-cultural backgrounds in the third-world would have more confidence to be treated by a woman or would only be allowed to be treated by a woman,' she explains.
'In the past, if these humanitarian efforts arrived in these countries the women would normally send their husbands or their children before they came for treatment. They would send their husbands because they would be the ones who go out to work and the children are the future, so the women tended to put themselves in the background. When we come as women they understood it is for them,' she continued.
Unfortunately, the societies these women live in not only prevent them seeking medical attention, they can often be a contributing factor to their injuries. These are societies in which women are often mistreated and harshly punished for perceived trangressions. Many women are the victims of domestic violence. In India, for example, 35% of women between the ages of 15–49 have experienced physical or sexual violence at some point in their life. And at least one in seven married and divorced women have suffered injury as a result of spousal violence.
A common injury Dr Neuhann-Lorenz and other volunteers would encounter are burn scars, where women have been intentionally burned as a form of punishment. They would often receive no treatment, which would further exacerbate the injury. Unfortunately, this was an all too common presentation on their visits to countries in South-Asia.
'In countries like India, Pakistan, and Bangladesh there are things called dowry burns. Where women are burned by the husband's family to get rid of them. Of those that survive, many of these women do not receive any surgical help. When we started this programme we witnessed many women with burn scars. What we do is offer these and other women free surgery in local organisations, in connection or by invitation of other plastic surgeons, NGO's or humanitarian organisations.'
As well as the dowry burns, many women are attacked by having acid spilled over them. Attacks with acid, which is cheap and widely available as a cleaning product in these countries, are becoming an increasingly common problem. The reason for the attacks can range from acts of jealousy, unrequited love, or marital problems. Whatever the reason, the results are always the same, the victims are left with horrific life-changing injuries.
Dr Neuhann-Lorenz was on a volunteer trip on behalf of the programme to Vijayawada, India, in 2010, when she came across another woman who was a victim of domestic violence. Shri Lakshmi had been attacked by her husband and left with severe burn contractures on her hands. Thanks to the treatment she was able to have through Women for Women and the social rehabilitation and reintegration work of the programme, Shri Lakshmi was able to find employment with a local hospital, where she now receives training as a nurse.
Organising each mission
The programme's first mission was to the Punjab, India, in 2008. They have sinced retuned on a number of occasions, visiting Kulu, Palampur, Lucknow, and Vijayawada, as well as visiting Bangladesh, Nepal, Iraq, and Kenya.
'These trips last 10–14 days and are now completely funded through donations. They are designed for female plastic surgeons who cannot leave their jobs and families for more than 2 weeks. Many of our volunteers have young children,' she explains.
Thanks to the worldwide network of IPRAS members, there are always local delegates available to help the volunteer teams with the patient selection process as well as ensure the volunteers are prepared for any possible challanges they may face.
The programme aims to work with local organisations as much as possible. At each location, the volunteers aim to educate their local colleagues and the nursing staff to enable them to continue the work independently, particularly the post-operative treatment of the patients.
'We work with the local medical structures and include other humanitarian organisations in our work. We don't invade these countries and take over all the resources available. In india, there are many skilled plastic surgeons but they can't treat everyone for free. While healthcare is covered by the government they do not supply enough equipment and resources to go around. Many people do not get enough medical care.'
Volunteer teams document many aspects of their trips, enabling them to later evaluate the mission and draw new conclusions that can help to optimise and improve the planning for the next trip. For example, in the multiple missions to India, the Women for Women team discovered that 90% of the patients that went for examination had never before undergone treatment for their burn injuries.
Future projects
Dr Neuhann-Lorenz served as the first President of the Women for Women programme, and while that role is now performed by Dr Debra Ann Reilly, Dr Neuhann-Lorenz is just as busy coordinating efforts from her role as Managing Director. Among some of the plans for the future, Dr Neuhann-Lorenz tells me they are planning their first mission to Pakistan later in 2014.