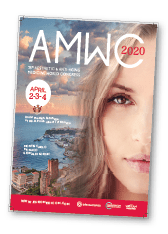 PRIME previews the 18th Aesthetic and Anti-Aging World Congress (AMWC), taking place in Monaco on 2–4 April 2020
Euromedicom and the Scientific and Organising Committee are genuinely honoured and excited to welcome you all to the annual AMWC Congress on April 2–4, 2020 in Monte-Carlo, under the High Patronage of H.S.H. Prince Albert II of Monaco.
Under the scientific supervision of the World Society of Interdisciplinary Anti-Aging Medicine (WOSIAM), the Scientific Committee is excited to bring you prominent international thought leaders and a 3-day scientific programme that promises to capture your attention and offers a complete platform for education, skills enhancement, business networking, and more.
The content is a perfect fusion of continuing education, training at the highest level, open exchange of information between delegates and key opinion leaders, live demonstrations and plenary sessions with world-class faculty delivering their insights and practice pearls on the most relevant and cutting-edge techniques and products in aesthetic and anti-ageing practice.
In addition to the three day scientific programme, AMWC 2020 will also feature three unique  and unmissable Pre-congress practical courses on April 1:
AMWC Threads Academy
This training has been designed to meet the educational needs of medical professionals involved in the care of patients with threads, and doctors wanting to add thread treatments to their clinic portfolio.
Advanced Course In Functional Gynaecology and Genital Rejuvenation
This course will emphasise the latest knowledge and breakthroughs covering a diversity of topics, with world-leading experts at the helm.
Advanced Facial Aesthetics Masterclass
This masterclass presents a new dimension of treatment based on Core Facial Aesthetics.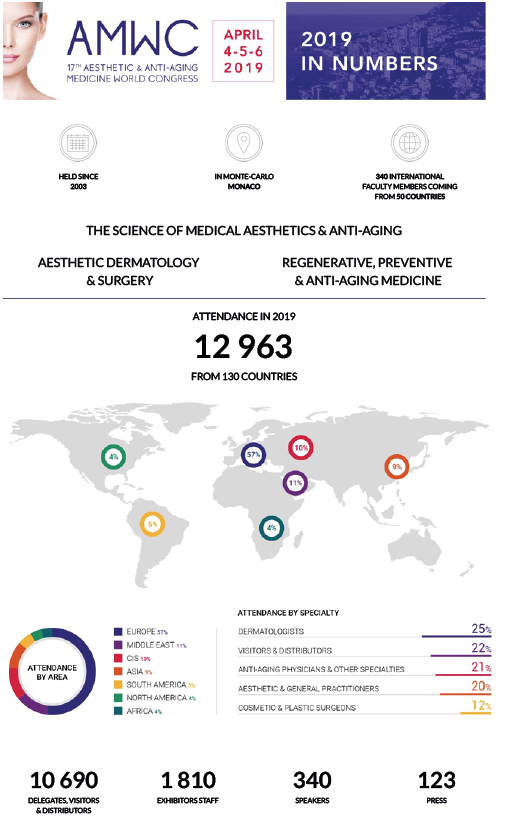 Exhibitors
The continued growth and success of AMWC have been due to a combination of excellent speakers, dedicated participants, and enthusiastic exhibitors creating a unique multi-specialty atmosphere. Each year, the AMWC attracts over 11,000 participants coming from more than 120 countries. 
Over 300 leading international companies will be showcasing their products on the 5-floor exhibition area. Providing an excellent environment to  forge long-term relationships with delegates and distributors, as well as provide a beneficial platform to introduce new products to the market. 
Many of the world's largest aesthetic and anti-ageing companies have already signed up to exhibit at AMWC 2020. These include Elite sponsors Merz Aesthetics, Croma, BioScience, and Teoxane. Diamond sponsors include Aptos, Fillmed, Galderma, Relife, Laboratoire Revitacare, and Vivacy as well as hundreds of additional exhibitors 
A global community of events
AMWC is just one part of a comprehensive offering of Aesthetic and Anti-aging Medicine  events taking place year-round. Brought to you by Euromedicom and in partnership with WOSIAM, these events are the must-attend events taking place in this fascinating and ever-changing industry. Other events include: 
Miami Cosmetic Surgery, from 20–22 February 2020, in Miami, FL
AMWC Asia, taking place from 1–3 May 2020, in Taipei, Taiwan
Facial Aesthetic Conference and Exhibition (FACE), from 5–6 June 2020, in London, UK.

 

AMWC 2020
Aesthetic and Anti-aging Medicine World Congress 2020 is compliant with the MedTech Europe Code of Ethical Business Practice.
We look forward to seeing you in Monaco in April 2020.
 For more information: www.euromedicom.com