On Friday 6th September 2019, AestheticSource hosted their first PIGMENTATION UN-COVERED symposium at the award-winning 30 Euston Square.
The one-day symposium welcomed more than 130 attendees from the aesthetic industry at the Royal College of General Practitioners, and brought together leading international industry speakers, who shared their expertise on the diagnosis, treatment and maintenance of pigmentation and skin health.
The event opened with Lorna McDonnell-Bowes, AestheticSource founder and director, welcoming attendees, sharing the company background and skincare portfolio before introducing session expert speakers.
We have been overwhelmed with the positive feedback from holding our 2019 AestheticSource symposium – Pigmentation Uncovered. Pigmentation as a category is continuously evolving, and the event enabled us to showcase and share the knowledge and experience of our colleagues on this important topic, as well as the synergies within our portfolio for the treatment and maintenance of this skin condition. We are also proud to be able to donate the attendance fees of £2750 to our chosen charity, Born to be Beautiful, who teach beauty therapy skills to victims of abject poverty.

Lorna McDonnell-Bowes, AestheticSource Director
Split into three sections, the bespoke agenda featured educational talks, which were supported by data and relevant in-clinic case studies, as well as a motivational talk by life coach and director of Your Mind at Work – Daksha Patel. Daksha demonstrated the full range of emotions we can experience in everyday life at work, the effect of stress on the body and how to address it.
The 'Etiology of Pigmentation' talk, presented by Dr Jinah Yoo, covered the causes, symptoms and diagnosis of pigmentation, the importance of diagnosis in the type and treatment of pigmentation, and an understanding of the increasing diversity of 'skin of colour'. Aesthetic nurse Anna Baker delivered a presentation on the role of ingredients in skincare and how they work in the treatment and maintenance of pigmentation.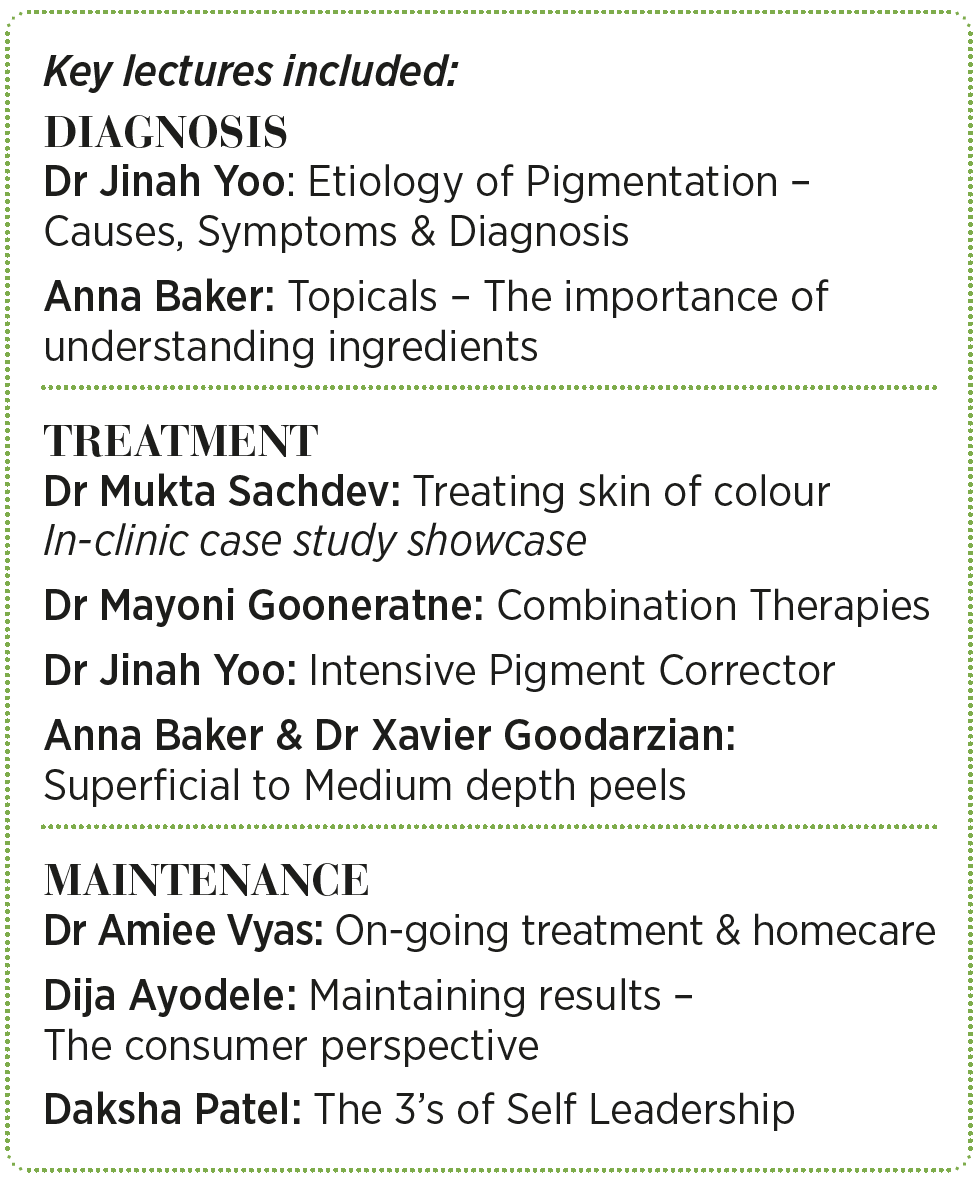 Consultant dermatologist Dr Mukhta Sachdev flew in to present on how to treat skin of colour and was joined by Dr Mayoni Gooneratne, Dr Jinah Yoo, Anna Baker, Dr Xavier Goodarzian, Dr Amiee Vyas and Black Skin Directory founder Dija Ayodele as they provided in-clinic case studies, treatment and maintenance of pigmentation.
The agenda concluded with a presentation of a cheque for the value of £2750 to charity Born to be Beautiful. The charity teaches beauty therapy training and skills to victims of abject poverty, and helps each woman get work, go onto further education or set up a business.
AestheticSource hosted an evening drinks reception, combining summer cocktails on the rooftop balcony and a summer evening BBQ, enabling delegates to relax and network.