Discussion
A stem cell facelift is defined here as any stem cell enriched matrix alone or in combination (adipose, collagen, hyaluronic acid, polylactic acid or adipose), enhanced with autologous or recombinant human growth factors. In this study, the stem cell enriched matrix that was used was autologous adipose tissue in combination with autologous and recombinant human growth factors. This matrix serves to fill the hollowness with age-related mid-face volume loss.
Non-parametric statistics were used, since the study had data and images for seven patients. Non-parametric analysis assumes no normality on the distribution of the population and can make statistical inferences on any given phenomenon in spite of a small sample size.
Quantitative measurements among all seven patients who underwent a stem cell facelift in the clinic were methodically done. While studies13 using the Vectra for autologous fat grafting analysis have been performed previously, to the author's knowledge this study is the first of its kind to document the volume changes over time quantitatively, following the transfer of autologous fat enriched with autologous stem cells and growth factors to the mid-face region, where no other concomitant treatments were done to the face.
Analysis
Volumetric analysis clearly shows a dramatic volume loss within 24 hours of the stem cell facelift for most patients. This is believed to be a result of the reabsorption of excess fluid implanted (2.5 ml per 10 cc of unpacked fat) that kept the stem cells and growth factors in solution. While there was initial inflammation immediately after the procedures, all patients were satisfied as there was little to no bruising and most visible inflammation seemed to subside within 14 days.
Analysis shows a steady reduction for the first month and then a slow reversal to a progressive volume change over the succeeding months. Three-dimensional  imaging shows significant volume increases over time once inflammation subsided by the first month. These changes are believed to be the result of tissue generation in the form of:
New vasculature perfusion5 throughout the implanted adipose
The generation of new collagen14
Survival of fat and new adipose development. Stem cells in fat are very powerful releasers of growth factors that enhance tissue healing and can induce the growth of new blood vessels in the tissue15.
Stem cells are cells that have the capacity to renew themselves and give rise to specialised types1. Stem cells in general have been shown to have the potential to replace cells from a broad array of tissues, such as the liver, heart, blood vessels, and nervous tissue1,16–19. As Claudio-da-Silva5 questioned in his previous study, we have still not concluded what types of tissue are responsible for the increases in volume and whether the stem cells play a significant role in this tissue formation. Even in this case review, however, the substantial upsurges of volume that recur after the inflammation subsides can be seen (Table 1).
While any material that is able to occupy space within the skin for a short period of time can stimulate type I collagen synthesis14, autologous fat appears to be the most advantageous in this niche for cosmetic rejuvenation: it is natural, live, permanent, and safe. Transferred autologous fat used as soft tissue filler alone has been shown to have a lasting longevity in the mid-face with roughly 32% of the injected volume retained after 1 year or more13. Recent studies, including one by Piccinno7, reveals that ASC have the ability to help protect transferred adipose tissue from necrosis, while concomitantly increasing vasculogenesis. Experienced practitioners will state the real results of a facial fat graft do not normally show up until about the sixth month or shortly thereafter3. This study demonstrated the same pattern of tissue regeneration these researchers have experienced with fat grafts, although in the author's study so far, patient volumes appear to be higher than what has previously been reported in the literature (Table 1).
While stem cell enrichment is generally believed to be of crucial importance for success of the 'take' of lipofilling, a recent study by Peltoniemi et al20 has shown that this may not be the case when it comes to fat survival. However, this current study shows that after the 'take', there was not only fat survival, but thereafter there was a continuous volume change after 1 month up until 7 months of follow-up using the ADSC-enriched adipose matrix product.
While all patients appear to have maintained their weight, a body fat composition was never conducted prior to the procedure. Error may exist as the subjects' lean body mass may have decreased, or the patients may be storing more fat in the face owing to removal and transplantation of fat cells from the abdomen and flanks to the face. It is also possible that a better 'take' of adipose and stem cells could have been enhanced if a longer-holding matrix, such as a cross-linked hyaluronic acid, was incorporated as well.
Conclusions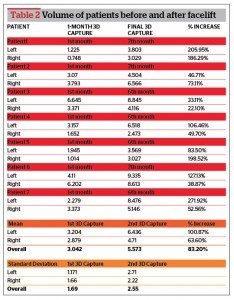 The study demonstrated an objective quantification of volume changes after implantation of ADSC matrix to effect mid-hemi-face rejuvenation. All patients were satisfied at 6 months and did not require a follow- up augmentation. This also showed that after the 'take' of the ADSC-enriched matrix product, there was a continuous volumetric increase following the initial decrease of inflammation and fat reabsorption. There was a continuous volumetric increase in mean volume from the first month to seventh month, with a 100.87% increase in volumetric change on the left facial hemisphere and 63.6% volume increase on the right facial hemisphere.
Overall, there was an 83.2% volume improvement across all patients (Table 2). The increase in volume change showing the effectiveness of the stem cell facelift was proven to be statistically significant at 95% certainty level using Wilcoxon signed ranks tests (Z=-3.2958, P=0.0096<0.05).
Using these protocols, the author encourages other ethical physicians to contribute to a future study so objective quantitative data can be gathered globally to help eliminate the error produced by only relying on two dimensional before and after photographs and patient feedback.