Q&A with qualified medical aesthetician and registered nurse Sarah Dale of Sarah Dale Aesthetics.
What attracted you to purchase a NanoFractional RF™ device?
Our Clinic was seeing a lot of skin irregularities that our IPL alone could not handle. The clinic needed equipment that would complement
our existing services without competing as well as give clients a results oriented treatment. I wanted something with as little discomfort and downtime as possible but packed with benefits. As a nurse I know how difficult is to treat melasma, scars, and skin texture but I have the confidence and education to know that skincare alone would not get the results we were aiming for.
I was first introduced to Venus Concept with the purchase of my first medical device: The Venus Freeze, which I still use to this day. It is in my opinion the safest radio frequency device on the market. I was attracted to this device as it was compact, portable, and did not require the downtime and pain associated with fractional treatments and I was so impressed with the results as well as the support from the company that when they announced the launch of the Venus Viva I purchased the machine immediately.
What should you look for when purchasing a NanoFractional RF™ device?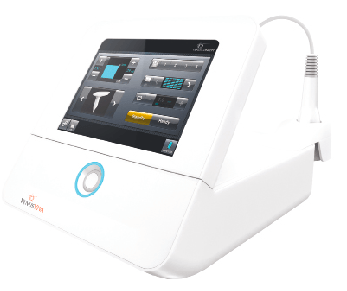 Make sure it is safe technology. At SDA we only partner with quality companies that have proven trusted technology as well as a FDA stamp of approval. It's very important to see case studies, make trips to the head office to ensure they are a direct office. At SDA we look for companies that offer extended training, warranties, easy payment options as well as business support. We have been very happy not only with the results of the Venus Viva but with Venus Concept the company itself.
What results are gained from a NanoFractional RF™ resurfacing treatment?
At SDA we have seen a wide range of positive results from a decrease in visible pores, evening skin texture, reduction in fine lines and wrinkles, reduced pigment in melasma, significant reduction in acne scarring, and we are starting to treat clients with rosacea which we are finding to be extremely well suited for NanoFractional RF™.
How does the Venus Viva Work?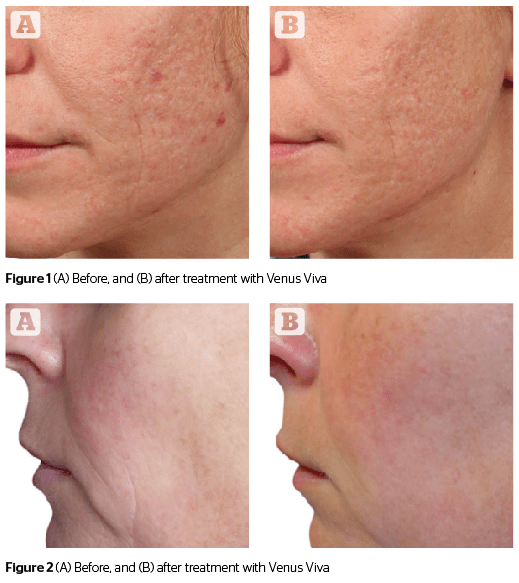 The Venus Viva™ operates with the revolutionary NanoFractional Radio Frequency™ (RF) and SmartScan™ technology that delivers results through selectional dermal heating. The use of NanoFractional RF™ delivers energy through the epidermis, to the dermis, rebuilding collagen and fibroblast stimulation, all resulting in tissue remodelling. The Venus Viva is the only RF technology that offers clinicians complete versatility with customized treatment settings for multiple levels of ablation or
coagulation. Viva™ also utilizes a unique energy delivery mechanism called SmartScan™ that consists of two distinct features:
RF energy is deployed via an array of small pins into the skin in a 'scanner' like manner creating up to 160 micro-wounds with every pulse. This results in significantly reduced patient discomfort compared to other technologies, with more consistent endpoints and reduced downtime
SmartScan™ also consists of a pattern selection tool that allows the clinician to customize the treatment size and density for each pulse. This results in safer, more optimized treatments with better clinical outcomes.
What is to be expected of the treatment? Who is a candidate for this treatment?
Typical treatment protocol consists of 2 to 3 treatments spaced 3 to 4 weeks apart. The Venus Viva treatment may be bundled in a complete program with tightening treatments, IPL treatments for advanced colour correction, EMS for strengthening the muscles for a facial elevation, chemical peels, and microdermabrasion for clearing acne lesions, neurotoxin and soft tissue fillers to enhance the aesthetic outcomes of the skin as well as many other complimentary treatments. Immediately after the treatment the skin is red and warm which will resolve in a few hours. The treatment is well tolerated and there is little to no discomfort after the treatment. Depending on the level of ablation you and your patient have chosen the degree of redness and mild irritation will vary. We recommend camouflage makeup and the patient may return to work the same day. The 15 minute fraction procedure is performed comfortably and may involve using a topical anaesthetic cream and cryogen skin cooler if patient desires. Candidates for this treatment:
Safe for both men and women
Safe on all skin types, regardless of age or colour
Patients with acne scars, fine wrinkles, and surface irregularities of the skin
Patients with pigment irregularities, such as sun damage and freckles
Patients with loose skin
Patients who desire a smoother appearance and tightening of their skin
Patients looking to improve the tone and texture of their skin.
  For more information, visit:
www.venusconcept.com and www.sarahdaleaesthetics.com