According to the American Society for Dermatologic Surgery (ASDS), the decision to remove a tattoo is influenced by these factors: allergic reactions, regrets about the decision, seeking or obtaining new employment, or replacing one tattoo with another. As the technology available has become more advanced and results continue to improve, more people with unwanted tattoos are seeking treatment.
Ellman's innovative lightweight Tri-Lase™ System, one of their line of Sandstone lasers, combines the two most popular wavelengths for skin rejuvenation, Q-switched Nd:YAG (1064 nm) and Er:YAG (2940 nm), and can be used for treating tattoos and pigmented lesions. The Erbium YAG laser is also beneficial for superficial rejuvenation. Owing to the Tri-Lase System's portability, ease of use and great clinical results, it is considered to be the workhorse for tattoo removal in many practices.
According to Harrison C. Putman III, MD, FACS, a Facial Plastic Surgeon in Peoria, IL, 'We evaluated several different technologies and the Tri-Lase is a very effective laser. The clinical efficacy impressed us as being equivalent to more expensive technologies. Unless you are in a large group practice with many doctors treating a lot of patients with tattoos, it is hard to justify the expense of a high priced laser and less profitability.'
The technology
The Tri-Lase System's nanosecond pulse width makes it possible to attain reliable and predictable clinical results with minimal risk of adverse reactions, damage to collateral tissues and textural changes to the skin. High repetition rates and a range of spot sizes from 1 to 6 mm allow faster treatments and quicker turnaround of the treatment room.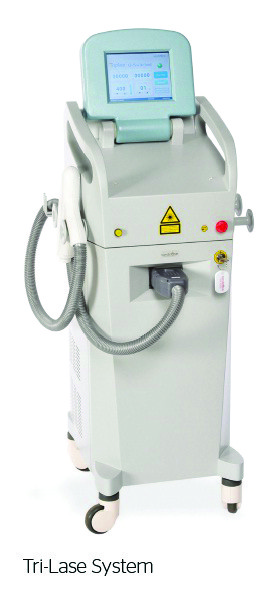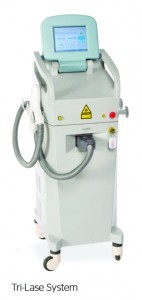 'Tri-Lase has a top hat beam profile that allows us to deliver energy uniformly over the treatment area while avoiding hot spots. It has plenty of power and energy to deliver 1064 nm wavelength for darker colours such as blue, dark green, black, and 532 nm for lighter colours like red. We also like having the Erbium laser to enhance tattoo removal because it allows more tattoo ink to leak out,' says Putman.
New protocols
Putman has adopted innovative new protocols to help eliminate certain tattoos in a shorter period of time with fewer treatments. 'We have adopted the RO protocol of using topical perfluorodecalin (PFD) to resolve the immediate frosting that occurs after the initial tattoo removal treatment in 5 to 30 seconds, instead of having to wait to do a second pass. By doing double treatments, we can reduce the number of treatments needed by about 50%. For example, treating a black ink professional tattoo can be reduced to four or five treatments instead of eight to ten. Multicolour tattoos may require additional treatments.'1
Safety
Tri-Lase has been shown to deliver safe and effective tattoo removal. 'The process requires multiple treatments, and it can be conducted safely at intervals of 6 to 8 weeks apart. Significant reduction and clearance of tattoo ink can be achieved for all parts of the body,' says Putman. 'With a topical anaesthetic cream or a cooling device, no other anaesthetic injections or treatment is necessary to achieve consistent and uniform results.'
Cost effective
Cost is always a consideration when adding new technology to your practice, Putman says. 'Tri-Lase is more cost effective for patients since we don't charge extra for doing the second pass. We give them an estimate in the beginning of treatment based on the number of sessions needed, and they can take advantage of package pricing for four or eight treatments. Basically we charge by the square inch, and as the size of the tattoo increases, there is an adjustment. After the eighth treatment, the fixed cost is essentially the same as the package price. When patients have several tattoos, they have to decide which one they want to get rid of first.'
Ellman's affordable entry level pricing on the Tri-Lase System coupled with their reputation for dependability offer significant advantages for physicians. 'We have been very pleased with their staff training program, service and follow up. They trained all of our aestheticians to use the system for tattoo removal.'
Conclusions
Putman's aestheticians do all the tattoo removal treatments in his practice, but for any ablative treatment, like using the Erbium in conjunction with tattoo removal, he prefers to do that himself. 'We had been getting questions from patients for years, and saw bringing in the Tri-Lase as a way to enhance our medspa business. We can now offer tattoo removal to existing patients so they can have it done with us instead of having to go elsewhere. It has been a great addition to our practice,' he says.