At the AMWC meeting in April 2014, Galderma, the dermatology company known for their innovative and highly trusted medical solutions for the skin, unveiled two new syringe delivery systems from the comprehensive Restylane product range, designed to meet the changing needs of today's clinicians.
This launch builds on the unique reputation of the Restylane brand, whose presence in the aesthetic treatments arena over almost 20 years, supported by more than 30 publications based on randomised controlled trials1, makes it highly respected. 2014 is a big year for the brand with the milestone of Restylane being used for 20 million facial aesthetic treatments worldwide2, further cementing the brands position as a key player in the aesthetic arena.
New Restylane filler syringe
The new Restylane filler syringe is designed to offer greater comfort, and improved ergonomics. Restylane dermal fillers, consisting of the Restylane, Restylane Perlane, Restylane SubQ* and Restylane Lip Volume brands, are developed to restore the skin's youthful volume, and smooth out wrinkles as well as create lift for shape and definition. Restylane offers superior lifting capacity3.
The syringe incorporates a secure Luer lock system for robust needle and cannula attachment and a tamper-proof seal, to increase security for physicians working with the Restylane brand. Developed through extensive consultation with practitioners, an expert group of leading clinicians was also asked to test the new syringes. They commented that the new syringes felt light in the hand as well as having a more comfortable grip and thumb rest4.
New Restylane Skinboosters syringe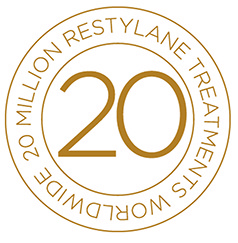 The new Restylane Skinboosters syringe offers all the features of the Restylane filler syringe with the additional benefit of the SmartClick™ system, a unique built-in audible dosage indicator which dispenses ~10 µl of product with every audible click. The new delivery system offers greater versatility, allowing clinicians to make technique their main priority, as you can hear and feel the volume being injected.
Suitable for a wide range of age groups and skin types, treatments using Restylane Skinboosters have been shown to improve skin elasticity and hydration, reduce skin surface roughness, and even imperfections such as acne scars5–11.
As further testimony to the innovative design of the Restylane Skinboosters SmartClick™ System, the delivery system recently received the Red Dot Award for high design quality 2014. Competing against over 1800 international entrants the innovation with the SmartClick™ system was evident to the panel, and the award is seen as a further extension of the innovation demonstrated by the Restylane brand over the past two decades.
To find out how smarter tools can help in your daily practice contact your local Galderma representative today.