Dermatologists are overwhelmingly the preferred health care provider for evaluating and treating skin cancer, according to a study published in the June issue of Dermatologic Surgery.
The journal is the official publication for American Society for Dermatologic Surgery, the largest organisation exclusively representing dermatologic surgeons who are leaders in medically necessary and cosmetic skin surgery.
Respondents to an online survey were asked their choice for evaluating a worrisome lesion on the face and for removing skin cancers from the back and face. The options were a dermatologist, primary care physician, plastic surgeon, general surgeon or a physician assistant/nurse practitioner.
For specific treatments, respondents prefer the following providers:
Removing cancer from the back: dermatologist, 73%; general surgeon, 14.7%
Evaluation: dermatologist, 70%; primary care physician, 23.4%
Removing a cancer from the face: dermatologist, nearly 63%; plastic surgeon, 23%.
The study's co-authors said they wanted to know the perceptions of the general public when it comes to treating skin cancer because of lack of consistent requirements in some states and the increasing numbers both of treatments and of non-physician providers.
Medical professionals may consider a dermatologist the obvious choice, said ASDS member Omar A. Ibrahimi, MD, PhD, one of the study's co-authors. 'However, it is not clear that the lay public fully understands the varying roles of specialists when it comes to disease and disease prevention,' he said.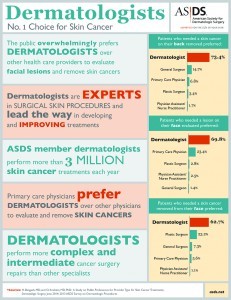 The survey shows the public understands dermatologists are the experts in skin health and beauty, he said. With dermatology taking on a more surgical orientation in recent years, the general public also knows dermatologists are the physicians of choice when it comes to removing skin cancers from the face, he said.
'Certainly, Mohs surgery has been established as the gold standard to treat facial basal and squamous cell carcinomas,' he said.
The survey did not ask for the reasons for preference, which Ibrahimi said could be explored in a future study. Further research can help physicians know more about the views of the public when it comes to procedures involving the skin, perhaps helping increase patient satisfaction, study authors said.
Other authors of the study – 'Who do you Prefer? A Study of Public Preferences for Health Care Provider Type in Performing Cutaneous Surgery and Cosmetic Procedures in the United States' – are Drs Haider K. Bangash, Lawrence J. Green, Murad Alam, Daniel B. Eisen, and April W. Armstrong.