IBSA present the first BDDE-free stable injectable cooperative hybrid HA complexes
Launched in 2015, IBSA's Profhilo® is an injectable preparation of stable, cooperative, hybrid HA complexes. Profhilo®'s innovative thermal production process, developed by NAHYCO® Hybrid Technology, makes it the first BDDE-free stabilised injectable HA-based product. Indeed, starting with a mixture of 32 mg high molecular weight HA (1100–1400 kDa) and 32 mg low molecular weight HA (80–110 kDa) and totalling with one of the highest hyaluronan concentrations on the market, the patented thermal production process consisting of a first high-temperature and a second low-temperature step yields stable, cooperative hybrid HA complexes.
A unique biophysical profile
Among Profhilo®'s many singular characteristics are its high HA concentration (64 mg/2 mL), excellent manageability, low viscosity and optimal tissue diffusion and a duration similar to that of weakly cross-linked gel. Another striking feature is Profhilo®'s high cohesion coefficient and the predominance of fluidity over elasticity: this is reflected by its capability to uniformly diffuse and integrate in tissues, homogeneously bioremodeling several tissue compartments at once.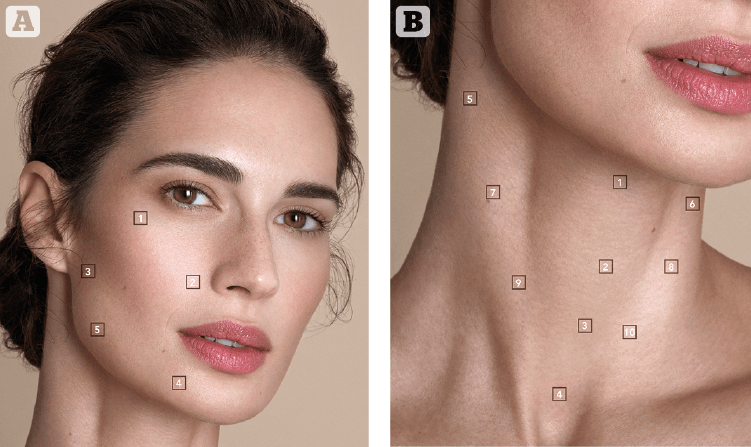 Regeneration and bioremodelling of the extracellular environment
In vitro studies proving Profhilo®'s efficacy on the remodelling of the extracellular environment shows Profhilo® provides faster keratinocyte regeneration and wound healing compared to HA alone, and increases expression levels of collagen and elastin in fibroblasts and keratinocytes. Furthermore, hybrid HA complexes have been proven to induce adipose-derived stem cell differentiation and proliferation. Profhilo® therefore acts on several cutaneous compartment, highlighting the multilevel basis of its in vivo efficacy in treating ageing skin.
Protocols for cutaneous rejuvenation of the face and neck
The current indications for Profhilo® are for multilevel dynamic tissue bioremodelling and the improvement of skin laxity of the face, neck. The product's favourable rheologic profile makes it possible to obtain satisfactory tissue remodelling with only 2 treatments performed 4 weeks apart. IBSA's specifically developed BAP (Bio Aesthetic Point) technique is the most widespread, efficient and recommended protocol for the bioremodelling of the malar and sub-malar areas (Figure 1A) and of the neck (Figure 1B), which are particularly prone to the dermal atrophy which comes with skin ageing. The technique consists of the injection of 0.2 ml boluses with a 29 G needle in the superficial dermal layer of anatomically receptive areas in each hemiface/hemineck, identified by the absence of large vessels and nerve branches and with a view to maximising product diffusion. Positive visual and quantitative results, together with reduced pain and frequency of bruising and a low number of sittings, all result in excellent compliance and high
doctor- and patient satisfaction.

For more information, visit
www.ibsaderma.com